6th Sense Core X Swimbaits 4pk - $7.79
The 6th Sense Core-X Swimbaits were originally hand designed from a simple clay mold. After enduring rigorous testing, they have gone into full-scale production due to popular demand. Featuring custom, lifelike color schemes and 3-D eyes, these paddle tail swimbaits have a hollow core and unique wall thickness that allows them to replicate the shimmering action of baitfish. Available in both 4" and 5" sizes, the 6th Sense Core-X Swimbaits are perfect for open water rigging, weedless keel-weighted hooks, umbrella rigs, and more.

-Hollow Belly Design - creates an unparalleled vibrating, swimming action
-Custom Lifelike Baitfish Colors - each swimbait is individually hand painted to resemble the most predominate bait fish species
-Engineered Soft Plastic Core - the thickness of the soft plastic walls are designed to create an irresistible swimming action at the slowest of possible speeds
Comments: Best paddle tail I've used. Colors are great and fairly durable. Can't beat the swim action. Great with a swim jig. Add them to your swim bait collection and you won't be disappointed!
From: Paul: IL 6/29/14

Comments: Fished these today in a pond and they proved themselves. Paired with a buckeye j will jig. I caught between 15 to 20 fish on 1 swimbait. It jas great action looks great in the water and they are durable.

Comments: I love these swimbaits. If you are buying a head you cant go wrong with the jewel swimbait head. They keep the swimbait intact for more fish per bait

From: Adam: AL

Comments: Some of the best action you can get on a paddle tail. Decent colors too, the only downside is the overwhelming plastic smell when you open the package. The smell is similar to skunk, if you've ever dealt with that before. I recommend getting some scent for these.

From: Sam: IL

Comments: These swimbaits are really nice on an umbrella rig. But be ready to literally demolish the back of these swimbaits if you're going to pair them with the 6th Sense jig heads, because stuffing that lead head into the back of this swimbait will shred the back of this thing. Don't be deterred because they still catch fish and it doesn't mess with the action from what I can tell. I love these swimbaits, SHAD CRUSH!!

From: Mike: GA

Comments: EXCLLENT!, these are solid swimbaits, caught numberous of bass and pikes, 5/5!

From: Victor: Canada

Comments: Caught a 6lber and 3lber on the same cast on my umbrella rig with these swimbaits on the 3rd cast. Best action of any swimbaits I've seen and price is right for a hollow belly! Thanks guys!

From: Jake
Comments: sweet! I cut the head off this and glued one of 6th sence jig heads to it, filled with sent attract....bam keeper after keeper, pond and big lakes. Good price point too, like the colors.

From: Troy, Ohio

Comments: Amazing !! Wen I first seen this I was taken by how nice the color details were, and thought maybe just another fancy colored swim bait, but not the case here. Quality bait and great action will get a reaction bite from the big fish, works great for bass and striped bass.

From: wingnut California pro

Comments: Move over little guy this ones mine !!! That's what the big bass are saying to this new swim bait, these colors are great! The action on these are above my expectations and the way the slide through the grass is amazing. Rig these up traditionally,or on popular Alabama Rig, run them on out side grass lines or to schooling fish and you won't be disappointed!

From: Texas Pro

***Note: If you have questions about this product or need assistance with an order please email your questions to info@tacklewarehouse.com
View Large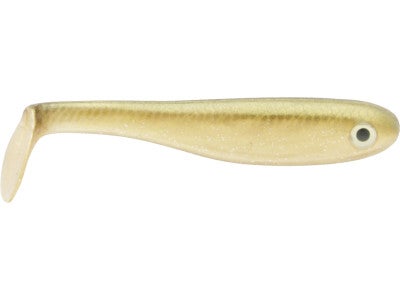 9 Available Colors
More 6th Sense Swimbaits