6th Sense Crush 300DD Crankbait - $8.99
The 6th Sense Crush 300DD Deep Diving Crankbait has taken deep water cranking to the next level. Designed to quickly and efficiently dive to depths of 14-19 feet with less drag, this bait maximizes your time in the strike zone, while adding a fish-attracting turbulence trail. It's Deflecting Lip Geometry allows it to quickly rebound off thick brush, trees, rocks or any other type of cover, while maintaining position and trajectory, and its high buoyancy characteristics allow it to back up and float out of snags. A faint rattle chamber also creates a light knocking sound that provokes strikes without spooking finicky fish. Sharp VMC black nickel hooks and top-of-the-line paint schemes with realistic 3D gill plates, 3D eyes, and 3D scales differentiate the 6th Sense Crush 300DD Crankbait from all other deep diving crankbaits on the market.
| | | | | |
| --- | --- | --- | --- | --- |
| 6th Sense | Length | Weight | Depth | Class |
| 300DD | 3" | 1-oz | 14-19ft | Floating |
Comments: I ordered a few of these, but have only thrown them for a couple of hours during a period when I was NOT "on fish." Still, I wanted to pass along a couple of observations. I was able to get the lure to run about 15' deep on 10 lb. fluorocarbon. These are virtually a copy of the BD7 Bomber Fat Free Shads. Same body profile, same lip design, etc. However, the 6th Sense baits have a slight scale texture above the lateral line and the paint schemes (particularly the shad patterns) are more realistic than those offered in the Fat Free Shad. I'll amend this review after I have more experience with this lure, but I'm reasonably certain that if you've done well in your waters with the Fat Free Shad, you'll also catch them with the Crush 300DD.

From: Steven: Santa Maria, CA, USA

Comments: I have been using these since they were released. Won quite a bit of money on them and get 17ft deep on 12lb Seaguar. Best deep diving crankbait on the market for the hooks, colors, depth and action in my opinion.

From: Rick
Comments: Great paint, good hooks and runs true out of the box. BUT... with 12lbs fluoro and long cast cant hit 14ft. Bomber runs 16-18 with no problems.

From: Diego: Mexico

Comments: Runs true out of the box. Great paint scheme. You gotta' have this bait if you plan on crankbait fishing!

From: Ron: Nacogdoches, TX

Comments: For those of you not familar with 6th Sense and Casey, prior to creating these baits, he was one of THE BEST custom painters in the country and he spent several years designing this 300DD crankbait, the 50 Crush and his jerkbaits. I regularly paid $17 - 25+ for his custom baits, and now everyone can get them at a bargain. 6th Sense is all about quality and craftsmanship. You will NOT be disappointed.

From: Patrick: Kansas City

Comments: Awesome Crankbait. I was real skeptical at first of the quality because the price was so low but I was suprised. This bait is totally amazing Best $9 dollar bait on the market

From: JP: LA

Comments: Sweetest DD made!

From: Rusty: TX

Comments: If you crankbait fish...you have to own these baits!!! There are no paint schemes on the market like these and they flat out catch fish! If you wanna win, THROW THESE BAITS!!!

From: Jason: Conroe, TX

Comments: These baits are the real deal. The cast excellent, paint jobs rival lucky craft, hooks are super sharp, and they all run true right out of the package. For nine bucks this is the best crankbait on the market.

Comments: These crankbaits are pretty incredible! I've been using them for a month now and catching good fish. Run true out of the box and the best colors ive seen. I just need to try more colors...I'de recommend them to anyone.

From: Mike: Kentucky Lake

***Note: If you have questions about this product or need assistance with an order please email your questions to info@tacklewarehouse.com
View Large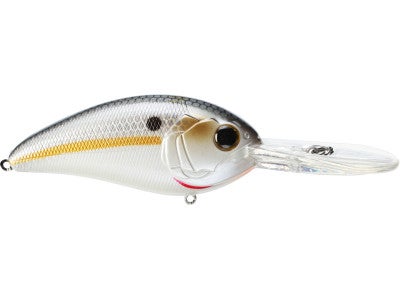 13 Available Colors
More 6th Sense Crankbaits