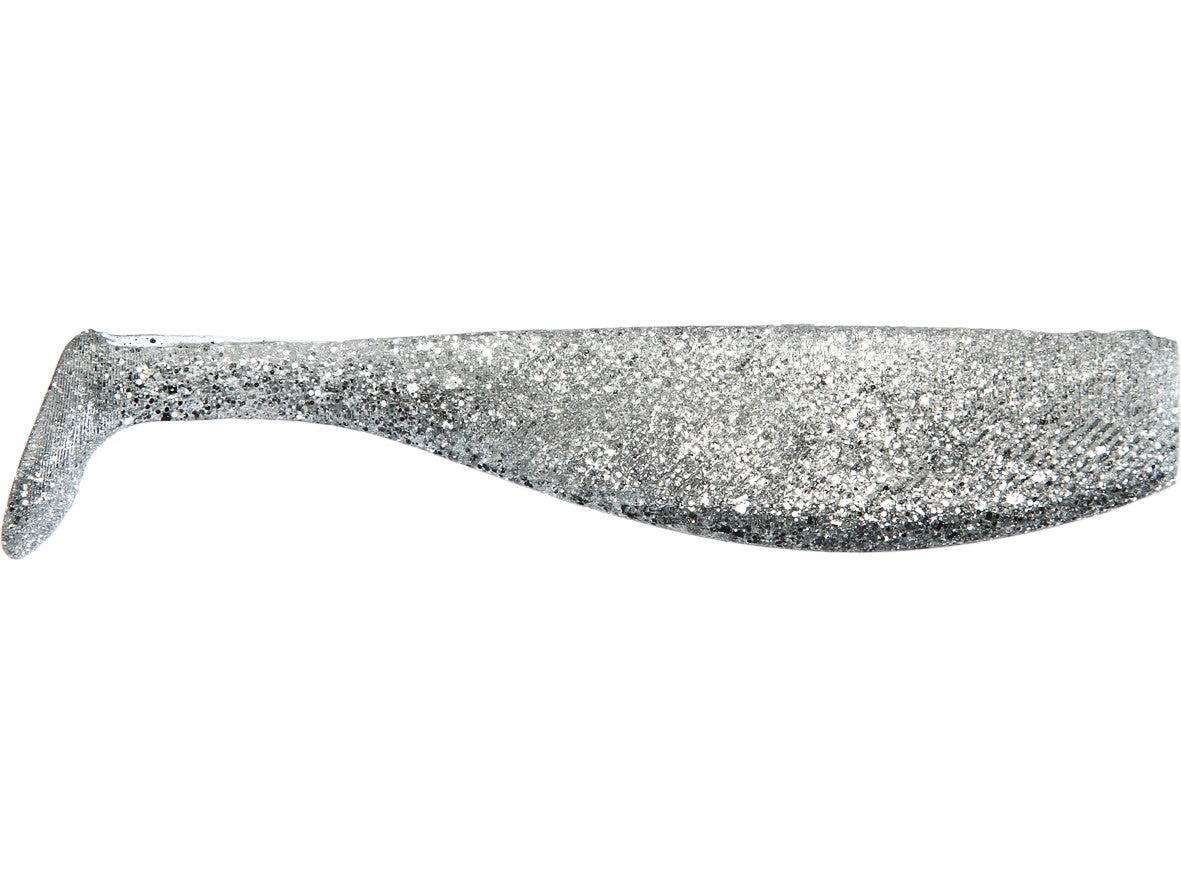 Clean pours, clear colors, and soft plastic make the AA's Shad Tail Swimbaits the real winners for big fish in fresh and saltwater. Hand-poured, one-at-a-time, like they have been since 1980, the AA's Shad Tail Swimbaits offer the super soft, lifelike actions that you can only get from quality handpours, and they also feature thin tail sections that help them kick just like frantic baitfish. Loaded with biodegradable Nitro Pro scent for added fish attraction, pair the AA's Shad Tail Swimbaits with your favorite 3/4oz or 1oz swimbait heads for best results. The AA's Shad Tail Swimbaits - The Lunker's Choice.
| | |
| --- | --- |
| Length | Quantity |
| 3" | 6 |
| 4" | 4 |
| 5" | 3 |
| 6" | 2 |
15 Colors
More From AA Swimbaits
Customer Reviews
Comments: I use these with 3/4 oz. head trolled around 100 yds behind boat boat for tuna. They out fish most all other baits. Seems on days when tuna are boat shy these will catch them. Just put by themselves on rod line & wait for action
From: Dave: Shelton, WA 9/5/15

Comments: I love fishing these baits, both in freshwater, and in the salt. Fished on a leadhead, swimjig, or as a trailer on a spinnerbait, these bait are great for largemouth. And the stripers can't leave these baits alone. The attention to detail on these baits are amazing.

From: Art: Temecula

Comments: work great on a swim jig. have gotten me a couple of 3 lb + fish

From: J: IL

Comments: Bought 3 packs of "3" inchers for small 1/8ths ounce swim jigs for smallmouth and what I got was almost four inches. Yes the packages claimed 3 inches and there were 6 in a pack. I had to cut them all to size for the jigs. Other than that they seem fairly durable and the add a good secondary rocking action to the jigs

From: NebBM: NB
Comments: Straight killing them on this bait right now. A rig ball head spinnerbait trailer chatter bait trailer swim jig trailer. It doesn't matter. This bait will wreck them.

From: Trey: NoAL

Comments: These are excellent swimbaits for both fresh and saltwater Bass. They work great when retrieved on triangle jigheads, or paired with your favorite swim jig. If you want more action out of the tail at slower speeds, just dip the back half of the bait in boiling water for a few seconds and that will make the bait softer.

From: Mark: Oceanside, CA

Comments: The AAs swimtails work in freshwater and saltwater as well. I match the hatch by dart heading the neon/smoke 3" when the shad are up, Deadly. They also work Great on my A-Rig. You can rig them on any jighead, Offshore I use them on the Sakana Heads, inshore they bounce great on a football head. They are hand poured so the bait really soft so the fish seem to hold on longer, but they are still durable. Plus the softer bait has a better swimming action. Great Colors and Action A+ for me!!

From: Doug: Lakeside, CA

Comments: You get what you pay for... Didn't swim no matter how I worked them.

From: Zach: Nor Cal

Comments: Got a pack of the 6" and paired it with a 3/4 cali swim jig and it performed flawlessly even when burning it in.

From: Blys: Las Vegas, NV

Comments: I now see why these swimbaits are priced at only $2.99. After being lured in by a few of their hot-looking colors and low price, I discovered that the section of plastic just infront of the boot tail is too thick and not pliant enough to facilitate the natural swimming movement at slow speeds. The result? When you try to slow-roll this bait, the soft plastic boot tail produces NO swimming action. It does look very good on faster retrieves, and the smaller models may make good trailers on spinnerbaits/buzzbaits that are burned passed cover, but if you are looking for a bait you can slow-roll along the bottom and bump against underwater ledges, you should probably look elsewhere. Overall, a very disappointing bait considering the colors offered look very good.

From: Steve: NorCal