Abu Garcia Black Max Casting Reel - $49.99
Delivering all the performance and toughness of the Max line for under $50, the Abu Garcia Black Max Casting Reel is equipped with a 6.4:1 gear ratio and a super smooth 5 bearing system. Built around a lightweight, one-piece graphite frame and sideplates, it also comes equipped with a machined, double anodized Aluminum Spool, which provides added strength without adding excess weight. Duragear Brass Gearing also ensures extended gear life, and the Power Disk drag system delivers smooth performance throughout its range, while a MaxTrax Brake System offers complete cast control. Precision engineered with a smoother feel, increased performance, and a more compact design, the Abu Garcia Black Max Casting Reel does it all for a great price.
Equipped with a super smooth five stainless steel bearing system and a 6.4:1 gear ratio, the Abu Garcia Black Max Casting Reel delivers all the performance and toughness of the Max line for under $50.
Comments: all I can say is great real but beware a few unlucky buyers will have there line guide brake I am trading it in for Roth a lews revo or shimano

From: Anthony: TX

Comments: This reel is amazing, after about 6 months it started to become alittle noisy but I didn"t care that much, but just a couple days ago, the guiding for the spool stopped moving. It's really good for only $50 dollars, but spend more money on a Lew's, much muchhh better than this.

From: Christian: TX

Comments: I have had this reel for 5 months and It was nice for the price but last week it broke for no reson it was like the drag was lose but it was tight and would not bring in line I am still mad

Comments: I bought this reel around Mar 2012. I have never used a bait caster. I learned on this reel and this is the best reel I have ever used. Out casts, out reels my openface reel and allows me to HOSS in the big ones using the braided line. My biggest bass last fall was 24in 5+ lbs. This reel has the horsepower and yet sensitivity you need on some of those tough matted areas. I also have the Silver Max. I am looking to go to a 7.1 ratio this year for other styles. Great Reel keep up the good work Abu Garcia.

From: Steve: Southgate, MI

Comments: This is a good reel for the tournament angler. The entire Abu max line up is good performance with a great price. I use these for most of my casting applications the external magnetic break adjustments make it quick and easy to adjust to different lures. For 50 dollars this reel does everything I need out of a reel.

From: Mitch: MN

Comments: Its a Popular reel due to its price, and I would never use any of the Abu Garcia "Max" reels, tried em all, they are OKAY, but dont reccomend them

From: Kendog: Kendog Town, USA

Comments: this is a great reel i used it today in it cast a mile i always wanted one for years in i am telling u get one i have revos in feel better about the black max over all

From: Tavaris: Columbia, SC

Comments: In my truly honest opinion, this reel seemed too good to be true for me. It was my 1st baitcasting reel and nearly my last, this being because of its shotty creation. The line guide was my problem, while reeling in line, it would get caught on 1 side and begin to stack up! Every cast I would manually guide the line guide and it was a complete burden! H20 Express all the way!

From: Carson: Huntsville, AL

Comments: this reel is great i throw jigs and texas rigs on it for columbia river smallies it is a great realfor the price keep it up abu garcia!!!!!

From: Garrett: USA

Comments: Picked mine up at Wal Mart and love everything about it...Those who bash it must must be still using the old Zebco 33's for cattin

From: Kevin: Ohio

Comments: best reel ever!!!

From: Panola County

Comments: i have hasd this reel for 2 years now. it is absolutely the best baitcaster for under $50 bucks. this reel has not given me one problem yet. this thing can cast anything from 1/8 oz. and higher, and when i say cast i mean BOMB! awesome reel! must have!!!

From: Jake: LA

Comments: you can't tell how a reel performs by picking it up and playing with it at Wal Mart

From: Scott: IL

Comments: I have had this reel for a few months now and can honestly say it is the best 50 bucks you will ever spend! casts smooth and reels smooth too. I have it on a 7 foot medium vendetta and it balances really well. My only complain is that you can't put Abu Garcia's custom revo shop foam handles on it.

From: Matt: TX

Comments: Amazing reel for the money.Have it for over a year and havent had a single problem with it.Defently will be getting more Abu Garcia's in the future.

From: Tyler: Portage, WI

Comments: This reel is not bad for the price. It hasnt given me too many problems and i think that it is pretty durable and reliable.

From: Zach: NC

Comments: This reel has done nothing but good for me. caught a 52 inch muskie on it. to all those who say its bad, you have no idea what you're saying. this was my first reel and i like it as a temporary/backup, I'm picking up either a revo s or a less speed spool if you have any opinions let me know.

From: Justin: MN, US

Comments: I have always been a big fan of abu garcia. I have had the black max for over a year now and I have not had one problem with it. I want to make it clear to those who hate this reel. This reel may have a cheap price, but it is not cheap quality. If you maintain this reel you will have zero problems. Make sure to check me out on youtube

Fishing with outdoorkid87
http://www.youtube.com/user/outdoorkid87?feature=mhee

From: Hunter: IN

Comments: I dont own one but i have walked into Walmart one too many times and picked it up and started reeling, a nice way to put it would be it sucks brand new, so i dont even want to know how it handles on the lake, it should be next to zebco and might as well come pre spooled save your money and get the silver max

From: Gus: NJ

Comments: I love it for the price. Mostly I use it for spinnerbaits, soft plastics, and small crankbaits.

Comments: I have the older one and I hate it. It backlashes almost every cast and is not that smooth. I also have the silver max which is awesome! i would rather pay 10 more bucks and have the silver max.

From: Kyle: Lake County, FL

Comments: really good reel i love its smooth casting and it also makes really far cast even with light baits

From: Adrian: Austin, TX

Comments: Great reel for $50. I put orange seal boca bearings in it and now the reel is every bit as good as a revo sx for only $100. With new bearings, great. With original, good

From: Matt: Rantoul, IL

Comments: best reel for 50$ good with berkley trilen big game 12lb

From: Jacob: GA
Comments: caught 150 cat fish over 15 lbs this summer starting to break the paint on the spool relesase is waering but i also took it to canada to catch pike 150 aprox this summer great reel for beginers put the sreight to the test on it

From: Kee: Cary, IL

Comments: just recently bought the updated Black max and all i can say is, wow, what a difference from the old model..smoother casts, longer casts with lighter baits, very smooth retireve as well..the older model, you had to use at least a 1/2 ounce lure to get any distance, not with this one, very impressed for 50 bucks..

From: Scott: Bradley, IL

Comments: I got this reel because I like abu and I thought it was a cheap reel that I wouldn't be very surprised with, but this is a very good reel and awsome for the price

From: Koty: Cedar Rapids, IA

Comments: I've owned the Black Max for about three years and I have not had one bit of trouble with it. However, I paid about half of what is being asked for the reel today. I guess I got a really good bargain. Great reel. Five stars!

From: Bill: Jakin, GA

Comments: I picked up the black max combo earlier this spring when I decided to get back into fishing. I've fished it all summer on local ponds and lakes and I don't have any real complaints. The drag can be a bit rough, but it's a 50 dollar reel so that's to be expected. I've fished a variety of baits with it and it handled them fine. I fish frogs a lot and the reel handled pulling a 6 pound bass out of some of the densest pads I've ever seen without any real issues, and I landed a 15 pound northern with it and the reel didn't falter. I've had no real issues with backlashes, but that's more of a skill thing than anything. The reel has a lot of plastic on the frame, so durability will probably be an issue eventually, but I didn't buy this thing with the intentions of passing it on to future generations. For 50 bucks the quality between different reels is likely hit or miss, so keep that in mind, but mine has been a fantastic reel for the money. It casts far, handles big fish, and looks pretty damn cool.

From: Alex: NY

Comments: I own this reel and I've had no problems with it cast smooth accurate. Can drag a 6 pounder right out the weeds i love it. But i got my first one for 30 bucks and it was great

From: Dylan: Lansing, MI

Comments: WORST reel out there. it is not smooth at all, does not cast well, and after a day of fishing the gears stopped working so i threw it out. best thing i ever did.

From: Kendog: WI

Comments: very great reel for the money i love and it looks great i would recommend this

From: Foster: US

Comments: Earlier in this fishing year, I bought a Quantum Antix Low Profile Baitcaster for Smallies, Large mouth,Walleye, and Pike. Best reel I ever had. Then one day the Drag system broke. Then i went to the store and I decided to Buy The Black Max Combo with the vengance 6'9 rod. First Time I used got a 7lb Smallie. Then I casted it out and The Right side of the reel, It fell off and into 20 feet of water. Next Day I bought another one and THAT broke. It is a reel that is worse than my 4 year old brothers spinning reel. Do Not buy this reel

From: Kevin: MI

Comments: I have bought two of these reels. The first worked perfectly. The second was just a little scratchy but a few drops of Quantum Hot Sauce and it was smooth as the first. I own two Revo SX that I use solely for competitions and I love them and I would say if you can afford them make it your first choice, but for $50 you can't go wrong.

From: Skip: Guilford, CT

Comments: This is a VERY good reel for $50! It's easily worth $80! Very smooth, and casts very far! However, the drag is not as smooth as i'd like it to be, but most of the time i had it cranked down all the way. It doesn't feel as refined as higher end reels though which is to be expected and it probably wont last as long either. I didn't feel any flex while bringing in fish and it does come with quite a bit of features other reels in its class don't have. But hands down this is a great reel for anyone who is either a beginner with baitcasters or just the casual fisherman.

Comments: This reel is the best reel I ever had in my life so far.I had this reel for a couple of months now and i only had a couple of backlashes but the good thing is its very smooth and cheap and if you had to pick any other reel I would go with this one.

From: Trent: PA

Comments: WORKS GREAT, FOR 50 DOLLARS IT IS EVERYTHING AND THEN SOME, TAKE THE RISK AND YOU WILL BE HAPPY WITH WHAT YOU FIND. I USE MINE WITH A 6'9 MH FAST ABU VENGENCE, LOVE THE COMBO. I USE 50LB BRAID W/ FC LEADER AND FISH JIGS, SPINNERS, WORMS MOSTLY AND ALL WORK AWESOME. IF YOU ARE STARTING OUT NEW TO BC'ERS THIS IS PERFECT FOR YOU, IN NO TIME YOU WILL BE ABLE TO DROP LURES WITH PIN POINT ACCURACY AT DISTANCE.

Comments: I have a Revo SX and purchased a 6'6" Black Max Rod & Reel combo for my son and took it to a tournament I love it so I ordered me two in left hand retreive, My son hopes they get here soon so he can have his back. I deffinately reccomend this reel for the money.

From: Teddy: TN

Comments: This reel is cheaply made and the braking system is no good to say the best. If I had to do over I would save the money and buy a revo. YOU GET WHAT YOU PAY FOR WITH THIS ONE

From: Joey: Lake Havasu, AZ

Comments: I got this reel the other day and I would just like to say this is an awesome reel. I got this for a back up reel because I just wanted a cheap reel that would last me the spring season. I have this on my Abu Garcia Veritas 6'9'' MH action baitcasting rod and it is perfect. It is not the lightest reel but it isnt that heavy either. I have 12 pound flourocarbon on it and it works great for crankbaits, spinnerbaits and lipless cranks, just wish it would come in a slower gear ratio. I would for sure buy another. Great reel for $50.

From: Matt: MA

Comments: it gets terrible on the retrieve even if u oil it up and clean out the internals. DO NOT BUY!!

Comments: I tried out a buddies black max today, they cast super far with ease, and feel really smooth during the retrieve. Haven't used one extensively but i'm thinking about buying one for the reason it casted a light rattle-trap extremely well

From: Colton: KS

Comments: This reel is good for the first five times then it gets crunchy. Save your money! This reel isn't worth it.

Comments: Nice! Right out of package! For 50.$Smoth casting, crank is smooth, and can cast it to a head wind.if ur starting out black Max is the way to go.

From: 457billbass21: Gainesville, FL

Comments: This reel is great for the money.. If you are looking for a cheap reel for Flipping & Pitching with heavy braid this reel will hold up.. I been field testing it for a full week.. I am using a abu garcia vendetta 7.6ft Heavy & black max LH reel with 50lbs tuf-line and this reel shows no signs of flex or gear feel.. Its smooth and has enough free spool to get the pitching you need from it... So at $49.99 I recommend this reel!

From: Sonny: East Wareham, MA

Comments: I had the old version of this reel and it was my first reel and it has not failed me yet! i might get the new one or find an old 1 on ebay..i suggest this reel.

From: Max: MN

Comments: Its a great reel. I bought it at cabelas. I have it on a Whuppin Stick and I use it for pitching, it works great, and work great in tournaments. in my opinion, its the best reel you can get if you want something cheap. if you want something really nice, go with one of the REVO SX's they are extremely nice reels. Abu Garcia for life

From: Kendog: Southern WI

Comments: I have the older Black Max reel which was my first bait caster. I fished it almost everyday with occasional backlash but it was because of me just being in a rush. Otherwise I still use it today and everyone I showed how to use a bait caster used this reel too. I now have a four Revo SX's set up different and are flawless no matter how I flip, pitch or cast it. But I still cast out the Black Max and has never failed me in three years. I'm gonna get the new Black Max to add to my collection just to have another reel at a great price. Peace!

From: Cguila: Antioch, CA

Comments: My friend bought one as a beginner reel. I found it to be garbage and not worth the money to begin with. Be smart, save your money and invest in the Abu Garcia Revo S.

From: Jay: CA

Comments: I own an older black max. I've had it about 2 years. The only reason i'm writing this review is because Its in my opinion that whoever wrote the other two reviews are crazy. I abuse my reel. I've never taken it apart i've never applied oil and i've never greased anything on my reel. I fish dirty nasty rivers and creeks. Its not uncommon to see garbage float by or pull an oil can from the 50's out the river too. I've never even cleaned my reel. I use it from about march through mid december. I put at least a few hours a week on it. I'm sure it has no less than 200 hours on it right now. I've used it in 9 degree temperatures where ice cicles start on every eylet of my pole. I've used it in rivers that were more mud than water. As a matter fact I was using a bass pro shops bionic plus reel in that river I just mentioned and it gummed up the drive on the worm gear and it quit working. Sooo, time to break out my trusty abu black max. Which put in twice the work landing multiple 30 inch dogfish between the many 30 inch plus pike I hunt all year long. I've caught at least 10 38 inch esox on my abu black max. I can't say anything bad about it for the 50 dollars I spent on it 2 years ago. I love it so much that i'm planning on buying the new model to compare the two so I can figure out if I need to stock up on the old model before you can't find it. This reel is the best buy u can make on a low price low profile baitcasting reel.

From: Richard: Owosso, MI

Comments: I've been using Black Max's for a few years now and I haven't had one problem with them. I now have 5 I think and they're all flawless. I thought they were going to stop making them and I am so glad they didn't. I WILL be ordering a few soon!

From: Jamey: Clayton, NC

Comments: Thsi is deffinately the best reel for $50 or less, but if you are big tournament fisherman this is not the reel your looking for. This reel is for people learning how to use a baitcaster or for people that fish just for fun. But i still recommend this to people who are wanting to learn how to fish.

From: Micah: Maryville, TN

Comments: I bought one afew weeks ago and it works great!jerkbait,crank bait,spinner bait etc. SOMETIMES ITS NOT THE EQUIPMENT BUT OTHER TIMES IT MIGHT BE THE OPERATOR!abu has always made quality fishing equipment.

From: Bert: North Augusta, SC

Comments: AWESOME REEL!!!!!!!

From: Matthew: Port Barre, LA

Comments: Pass this one up. I got a black max with high hopes of saving money. Since at the time I could not afford the Revo STX. The magnetic brake system on this reel has to be tuned up to the max and it still causes a bird's nest. Even after tweeking the adjustment knob. A few more dollars and you can get Lew's Speed Spool, Curado 50/Citica to ease downtime.

From: Cvang: MN

Comments: this was the first baitcasting reel that i bought and discouraged me from using them for a while. i didnt want to get a expensive reel for being inexperienced. you get backlashes like crazy. line gets stuck in every little crevice. drag has to be fully on or when you turn the handle it gets loose. spend the extra money for something better. it will be worth it and save you the troubles of this reel.

From: Mike: Long Beach, CA

Comments: ive got 1 2 years ago great reel for 50$ i love the quality abu makes my next reels gonna be an stx!
From: Gary, CA

Comments: great reel got mine yesterday and love it very smooth and casts great.

***Note: If you have questions about this product or need assistance with an order please email your questions to info@tacklewarehouse.com
View Large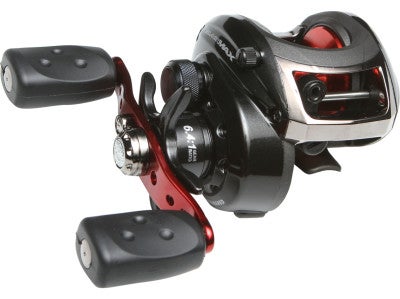 Place Your Order
More Abu Garcia Reels Casting