Abu Garcia REVO MGXtreme Casting Reel - $499.99
The lightest casting reel to ever hit the market, the Abu Garcia REVO MGXtreme Casting Reel delivers 4.9-ounces of pure performance. Packed with Abu Garcia's most advanced features and technologies, it kicks out a blazing fast 7.1:1 gear ratio with power well beyond its weight class. The Carbon Matrix drag system kicks in smoothly and delivers up to 12lb of max drag for the wherewithal to tame the biggest bass, and its cutting-edge IVCB-4 centrifugal brake system furnishes complete cast control for a variety of applications. Top-of-the-line from top-to-bottom, the Abu Garcia REVO MGXtreme delivers lightweight, smooth functioning you have to feel to believe.
Features:
-Seven Stainless Steel HPCR Bearings + One Roller Bearing
-Two Additional Ceramilite Spool Bearings
-One-Piece X-Mag Alloy Frame
-Carbon Matrix Drag System
-C6 Carbon Sideplates
-IVCB-4 Centrifugal Brake Design
-Infini II Spool Design
-Compact Bent Carbon Handle
-Round EVA Knoba
-Aircraft-grade Aluminum Main Gear
-Also Comes with Spare Set of Flat EVA Knobs
Delivering 4.9-ounces of pure performance and loaded with Abu Garcia's most advanced features, the Abu Garcia REVO MGXtreme is the lightest casting reel to ever hit the market with a lightning fast 7.1:1 gear ratio to boot.
Comments: I purchased one in March and put in on a NRX rod. In June the reel frame broke. I first thought it was my reel sit on my rod. It about a week for Abu Garcia to replace and I was back fishing with this reel again. I'm very happy with how this problem was handled. This reel is the very light and is fun to fish with.

From: Bob: Tracy, CA. USA

Comments: the lightest reel i ever held. it feels alot more solid than the mgx. cast very far and very smooth. i think its well worth the money

From: MN
Comments: I think the only thing I don't like about this reel is the small round knobs on the handle, BUT they include the regular Revo knobs which feel like your other Revo's (if you have them). I used 15# invisx on a Dobyns Extreme 703... It will cast a 1/4oz jig literally 50 yards with ease. The price is heavy, but it outperforms my steez and other supertuned reels which I didn't think possible. Buy some Mylanta to get over the sticker shock, then buy the reel - you won't regret it if 1/8-1/4oz baits are your main lures in highly pressured clear water.

From: Russ: Canton, GA

Comments: As soon as I received and opened the box,I was impressed with this reel. Yes it is very light, crisp, and solid. Matched it with NRX casting, it was a dream combo. Fished with it the same weekend I recieved it, I was even more impressed with the way it cast and retrieve - buttery smooth. This reel exceeded my expectation considering I fished with JDM reels. By the way, caught a 5# LMB on my first cast without any problem. Still buttery smooth even with load. Love it! Definitely worth the price.

From: Rahu: Ontario, CA

Comments: This is a great reel i got one at bass pro for $200 with giftcards super smooth. But really Abu it probably only cost you 65 bucks to make this reel 500 is way to much.

From: Sam: Lincoln NE

Comments: My Dad picked this up as his new flippin reel, wiith the 7:1.1 ratio, he can really RIP them fish out of there. he seems to love it, and i tried it once, and it is BUTTER smooth. it looks good on his Veritas. It's so light at 4.7 oz i think, it feels liike air on the veritas. its worth a try. pick one of these up if your a beginner angler or pro tournament angler alike. I may pick up a MGXtreme soon too. Seems reliable.

From: Fish Doc: Up North

Comments: I'm confused on why people keep comparing the shimano to Abu?? Since there's a lot of high dollared reels out there... I guess, if I were to compare it to any reel it would be the Diawa Steez or megabass reels... I have three Steez and three MGX and the new premier.. Is it expensive? Yea it is but to me it's worth it!!! The technology and durability of these reels are unexplainable in words.. Kinda like a car sometimes you just have to drive it before you know... If you don't agree with the price ect... Ect.. Then don't buy it!!! FYI this is a review column about the use of the product shown... Not to wine about how it's over priced compared to this reel whether it may or may not be better, know one is forcing you to buy it... I promise people are gonna buy it, I plan on buying a couple in the near future, and giving a proper review on this product!!!

From: Neal: VA

Comments: Just got a MGXtreme, Nice reel i like it, but little High on $$$

From: JC: Stafford, VA

Comments: Just got a MGXtreme little High on $$$, but LOVE it...

From: JC: Stafford, VA

Comments: it looks nice,it has all the good stuff that it takes to compete with the shimano core but it can not justify the xtra 150 dollars in price more then the shimano core mg 50.shimano mg 50 at 5.5oz its very lite and handels lite lures no problem i have two and i speak from experiance. i love the abu i have the stx,sx,premiere and all are great reels but i can not convince my self to pay 150 more for mgxtreme over the core and let me tell you this from experience its not better then shimano core.the diference in weight its not significaly enough to pay an extra 150. no way. 349 to 379 its all its worth. happy fishing everyone

From: Nick: Riverside, CA

Comments: Hi!, could someone tell me if the knobs of this reel fit in Shimano Baitcasting Models? Thanks!

From: Jhon
Comments: That is alot of money for a weekend angler like my self but i bet its so worth it!!!

From: Adam: USA

Comments: In a time of $500.00+ rods and reels over $400.00, thats crazy, but us as consumers drive up prices, because if we will pay it then they will keep pushing up prices till we max out. with all this new tech. in reels and rods, also $30.00 lures its hard to believe that anyone caught bass years ago when $50.00 for a rod and reel was top of the line, how did they do it???????????

Comments: To "unknown". This reel is to show that ABU can keep up with Shimano, I would go as far to say as TOP Shimano. This reel is for the enthusiastics. No other reel has been under 5 oz. Obviously you can't comprehend why they made this reel, it's more of a statement saying they are here to stay. Leave your comments to yourself.

Comments: abu garcia is getting to expincive they need to lower there prices becuase all they did was take the mgx and put a little bit of red into the reel and jacked the price up, i have a couple abu and they satisfy me greatly and i love em but i think they went a little to much one this one, i noticed the light weight in the reel but it looks like they just drilled a few wholes in it, i wouold just get the regular mgx or the core from shimano... i have 2 cores and they last forever cast a mile and very smmooth and i would say that i would go to a core from shimano over a mgx any day of the week they will through this reel in the trash can to be honast but this mgx extream is still a great reel.

Comments: Own Revo Winch Gen 3 and Revo MGX. The winch is solid, love it, the MGX seems stressed when triggering to cast. Would like to test Revo MGXtreme before investing 5 bills. If I'm going to pay list price for a reel, I want it today, not mid year, Otherwise, I'm going with Shimano Core until new wears off and dealers dump inventory.

From: Steve: Greenville, SC

Comments: Looks sweet.Time to save some lunch money now!!!!

From: Big Sexy: FL

Comments: Sure this reel sounds pretty good from the description, but for $500 id rather buy a exo or a mgx. if it was lower in price then it would be sold more obviously, but also allow the teen fishermen like myself and other people a chance to afford it. atleast have the price lower but more than the mgx so more people can buy it.

From: Nolan: GA

Comments: The reel is a master pieces

From: Bassmaster21: Lansing, MI

Comments: i have the mgx...love it...wish i could afford more..but i havent seen this reel yet...looks nice...start saving my money now..lol

From: Big John: Stafford, VA

Comments: that is the sexyiest reel i have ever seen!!

From: Tanner: Canada

***Note: If you have questions about this product or need assistance with an order please email your questions to info@tacklewarehouse.com
View Large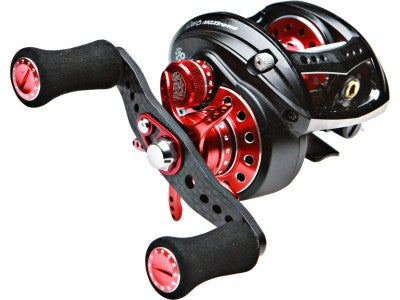 More Abu Garcia Reels Casting