Abu Garcia REVO Premier Generation 3 Casting Reel - $299.99
MSRP: $299.99
PRECISION ENGINEERING AT ITS FINEST
The new Abu Garcia Revo Premier Generation-3 Casting Reels feature a lighter, more compact design that crosses the sub six ounce barrier by utilizing advanced materials, including C6 Carbon sideplates and an upgraded carbon fiber handle. The Gen3 Premier's new wider spool also further improves casting performance without increasing the overall width of the reel.
The brake system has even been upgraded to Abu Garcia's IVCB-IV. This system is also used in the MGX, and provides precise control, whether casting heavy jigs or lightweight finesse baits.
Features:
-10 stainless steel HPCR bearings + 1 roller bearing provides increased corrosion protection
-X2-Craftic alloy frame for increased corrosion resistance
-C6 carbon sideplates provide significant weight reduction without sacrificing strength and durability
-Carbon Matrix drag system provides smooth, consistent drag pressure across the entire drag range
-D2 Gear Design provides a more efficient gear system while improving gear durability
-Infinitely Variable Centrifugal Brake gives very precise brake adjustments allowing anglers to easily cast a wide variety of baits.
-Infini II spool design for extended castability and extreme loads
-Compact bent carbon handle provides a more ergonomic design that is extremely lightweight
-Flat EVA knob provide greater comfort and durability
-Ti coated line guide reduces friction and improves durability

Click on the logo to read their review.
Redesigned and re-engineered, the Generation-3 Abu Garcia Revo Premier Casting Reels now weigh in below the six-ounce barrier thanks to new advanced materials.
Comments: I think i got a bad one. makes noise and wont cast far. was great the first week then an 8 pounder caused problems. Now making the switch from abu to lews.
From: Daniel: USA 10/14/14

Comments: I got this reel about a month ago all I have to say is wow its smooth lightweight its a great reel the thing I like the most is it cast light lures a mile great reel
From: Sal: Odessa, TX 8/6/14

Comments: I have many casting reels my gen 2 was my got to reel but now my gen3 is my absolute favorite. I can cast any lure in my tackle box. Once I had to use a spin reel to cast my light lures. I couldn't belive it when I tried casting a 3 gram lure with the gen3. It cast beautifully with no backlash. Although of cause it needed to be tuned for light lures but now I can finally use a casting reel for bream fishing. I'll also mention I have caught Jacks and good size barramundi on this reel. Don't think about it just get one.
From: Paul: Australia 8/6/14

Comments: This reel is awesome!!! Can cast this thing with a 1/4 oz bait perfectly so i can get the most out of it. And i have it paired with a st croix avid series 7 ft md rod and i have never held a combo so light. This thing is so powerful i dont think that anything will beat it!! If i save up the money to buy one again i will for sure but 300$ is a bit pricey and i can get a lews for 100 its not as good but it will do till i save up for this one again. All in all if you can afford this reel get as many as you can and they will treat you well. They arent noisy i dont know why everyone else is saying that but they arent just throwing that out there.
From: Unknown: USA 4/13/14
Comments: I have been using the Revo Gen 3 premier for about 9 months with absolutely no problems. It has been able to cast baits of 3/16 ounce to 3/4 ounce with only external adjustments needed. This reel is lightweight and tough. I would recommend this reel to anyone looking for a great all around baitcasting reel. Not just a technique specific but a reel to tackle all types of fishing.
From: Eric: Houston, TX 3/24/14
Comments: Actually fished Shimano reels for many years then got one of these as a gift.Now i have six and two MGX's.Do yourself a favor and do not buy shimano.
From: Chad: Bloomfield Hills, MI 3/5/14
Comments: As a geek engineer, I extensively tested dozens of low-profile baitcasters in the 250-300 dollar range before deciding to get 8 of these reels and 8 GLoomis GL3 rods (all insurance replacements.) A truly sweet combo for even the lightest bassin lures.
From: Andrew: NH

Comments: Got six of these when they first came out. I have been kicking myself ever since for not buying more Gen 2's when they were on sale instead of these. I have two gen 2 Premiers and 6 of these manual coffee grinders; wish I had all gen 2's. I refuse to believe I got 6 lemons out of 6 purchased so I raise the question... what the hell happened guys? Absolute garbage product; this all coming from a die hard Abu fan.

From: Owen: San Diego

Comments: great reel! people need to understand that as far as noise is concerned on the retrieve, read reviews for any reels that use duralumin gears and centrifugal brakes, which nowadays is most of the new abus, shimanos, and lews. duralumin is way harder than brass and actually needs to get " broken in". my premiers made subtle noises on the retrieve for the first couple trips out but with care and use it went away. I have a feeling too that the new centrifugal braking systems are not the quietest either due to having more parts that are actively moving on the retrieve instead of being locked in place. This is a great reel and imo best drag system in its class. people are having the same noise complaints about the new chronarch ci4. when you make something lighter, add moving brakes and use extremely hard duralumin gears the reels are never going to be as quiet as solid aluminum reels with softer brass gears and locking on/off brakes but you sacrifice a small amount of smoothness for lightness. the two favorite reels in my boat are the old, white chronarchs and the gen3 premiers. chronarch= smoothest reel but drag is only 10lbs. premier= lightweight and strong but not quite as quiet. it all depends on what your looking for. I like to have a good mix of reels, some light and strong, some a bit heavier but smoother. premier is great though give it time and oil it

From: William: Rochester, Michigan

Comments: i bought this reel 11 months ago I have had only one problem and I havnt even noticed it in a month but it is the button sometimes wouldent come up but its fine now the onely problem with thiss reel is it is harder than most to push the button but over all this is one of the best reels you can buy with 300$ hopeing to try out the revo rocket soon I have had a lot of other reels and abu is the best

From: Austin: FL

Comments: I just got it a few days ago. I love it, I can cast with amazing accuracy and its so smooth. The only problem like some others said its a bit noisy. Also would like to know as one guy pointed out 1 pic says 10 bearings the other 11. My reel says 10. Hope I ain't been cheated lol.

Comments: I only do reviews on things that stand out from whats expected. This reel is the best reel I have ever held. It is SUPER light, very smooth, and casts a mile when it is set right. The comments on the "noise" - this reel is like a fine woman, you must treat it right to get treated right in return. OIL THIS REEL! I put some quantum hot sause on mine and you cant even feel it.

From: Casey: East Texas

Comments: best reel I own, its super smooth and casts far, if your looking for the best reel out there its this one.

From: Hayden: Orangeburg, South Carolina

Comments: I bit the bullet last year and made the jump from a life time of fishing spinners to baitcasters, and I couldn't be happier! I climbed up the Revo ladder from the Revo S, to the SX, and now the Premier. The drastic improvements I felt in the SX VS S, we so awesome I just skipped the STX and went for the Premier. It has taken my fishing to whole new level I never thought possible. Everything I loved about the SX got a million times better with the Premier, it's super smooth and casts so far I need a scope to see where my lure landed! I don't know what all these guys are talking about, it's not loud by any means and I fish this reel almost every day! My current home has five private ponds on the property and I probably make at least one to two hundred casts a day, and I have yet to have any issues with this reel. Buy one, you'll be glad you did.

From: Christian: Cleveland, TN

Comments: Look closely in two of the pictures, one pic says 11 bearings on the side and the other pic says 10 don't know why.

From: Joe: TX

Comments: I got this reel for Christmas and it was great and first but it got very noisy and rough after 1 day of light fishing, not quite sure but I think I got a defective one. Lews is the way to go!

From: Tyler: FL

Comments: Excellent, excellent, excellent reel. I use the one that I have for a lighter line application, puts baits into orbit. Will definitely be inserting another into the arsenal...

From: David: San Diego, CA

Comments: I love this reels the smoothness of this reel is amazing but for ome odd reason the buttons stciks here n there not quite sure if anybody else has this problem but overall great reel

From: Peter
Comments: Revos all the way. I bought the Premeir and the MGX and they are the ish. The castability is just amazing and how smooth the reels are is awesome. Super light and durable, i put my shimanos down after holding this, but dont get me wrong, shimanos are still good!

From: Rider: FL

Comments: Puts the Chronarch, Curado, even Core, all Shimano Reels to absolute shame with no contest. with the lefties at 18 pound drag pressure, the HPCR bearings, the 5.9oz Weight and the infamous IVCB-IV breaking system... theres no reason in the world not own an Abu and if you haven't tried one quit bashing them because your an idiot.... oh and btw KVD used quantum

From: Zac: MI

Comments: I have the previous version of Revo Premier and can honestly say I am glad that I bought it. I used the new model at my local tackle shop and can say that it feels much cheaper. It doesn't feel nearly as smooth or as refined.

From: Alex: Cleveland, Ohio

Comments: To be honest this years revos all dissapointed me other than the revo s. Premier is a waste of money the stx feels much much smoother. Shimano for the money still the best and the best durability. Idk just not impressed this year with the "Award Winning"" revos.

From: Cole: AZ

Comments: do someone know the drag power?

From: Josh: Amazon

Comments: I've never owned an Abu. Still don't, but I read up on just about everything. I'd like to point out the demo program available for reels, right here, on this page. Cast your eyes to the upper right hand corner in the gray area. Click on DEMO PROGRAM and you're home free.

From: Trio
Comments: i just got one today, took it out to test. comparing it to my mgx, u cant even feel the weight difference although the mgx is slightly smaller. the premier feels stronger and better built. both smooth, a bit noisy (not really) but i think thats because of the IVCB break system. both cast far but in my opinion the mgx cast a bit farther and is just a tad bit smoother. almost no difference. if u ask me, all i can tell you is, what the mgx lacks the premier has and what the premier lacks, the mgx has. so if you're someone who owns both like me. you'll know what im talking about. you'll have a sweet set up. let me point this out too. the foam grips are different i like the ones on the premier better. the mgx is my froggin n flippin and also finesse reel. the premier is my to go reel. i personally like the premier a bit more but both reels are great reels.

Comments: Very nice reel. Cast like a mile with this. A litttle loud when retrieving, but all the other qualities override something like that. The reel is very compact when holding it. It is smaller that the Daiwa Zillion. It is a little difficult to adjust to lighter baits with this reel. That's the only problem. I recommend this.

From: Stephen: Silver Springs, MD

Comments: played with one last night... the reel locked up about once every ten pitches and you would have to smack it to engage it again... maybe its a fluke but im not happy with the one i got to use.

From: John: VA

Comments: He probably meant to say Mark Zona. Mark Zona fishes Shimano. Mark and KVD are practically the same person anyway; let's be real. They just about finish each others sentences. Probably dream about each other. Just sayin'!

From: Joey: Texas baby!

Comments: I can say this much I only fish LEWS, but when it comes to cranking ABU is the way to go. Love this REEL its smooth as can be, and the handle is amazing for cranking. If your looking for the real deal you found it in a cranking reel. Matched mine with the Veritas winch rod 7'6 LOVE IT!

From: Kyle: NC

Comments: I've used the chronarch for years, but not after using this reel. Its the best yet.

From: Mike: NJ

Comments: KVD use Quantum....

Comments: Get the chronarch over this any day i fish with KVD and Dave Mercer trust me get the chronarch

From: Jake: Ohio, US

Comments: I own both the MGX and the new Premier Gen.3 and i can say that the Premiere can give the MGX a fun for the money. Better drag and buttery smooth. While the MGX can cast light-weight baits a mile. If your looking between this and the Chronarch. Don't look any further, this is your choice

From: Taylor: Russellville, AR

Comments: Got the 6.4.1 right hand! SUPER SUPER LIGHT! Casts a country mile and the drag is amazing!!! WORTH the $!!!!

From: Jimmy: Claremore, OK

Comments: Get the Premier and you'll never look at a chronarch again

From: Mike: KS

Comments: Don't hesitate!!! Take the Revo! I am sure you won't regret, You will love it and buy more of them! ;)

From: Bobby: TX

Comments: I am in between the nice version of the chronarch and this, what do y'all think

Comments: i went to bass pro shops and held it and messed with it a litlle at the store and it was great! will be purchasing soon.

***Note: If you have questions about this product or need assistance with an order please email your questions to info@tacklewarehouse.com
View Large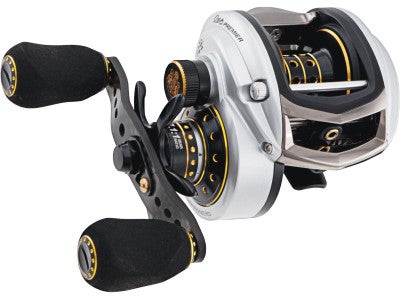 Place Your Order
More Abu Garcia Reels Casting