Abu Garcia REVO STX Generation 3 Casting Reel - $199.00
SUPERIOR CASTING CONTROL AND PRECISION
Utilizing a combination of advanced materials and a new compact design, the Abu Garcia Revo STX Generation-3 Casting Reel's weight has been reduced over 2.5 ounces. That's a 29% weight reduction over the previous model! The reduction in weight, combined with the new EVA knobs allows anglers to fish all day with less fatigue. The Abu Garcia Revo Generation-3 STX also features the widest range of ratios in the Revo family with 6.4:1, 7.1:1 and a new super high speed 8.0:1 ratio model.
Features:
-10 stainless steel HPCR bearings + 1 roller bearing provides increased corrosion protection
-X2-Craftic alloy frame for increased corrosion resistance
-C6 carbon sideplates provide significant weight reduction without sacrificing strength and durability
-Carbon Matrix drag system provides smooth, consistent drag pressure across the entire drag range
-D2 Gear Design provides a more efficient gear system while improving gear durability
-Infini brake system allows almost limitless adjustability to handle any fishing situation
-Infini II spool design for extended castability and extreme loads
-Compact bent handle and star provide a more ergonomic design
-Ti coated line guide reduces friction and improves durability

Click on the logo to read their review.
The Generation-3 Abu Garcia Revo STX Casting Reels are lighter than ever before - and also feature the widest range of gear ratios in the Revo family - including a new hyper speed 8.0:1 model.
Comments: Fantastic reels. Have caught many fish on it and had no problems with the drag slipping or anything. Very strong, durable reels that are affordable. Great reels.
From: Noah: CA 7/3/14

Comments: Good reels, but I expected more. The decision to drop aluminum sideplates for plastic(I know they throw out their tech speak about it, but that's basically what it is & sadly this is what all brands are doing these days) I think made a big difference in comparison to the Gen 2s, which were silent & buttery smooth, while these have some noise & while not rough, aren't to the same level as their predecessors. The Rocket is the closest to Gen 2 smoothness I've found & the only difference between it & the other Gen 3 reels is the sideplates, so that's where I'm putting the blame. Solid reel, just not quite up to the level I expected of it.
From: KCL: IA 4/2/14
Comments: Absolutely LOVE my stx. If i have the money for another i will definitely get another!! great job Abu. Use it mainly for flipping jigs and swimbaits and has held up great! Excited to be using it in my tournaments this year!
From: Adam: Bloomington, IN 3/25/14
Comments: I am a Abu guy and have the MGX Premier STX and SX. And I have used all generations of the premier STX SX and SX. But the best STX made was the gen1. The last two generations wasn't what I expected. I just wish I still had the first one. Only complaint I had for that one
From: Jarvis: GA 2/26/14
Comments: This reel is not the greatest reel ever, I used is for forging and all heavy applications and did not hanle is good over his reel is not good and would not buy another one
From: Nick: IL
Comments: The gen 2 revos were awesome! Why abu! Why.... Yeah they're light, but so is an empty beer can... Which you will have plenty of from drinking your frustrations away from spending $200 on a reel that isn't worth it. I have a gen 1 Skeet Reese revo, gen 2 winch, and a gen2 sx, and they are buttery smooth. I talked my friend, and my brother into getting a gen3 winch after I had such success with my old winch, and they are grindy and make horrible noises when they cast. My gen3 stx makes pretty good casts, but its just way grindy! I will be going to shimano's e series reels or trying to find gen2 revos on eBay from now on.
From: Blake: Chatsworth, GA
Comments: I bought one of these reels in august, and it is amazing!it is compact lightweight and doesn't backlash unless I'm trying something new and difficult like skipping docks, Overall my favorite reel ever purchased.
From: Kieran: Marietta, GA
Comments: I bought this reel ar Dicks Sporting Goods about a month ago and this is a great f/p and spinnerbait reel! I can get pretty far cast when im f/p. And this thing launches 1/2oz spinnerbaits. Definatley worth the money especially since it has a dual breaking system!

From: Dylan: Bakersfield, CA, USA

Comments: The brake tabs pop up on a cast occasionally. I don't know about you guys, but i don't like having to take the side plate off every 10 casts and pop the tabs back into place.... I've always been a Shimano guy, but i decided to try an Abu out.... bad choice on my behalf. Shimano is where it's at, you can't break those reels

From: James: Lake Minnetonka, MN

Comments: If you are a serious tournament fisherman do not buy this reel! Bought two of these and they did not last one tournament day of constant casting! Drag: not as billed and Casting distance was good to start the day and went to crap befor the end of the day!

From: Paul: AL

Comments: This is an update from my last review. I sent my STX back to Abu Garcia to repair the thumb bar that was very hard to press and release. The whole process took about 2 weeks but I just received it back and it's as smooth as a baby's butt! Thumb bar never felt so good! Easy to press and it releases with minimal pressure on the handle. It is now a weapon of bass destruction. Awesome job Abu Garcia for backing up your products! These are great reels that are backed up by a great company! Fish on my friends, fish on!

From: MRH: SB,CA

Comments: Ok, I do like this reel, or so I keep telling myself. It feels good, casts good, handles itself well with all size fish, smooth drag, compact design, super light weight, looks good.... But I just sent mine back to Abu Garcia. The thumb bar sticks! Very hard to press and release. Literally had to two thumb it to get it to work, having to push hard with both thumbs! It sticks and it stinks! It's the only problem I've had with it but it's an annoying one.

From: MRH: SB,CA

Comments: Best reel you can get for $200! Super light, compact, super smooth! I use this in salt water for sand bass and spotted bay bass. Better than all of my shimano reels, no doubt.

From: Kyle

Comments: Junk! Very disappointed in Abu. Have many Gen 2s. They completely messed up what they had going. A good reel, now JUNK. 3 reels later everyone of them slips on hookset, not the drag, the gears... JUNK

Comments: Don't read these fake reviews. I broke this reel down. This reel has some high quality components. Yes it's very light but it's a very strong reel and it's a POWERFUL reel. Fish nothing but swimbaits on it and it handles big fish very well. Get it, you won't regret it

From: Jon: NJ

Comments: I have nothing to say but good things about this reel, Abu Garcia has done it again. This is by far the farthest casting and smoothest reel I've owned, It can cast light lures a mile and hardly ever backlashes because of the duel braking system. However my reel did come drenched in oil out of the factory, but after a little bit of touching up its been the best reel I've ever owned.(I've owned a lot of reels.)I love the fact they put metal where its necessary and other lightweight materials where they don't, making this reel extremely light. Anyone having problems with this reel off the bat should try cleaning out some of the oil/grease and then re-lubing the reel again the way it should b done.

From: Brad: Chapel Hill,NC

Comments: I had a problem the second time out with this reel the clutch needed adjusting I was unable to cast the reel I shipped it back to Garcia they repaired it quickly. This reel is not worth 200.00 dollars "NO WAY " I fish a lot and this reel will never hold up after a couple of seasons hate to kill you Garcia, Maybe it because I fish with Daiwa Zillions the Garcia reel feels like a toy compared to the Zillion I know the zillion are double the cost but you get what you pay for!!

From: Rich

Comments: I was super excited to get the 8:1 ratio. I honestly hated the reel. I replaced it quickly with a lews tournament pro. Its uncomfortable to hold, the thumb bar seems cheap and ready to break, and it just doesn't even come close to my older Stx in my opinion. It might be for some but I will keep my older revos, lews, and now I own 6 tournament pros. Just can't beat them. Again my opinion isn't worth much but these just weren't cutting it

From: Brian: canal Fulton, oh

Comments: ive got the Stx on a 7ft8 irod Gen2 an its awsome dont know what all the complainings about cause mine is smooth no squeeling an ive got big hands an never hit my knuckles

From: Bruce: LA

Comments: Do yourself a favor and get one of these reels! You won't be disapointed. This reel does it all. This is my go to reel. It's very easy to adjust for casting multiple baits. I fish at least once a week, and on tournament weekends as many as 4 days a week. If you take care of these reels (cleaned and lubed like your supposed to) they will last forever. Pairing these reels with my Tom Pryor custom rods, you can cast all day without getting fatigued. This is a great low cost reel in my honest opinion!!!

From: Jacob: Page, AZ US

Comments: Finally got to put the Gen 3 STX 7:1 to the test and I'm actually impressed with this reel. I "winched" out 5 and 6 lb bass out of cover using this reel with the St Croix LTB 7"3" MH/Fast action rod with NO problems! Stayed in total control of the fish and this reel didn't miss a beat. Very smooth, fluid like, and an awesome drag. Can pitch/flip cast light-weight baits in breezy conditions and no backlash while hitting targets farther than normal for me, and without backlashing! Gonna be getting more! Good Luck!

From: Glenn: Stockton, CA USA

Comments: Very disappointed in this reel. Poorly made, squeels when you cast it (yes I lubed it first) and poor handle design (knock my knuckle on the mount screw). I should have learned from the previous Revo Premiers that I purchased. Like the Premier, these reels look good and are extremely light but when you get it on the water, disappointment follows. Never again.

From: Gary: CA Delta

Comments: it's me again, I went ahead and bought a Lew's tournament pro. Man, this reel is much better than the STX gen3. I "was" an Abu guy and now converting to Lew's. don't over look the Lew's, it's way better than this new line of Abu. Man, I should have listen to some of the reviews about jumping onto the Lew's. no looking back now..

From: J@Y: CA

Comments: Nice smooth real, but like others have said the gear is bigger than previous versions and it fits funny in my hand. Does anyone know if all generation 3 revos or the mgxtreme have the bigger gears as well?

From: Will: AL

Comments: I absolutely love this reel! I have had no problems like everyone else is saying. It is super smooth, the drag is powerful, and it's lighter than a feather! I have the 8:0.1 gear ratio and have it paired up on my 13 fishing omen black rod for flipping an pitching small jigs. This reel is a must buy!

From: Austin: FL

Comments: Bought just in time for the 2013 spawn. Caught over 30+ bass and a 7lber. I have to say this reel is great! Drag is great and dual breaking system is cool. Put it on a Dobyns SS704 for pitching and it has not let me down. Only bad is gear is kinda big harder to get a grip than my gen 2. Side plate comes completely off when adjusting the infini brake not like shimano curados where it stays connected when adjusting. As far as the problems people has been posting, I guess I have been lucky I got no problems.

From: HmoobYaj: San Diego
Comments: I'm on my third STX and they all have gone back. Two have had problems with the centrifugal brakes coming disengaged while casting. Your constantly opening the side plate and popping the brakes back in only to have them pop out on subsequent casts. Obvious design flaw. Please check this if you're having casting problems. It's likely your centrifigual brakes have been engaged. The other reel had an annoying internal knocking noise as you were reeling. I'm 3 and done with the STX GEN3. Moving on to another brand.

From: Jeff: Atlanta, GA

Comments: I'm on my third GEN3 STX and all 3 of them have gone back. Two of the reels had problems with the centrifugal brakes engaging after casting. Your constantly opening the sideplate to unlock the brakes and then shortly after casting they are popping out again. For those having problems with casting distance please check this brake issue. The other reel had an annoying internal knocking sound when you reeled the lure. GEN2 reels were decent, these are Junk, looking elsewhere. Ike was right in his City Limits episode in Texas, "POS Reel".

From: Jeff: Atl, GA

Comments: I was going to buy and mount this reel on a couple of Fenwick Aetos baitcast rods, so I went to test it out in the store. Didn't do any actual casting, but noticed quality issues, right away. At 5 different stores, 3 out of the 5 spool tension knobs had failed, or only tightened the spool in the last few clicks before it couldn't be turned anymore. 2 out of the 5 spools had about 1mm of play sliding left and right inside the reel after everything was tightened down. Thumb bar actuation is cheap and hesitant. Only found the drag to be smooth on 1 reel and minor levels of choppiness/sticking on the other 4. I'm not saying that this is the case for every STX reel, but over half of the ones I tested couldn't hold up in the store...how do they expect it to hold up for people who love the sport and fish every chance they get? Lew's all the way!

From: Thor, MN

Comments: thank you, Chee! I'm "review #2", thought I put my name down ahead of time. Anyways, you managed to save my reels life! It was close to being thrown in the trash. I guess a few touch here and there was too much work for Abu or maybe, they thought the extra detail might add another once to their accomplished weight deduction.

From: J@y: CA

Comments: I was just wondering, are these the large eva knobs or medium?

From: Micky Mouse: Disneyland

Comments: Attention,Review #2!! Jacob and anybody who experience the thumb bar engagement problem, look here!! I guess I found the cause and solution. Abu Garcia should look here too, change the cheap thumb bar!!!! OK,I did some search,and I saw people reported the same engagement problem in the reviews of new Revo SX and STX .I start thinking it might be a problem of the design and the way how people operating it. It can't be that many defective reels. After an hour of playing, I finally figured out why sometimes my STX would not engage properly after I push down the thumb bar.

No worry, nothing wrong with the reel, just a bad design. Take a close look of the thumb bar,both side s of the bar are in the rail of the main frame, BUT only ONE side connect to the engagement clutch;that will be the side of your handle and main gear. Try to use your finger "slightly"(I mean slightly) move the thumb bar up and down(shake it) you should see the side of the thumb bar which does NOT connect to the clutch has much more play than the other side.The play is too big and it is the reason of the problem! I have a LH reel so the left side of my thumb bar connected to the clutch, BUT the way how I hold the reel make my thumb always go to the right when I push the thumb bar. So I am pushing the "weaker" side of the thumb bar all the time.Because the play is too big on this side(Thanks to the cheap thumb bar), so sometimes, even the right side of the bar is all the way down, the left side will still be about 1mm higher and it just can not fully engage the clutch.Then I will have free spin handle and clicking noise.Yes,1mm can make such difference.

Here is the Solution: 1, Change the way how you push down the thumb bar. Always put you thumb in the middle or the clutch side of the thumb bar. 2, modify the thumb bar. Since you know the cause of the problem, do whatever you can do to fix it. Maybe stick some thing on the thumb bar to make one side higher than the other. 3, Return the reel and tell Abu to do a better job next time.light weight is good but don't go cheap! Hopefully it helps. At least I am glad I fixed my problem.

From: Chee: Chicago, IL

Comments: This is my 2nd review. I finally was able to put this reel to use on the water. Mounted on my Champion Extreme 795 with 65lbs PowerPro Super Slick.

Goods: This reel is light and makes casting very comfortable, barely notice a reel mounted on your rod. The grinding noise isn't as noticeable on the retrieve as when being toyed without a rod. The casting is super smooth, once you set the cast control to the correct adjustment. The casting is so smooth that I have to tweak up the braking system from my usual use. The new smaller profile of the reel takes the stress off my hand in comparing to the gen2. The lower gearbox is not a problem when holding the rod trigger between my middle finger and ring finger.

Bads: Quality is definitely not there. Gen2 STX has a strong anti reverse, but this Gen3 lacks of it. When pushing the spool forward with thumb and drag star crank down to the max, the spool still gives a bit. Some might not care for this, but this feature on the Gen2 was the stepping stone on my transition from Curado E's to Revo STXs. Jacob commented about how the thumb bar didn't disengage during retrieving and I, too, experience that twice in a 2 hrs of use. That scare the "f" out of me. Never have I ever had such experience where I start to crank and can feel no connection in the gearbox to the spool.

Like I said, QUALITY isn't there. I just started loving this reel, but now I'm not sure of it anymore. For $200, I expect more, and being a STX, I expect perfection. The Gen2 was a tank, solid anti reverse, smooth thumb bar engagement every time. I don't want to look elsewhere but if this reel gets any sloppier, I might have to. Lew's Tournement Pro will be my next pick.

Comments: Just bought another revo stx gen 2 when it was on sale a couple of days ago. The gen3 is much lighter, but I like the solid metal feel with my gen 1 and gen 2s. Fishing reel is one of the most important fish fighting components, nothing beats metal.

Comments: I think I got a bad one, when casting or pitchin I have to really push down on the thumb bar otherwise when I start the reel the handle the spool won't engage and the handle just spins and makes a clicking sound. The gen 2's are way better IMHO. Anybody have any advice?

From: Jacob: Ca Delta

Comments: Great reel! Love it casts like a dream and you cannot beat the drag best in the price range IMO. Comment below, I service reels and i would recommend taking the side plate bearing and the spool bearing out and soaki them in rubbing alcohol for about an hour and do not use a low viscosity oil because that makes it harder for the spool to rotate I prefer to use no oil at all

Comments: I am an avid angler and have owned revo stx's since before they were available to the public and have never had one problem that wasn't my fault until I recently purchased the RVO3 stx. I used it two weeks and I have since returned it and traded in for a Lews tournament pro which I love. The new Revo has alot of noise when casting and reeling and just plain feels cheap. I hate that they chose to change a good thing. I never had any malfunctions I just didn't feel the quality was there as it was in previous versions.

From: Matt: AR

Comments: This reel was great when I first got it. Then, all of the sudden, it wasn't casting even half as far as it was out of the box. I thought maybe I didn't have enough line on the reel, so I put more line on, and still nothing. I turned the brake dial down ALL the way, so there are no brakes on what-so-ever. And still nothing! I've lubed things and fiddled with stuff and I still don't know what it could be. If anyone has any suggestions I'd really appreciate hearing them. Also, I guess it's worth mentioning, I took out the click spring on the spool tension nob, I don't thing that would have anything to do with it's casting ability, just thought i'd mention it.

Comments: the reel is super light weight and compact. Anyone who has ever owned a high end carbon bike will recognize the feel. Anyone else, will say it feels cheap... I love it. Drag feels just like carbon disc brakes. I opened mine up, greased the gears, and oiled the bearings as soon as I got it. It's super smooth now. Been doing that with every new reel over the last year or so. Seems like every manufacturer uses little to no lubrication, and its usually poor quality. Daiwa, Abu, quantum,they all benefited from good quality lube. I really like the wide spool on this reel, and the new gearbox has a lot of torque(6.4). They did use larger gears and gear housing to accomplish this. It does hang lower, and maybe an issue for some. Depends on how you hold your rod and reel, and how much material is milled out of the reel seat on your rod. It lines up perfectly on my Powell Max crank bait rod, and is a super light combo.

From: Rob: Cape Cod

Comments: Try the reel on a rod before you buy. I sent all of my Revo 3's back due to the large gearbox and inability to get my fingers comfortable. Nice reels, just not right for my hands. Going back to Gen 2.

From: Skeeter: Kalispell, MT

Comments: This is a really good reel and I love having it in my arsenal. I was skeptic at first because of the negative comments on here, but man I'm glad I said screw em' and decided to get this reel, paired with a Powell Endurance rod it balances out nicely! It is a bit noisy, but who cares, it's not going to drive you crazy or give you a headache. This and my Core 100 are the two reels I use the most! Would recommend.

From: Michael, South GA

Comments: For the same price buy the lews tournament pro.Great reels light ,cast great and super smooth..And so far everyone I buy feels the same right out of the box...

From: Michael: PA

Comments: seems like any other reel. some grind and some dont. just have to be picky adn find a good reel.

From: Bill: Murray, KY

Comments: This is the best reel out there by far, i like it better than my core 50mg7

From: Merv: LA

Comments: It's crazy to think there are better reels at $199. Revo's are the lightest reels at that price point, as well as the revo sx at 159. Both come in under 7oz and the he Stx comes in an lightning fast 8:1 gear ratio. The closest thing I could find to these specs are shimano's chronarch and curado G series. Both are over 7 oz and both only offer up to 7.1:1 gear ratio.

I have 4 gen3 revo's, 5 gen2 revo's, 3 curado 200's, 7 team daiwa s's and x's. The old team daiwa and shimano 200's are near bullet proof if you take care of them but feel like station wagons in your hand compared to revo's. After starting to fish revo's last season i've been slowley adding revos to the arsenal and bumping out the shimano's and Daiwa's. My only fear is the durability of the revo gen 3's. Ill save that for a future feedback.

From: John: Belmar, NJ

Comments: I just bought this reel in the right hand 8:1. Very smooth and light. It is worth mentioning that it was a little loud at first but when I opened the lube port I noticed there was not any grease on the main reason gear. I applied a little grease and the noise was gone. As far as the lower gearbox it is not a problem for me at all, the reel fits perfectly in my hand. This reel is amazing. The spool spins forever and it casts further than any reel I have ever used. Highly recommended it is a 10. Retail is 199.99 but I got it from the big fish sports on ebay for $155. This is the best reel for the money by far.

From: Derek: Ottawa, Ontario

Comments: folks im sorry to say but i think the looks gotcha on this one im not say this isnt a good reel but there are reels alot better out there for 200 bucks

From: Joe: USA

Comments: very small, super light (so, it feels like you are using a toy), ultra fast. a bit noisy when you reel,,, tho, this is exactly what I wanted for pitching jigs. 8 speed,,,, can't argue with it!

Comments: Just recieved the STX 8.0 from Black Friday sale. Haven't fished with it yet, but got it mounted onto my Dobyns Champion for field testing.

Pro: The 29% weight reduction feels fantastic in comparison to the Gen2. That's a "must have" for me when I'm out on the water. Also, I enjoy the feel of the eva foam grip, don't seem like I have to worry about their durability. They're soft on the touch and durable to where they won't flake off. The one thing that I really like and also the most noticable is the smaller profile of the reel. I'm not a big guy, so this feels more comfortable to palm. I can see that I wont be having any more cramps in my hand from a day of fishing.

Con: What is up with all the oil? Right out of the box, mass amount of oil is everywhere. Had to clean it up with Qtips and towel. So, as stated, the gearbox is definately lower and can be in the way for your fingers. As for me, it hasn't bother as much because my fingers slides to the side of it. Also, it's a bit noisey when reeling. It has that grinding noise, not too disturbing but quite noticable.

This is about all that I can say about this reel being out of the water, so will update next season. Can't really say if I recommend this reel yet, but I do like it alot for it's new improvements. Also, Tackle Warehouse is awesome, got this delivered within 2 days.

From: J@y: CA

Comments: What a great reel! If you can't cast light baits on this reel, its not the reels fault. Threw a fluke with a 1/16th oz weight with this reel just fine, and threw a Pointer 78 pretty well too. Smooth, small profile, and it comes with a carbon drag. Curados don't even come close to the performance in this Revo.

Comments: When I looked at the specs of the STX Gen. 3, I was excited: lighter than a Core 100MG, stronger drag system, swept handle, higher bearing count, more line capacity etc... Yes, the reel is lighter than more reels on the market, but don't let the Revo name fool you; this reel is simply unsatisfactory when it comes to reels being built to last. The reel isn't smooth (far grindier than a comparable Chronarch 200E) and the overall feel is cheap. Although the STX casts heavier baits well, you'd be frustrated trying to pitch, skip and cast lighter baits (especially if there is a little wind - BACKLASH!). I suggest purchasing a Chronarch 200E7 or a Tournament Lews. Much better reels.

From: Jefferey: Marina del Rey, CA

Comments: Just got the 8.0.1 STX, and its sick. The new ones are really light compared to the old ones. A couple concerns are the EVA foam handles, and how long those will last. Also, compared to the Revos of the last few years, the lightweight seems like it sacrifices some power. The old Revos are absolute tanks, where it seems that this model went a little more towards looks and reduced weight vs ruggedness. STILL AN AWESOME REEL! Casts a mile.

From: Boca: CA

Comments: are they coming out with a 8 for left handers ?

From: Jorge: Dawsonville, GA

Comments: I have this reel would much rather gotn anothers lews

From: Cole: VA

Comments: Reviewer #2 here! Thanks for the reply & additional feedback on this last review. I did notice there was one of my rods I put it on that I didn't notice the ergonomic issue with as much, a thicker handle area I suppose - just happened it didn't work (for me) when I went with a Carrot Stick, Powell, Falcon or other rods I really wanted it on... & I'd mentioned the gear box comes down 1/2 inch lower than others. Not the case, it's a 1/4 inch more in drop down, but seems lower since the box is also not swept forward like all my other reels. It drops more straight down below the reel so for me gets in the way more... Anyway, I left out a few of the greivances with the 2nd reels (after 1st was taken back) for instance: it was actually neither of the 2 STX's I breifly owned that would pay out drag smoothly. I didn't think too much of it on the 2nd one since I was resolved to try the Lew's Tournament Pro anyway. On the Lew's, 1st one out of the box has no cosmetic flaws when you look down on the reel (all the revos had bothersome cosmetic glitches until I chose the last one very carefully....) It is extremely quiet & buttery smooth, & I'd found my reel... I do believe Abu customer service is fantastic & I wonder about that if this Lew's has trouble............ We're going fishing & that's the main thing!

From: Midwest Bass Guy: Gardner, KS

Comments: Hi guys, I just wanted to re-submit a review to dispel any doubts about the casting performance of the new stx. I had mentioned (in previous comment) that on the second day of using the reel that it wasn't casting as smooth or as far. Turns out that it was user error..I had cut a bait off and re-rigged it later without noticing the line was coming off the spool from under a loop, my bad. well I fixed that and fished it the rest of the day with zero issues. Really like the reel so far, would highly recommend.

Comments: Hi guys, I would like to respond to the reviewer 2 posts down who had problems with various revos. First, thanks for the great information. I purchased a 3rd gen STX 7:1 recently and was able to use it a few times so far. On day 1 the casting distance and smoothness was phenomenal.. on day 2 I noticed a difference in the reel performance as I was not getting nearly the casting distance fishing the exact rod and lure set-up with no adjustments made on the reel, that made me a bit concerned. I will lube it up with the supplied abu oil and hopefully get back within a week to see if that solved the problem. As far as the ergonomics go I feel there is no problem at all. I have small to medium-sized hands and when I palm the reel the combination of the lower profile and lighter weight just feels more comfortable if anything. Just to be sure I conducted a test with a curado 200, a revo stx gen 1, and the new stx gen 3. I mounted each reel to the same Dobyn's 764 c and palmed it, then quickly switched to a different reel. I must have done this 5 times and really liked the feel of the new STX gen 3 the best. For me it was just a slight difference in how the middle finger lays on the reels gear box. I hope to get back after I hook a hard- fighting , drag- stripping fish to test the drag system as well as seeing if the lube helped smooth everything out.

From: Ryan: So Cal

Comments: I fish the Colorado River which has a strong current. As you drift down stream the holes go by quickly. You need a reel with a high gear ratio for a quick retrieve or you will miss the next spot you want to cast into. The 8.0:1 is fast! The reel does not backlash all that much and it will cast a very long way. I have only been bass fishing for a short time. I tried to learn how to pitch with a different brand of reel and just could not make it work. First day on the water with this reel paired with an Abu Garcia Veritas rod and in just a few hours I was pitching a tube 50 feet and placing the bait right where I wanted it. I went from catching 0 fish the first time out to where I am catching 10-15 bass a day with regularity. I have a mish mash of different brand reels and rods, and each one feels and cast differently and thatÕs very frustrating. I am switching everything out to this rod and reel combo so that everything feels and casts the same.

From: Lyle: Blythe, CA

Comments: COME ON!!! Where's the 8.0:1 in LH???!!!

From: Angel: Chicago, IL

Comments: My other baitcast reals are primarily Citica E's, Curado E's & BPS PQ, JM, & Carbonlites... But I needed another for shallow cranking & have an open mind to whatever will work great... I tried to like the Gen 3 Revo's I really did... Started with an S, but with the only breaking options being: 3 on (spring loaded), or 3 on (non-spring loaded, or no brakes at all I suppose is a 3rd option...) I felt limited on ease of casting distance & adjustability... Plus 1st one I bought had too much noise on the cast & retrieve. Took back & tried the SX. A stud on distance, but only magnetic brakes & VERY touchy on backlashes since no centrifugal brakes to control beginning of cast... Ok, the STX. Took back 1st that wouldn't pay out drag with a 15lb flathead I accidently caught. I had plenty of time to play with the drag during the fight & never could get it to go smooth at all. Plus by the end of the 1st day I lost all casting distance (with 2 opposing centrifugal brakes on (other 4 off) & varying magnetic settings & cast control knob set to let the lure drop quickly & varied this to try to help it out...). 2nd one worked just fine, very nice! It was later as I messed around with that one that the real 'deal breaker' occured to me - the new gen 3 revos are so incredibly low-profile that they push the gear box area on the handle side a half inch or so lower than any other baitcast reel that I've ever seen or held. This puts the box well below the rod blank itself & my left hand fingers (as I palm the reel) up off of the rod blank. (unless I 'scrunch' them bent down to the inside of the gear box). Now the whole ends of my fingers have to rest on the gear box itself, right on and over the edge of it... The perfect way your hand should wrap unimpeded under a mounted reel was jacked up big time. I knew something wasn't right from the beginning, but check it yourself & see if it sets up comfort

Comments: I ordered the 7:1 and the first reel I received wasn't 100% satisfactory. It was a little noisy and I felt a slight grinding in it. I returned it to TW and they did a great job getting me a new one. The new one is fantastic! It's very light and low profile. It's very smooth and casts a mile. I would compare it to a Lews Tournament pro.

From: Brandon: NY

Comments: Great reel. i own the 7.1:1 and could not be happier with it. Very light but still feels solid. Good line capacity and smooth drag. My favorite part is how well it casts and how adjustable the reel is for your particular need. I mainly pitch with this reel and cast some as well and I can tune the reel quickly on the water if I change from flipping a jig to casting etc... I loved the old revos but these leave them in the dust. Great Job Abu Garcia

From: Tyler: KY

Comments: The reel is very smooth out of the package and seems to stand up to abuse quite well. The drag is powerful enough to get you out of the thickest slop you can find. The new low profile and light weight design makes it easy to fish with all day without fatigue. Basically a Gen 2 Revo Premier in a lighter, faster, lower profile package, and at a lower price tag. I bought one and I now own 3, best investment you can make.

From: Dylan: La Crosse, WI

Comments: When I ordered the 8.0:1, I got it for pitching and figured it would be too fast for moving presentations. This was not the case. While it is great for pitching, I was swimming a jig with it today and it did fine! Great job on the new revos!

From: Mike: TX

Comments: I've got the 8:1.....awesome reel, super light, and casts a mile

From: Lucas: La Crosse, WI

***Note: If you have questions about this product or need assistance with an order please email your questions to info@tacklewarehouse.com
View Large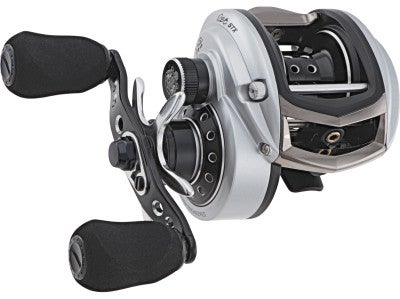 Place Your Order
More Abu Garcia Reels Casting