Abu Garcia REVO SX Generation 3 Casting Reel - $159.99
NEW CUTTING EDGE DESIGN WITH ADVANCED PERFORMANCE
The Abu Garcia Revo SX Generation-3 Casting Reels dropped by over 2 ounces compared to the previous model, taking lightweight design to the next level and reducing the weight by 25%. A more powerful D2 Gear System, the next generation of Duragear, provides enhanced efficiency and precision when the water, and as with all new Revo low profile reels, the new X2-Craftic alloy provides the most advanced corrosion protection. The Abu Garcia Revo SX Generation-3 Casting Reels' MagTrax brake system also provides smooth, consistent brake pressure for casting precision like no other.
Features:
-9 stainless steel ball bearings + 1 roller bearing provides smooth operation
-X2-Craftic alloy frame for increased corrosion resistance
-C6 carbon handle sideplate provides significant weight reduction without sacrificing strength and durability
-Carbon Matrix drag system provides smooth, consistent drag pressure across the entire drag range
-D2 Gear Design provides a more efficient gear system while improving gear durability
-MagTrax brake system gives consistent brake pressure throughout the cast
-Infini II spool design for extended castability and extreme loads
-Compact bent handle and star provide a more ergonomic design
-Ti coated line guide reduces friction and improves durability
The Generation-3 Abu Garcia Revo SX Casting Reels are over 2-ounces lighter than the previous model, and still pack the tremendous performance and corrosion resistance of the original Revo SX line of reels.
Comments: First time out the reel had problems. About every third of fourth cast the reel would not retrieve the line when I started turning the handle. After I turned the handle for about five to ten turns it would kick in. I was in a tournament and had to put it away. I took it back and had it replaced. I'll be out tomorrow to check out the new one.

From: Stan: Hammond, IN

Comments: I bought the REVO Sx and the Revo s last fall. they're both great. I bought 5 lew's tournament MG's and 2 of them started to grind. So back to Abu. Good luck this year

Comments: bought this reel becasue i picked up another rod for jigging, and holy wow! 30 lb power pro.. can still cast half oz football head further then anything else i own. incredibly smooth. probably smoother then my cronarch i have. and dialed it in within 6 casts or so. if you pick one up from a store.. make sure oyu get one from the back or that is still sealed up, i reccomend giving it a shot

From: Dustin: Liberty Lake, WA

Comments: I think most of the people that are saying that this reel is garbage are Shimano fans, I have 6 of these 3rd gen reels and there perfect, light weight, smooth and super strong. Get one you won't regret it

From: Bill: CA

Comments: bought e series curados 5 years ago still perform flawlesly bought gen 2 revo sx 2 years ago looks cool worked nice when new does not cast as well as shimano curado e i baby my reels this revo sx is garbage does not cast as well as shimano not a long lasting reel cast out clutch does not fully engage half the time noisey sorry i purchased it looks cool but pure junk will never buy garcia again rather fish a reel that is a half once or so heavy than fish light weight junk like this

From: Todd: Dallas

Comments: Hey everyone, i just got the SX last night, and it is 3 times better than last years, and I didnt even think that was possible! I have fished almost every single reel company (excluding pinnacle) and abu has come out on top every time. Pick one, or more, of these Revos up, it won Icast for a reason!

From: Paul: Midwest

Comments: I'm not particular brand person I have lews,shimanos,and Abus. This reel is by far the wrost one . I have 3 gen2 sx I like those, but this one is terrible it' is impossible to get tuned right. The tension knob takes like 3 clicks and its all the way tight. Also the thumb bar gets stuck and you can't reel.

From: Zakk: LA

Comments: this reel is pretty beast, i was casting weightless senkos and flukes a good 25-30 yards today with 17lb fluoro, thats pretty far! with heavy line like that. the drag is super smooth, engages just fine, looks sick and is very comfortable to palm. getting another one here shortly to pair with my new rod

From: David: WA

Comments: Follow up to my original review. Took the side cover off and the spool out and lubed bearings, tightens the screws that hold brake to side cover, and removed some line. Problem with noise and vibration fixed. Reel is now pretty darn smooth, still not a big fan of the magnetic only braking, but it works okay.

From: Daron: LA

Comments: best reel i have ever used, and iv used alot. Guy below managed to mess it up somehow.

From: Joe: IL

Comments: Got this reel the other day, spooled with 12lb seagur red label and tried to cast an Excalibur Edwin Evers jerkbait, not good. With the brake set on max I had to adjust the tension knob so far that it was hard to reel back, and casting distance was terrible. Casting distance improved with a weightless caffeine shad or Texas rig with 1/4 oz weight. Took it to the lake and it started making this weird sound and vibration during the cast. Not happy, hope TW will exchange it.

From: Daron: LA

Comments: Great reel - very light - a bit smaller then the original SX - wish it had 11 rather then 10 bearings.

From: Kev: Keystone

Comments: Love this reel. Have caught 7 bass weighing 4 lbs. to 8 lbs. on it since Christmas. Couple it with a St. Crox Rage 7'1" Med Heavy Rod and you can cast your lures a mile.

From: Steve: Cary, NC

Comments: just str8 beast...smooth n light...tune it right n u will never backlash..oh n 1 more thing...VERY SEXY

From: Mr. HMOOB: CA, USA

Comments: bought a 6:4.1 for my jerk bait fishing. Paired with sunline sniper. Casts smooth for the most part.

Comments: Abu Garcia is the best love there reels, way BETTER than LEWS!!

From: Jordan: Longview, WA

Comments: I've been a shimano guy most of my life but there reels keep going down hill. So I bought an SX to use as a cranking reel. I opened the box pick up the reel and all I can say is wow. Smooth clean and I was surprised how lite it was. Ill be rethinking my faith.

From: Andrew: SoCal

Comments: As previously stated, get the G2, you will be more impressed than with the G3. This is by far my favourite reel of all time, and in my opinion, the best to get for the money.

Comments: This is my first low profile reel. Coming from a Calcutta 200GTB, this reel is light, smooth, and has tons of drag. The only bad thing I have to say about it is I do NOT like the magnetic-only braking system. I'm not saying this is not a good reel, but if you haven't used a mag brake before I suggest you try one out before you buy. I would rather a centrifugal brake, personally. I have this reel on a Cashion 7' MH worm and jig rod and I really like the setup. I will be keeping the reel, but beware of the mag brake.

From: Warren: Pell City, AL

Comments: Love this reel so smooth and cast so nicely and I have it on a 7' M duckett love it and plan on getting more

From: Bodee: St. Augustine

Comments: Abu garcia is by far my favorite reel manufacture. My Revo sx gets a hard work out every fishing trip. I have it paired up with a G loomis GL3 and throw nothing but plastic swim baits on it. The design is very well, fits in my palm very nicely. The SX and S are both great reels, the next reels i purchase will be abu garcias.

From: Brad: Lakeland, FL

Comments: Awesome reel for saltwater, I catch reds, stripers and snook on this reel!

From: James: FL

Comments: pretty good reel. Smooth and casts pretty far. Got it with a 734 Dobyns savy.

From: koj tub boy: Fresno

Comments: I have 3 revo SX's all of Dobyns rods, 2 for small swimbaits and 1 for crankbaits. I use them just in saltwater and they are very light and strong! I recommend them to everybody!

From: Jimmy: CA

Comments: you really have to play with this reel until it actually gets good... it has a real fast spool. I can only cast spoons, jigs, and heavy worms with this but it works well when you get it down

From: John: AL

Comments: i cant wait to get mine in. im gonna pair it with a 7'3 vendetta 2 and im getting the reel 7:1:1 put 50 lb braid and throw frogs and pitch and flip

From: Sam: Dallas, TX

Comments: Seems to me that this reel is probably what I am looking for. I have been using baitcasters for about 4 years and I am looking for an upgrade. I like to fish every inch of the lake wether its froggin' shallows, crankin', jigging... just about anything. I am searching for a well-balanced reel and I was wondering if this is it.

From: Jake: Ann Arbor, MI

Comments: This thing is SMOOTH! I paired with a GLX. I'd been looking for a baitcasting reel that would let me cast finesse baits as far as my spinning outfit let me. This reel hit the mark bigtime! I may pick up another to replace my old Curado!

From: Tre': Montgomery, AL

Comments: I've had my chance to use one of these in the high speed model, and I will say, not impressed. These reels may be lighter.than the previous generation, but internals are not what they should be, especially the fact that these reels have back play. Who spends $180 for something that feels like a MAX series reel. If you can get your hands on the gen 2 revos, do it. Its just sad that Abu Garcia took the same path Shimano did with the Curado.

From: Mike: WI

Comments: Awesome reel. Casts very well and it smoother than my Gen 1 revo sx. Also, it is much lighter. Well worth the money

From: Colby: Pace, FL

Comments: Best bait caster ive ever owned. Buttery smooth, as light as a feather compared to the older Revos and just an over all great reel. Handles fish like a dream. Paired with a 6' 9'' Veritas and a spinnerbait, you cant beat it.

From: Matthew: MA

Comments: The best bait cast reel I've ever owned. It was my first Abu and I have to say, I'm a fan. Dupes smooth and light as a feather. It also goes fantastic with my temple fork 6'6" rod. Very happy with this purchase

From: William: TX

Comments: the old revos were boss thy put tp much tim on the looks than quality onthe new revos

From: Jack
Comments: Hey i like this reel but its more expensive thsn the old one. Which is better? And what would be a better buy?

From: Tom: AZ

Comments: I have the Gen. 2 and just broke in the new Gen 3. WOW! The generation 3 is sooooo much nicer overall. The first thing you'll notice is how much lighter the new one is and how much better you feel after a day of peppering the water all day long. It's smaller profile is much nicer for Pitching, yanking spooks all day ect... The new one is a little smoother but they are both smooth and cast a mile. Get one!!!

From: Ryan: Seattle, WA

Comments: What do you think i should get the new sx or the old one because the old on is on sale right now and was woundering what was better?

From: Brian: FL

Comments: Maybe mine is defective, but this thing backlashes more than any reel I have ever owned. Besides the first gen Revo SX. I loved the gen 2 SX, but this one is horrible in the casting department. The ergonomics are great and it is smooth as butter.

From: RS: TX

Comments: This is one awesome reel. You're not going to find a better reel in this price point from anyone. Its not as refined or light as a Steez, but its also not $600.00. Its super smooth and cast like a dream with tons of power in it. I was fishing for bass and ended up with a 6 pound catfish on the line and this thing brought it up like it was a shaker. Great reel. Would definitely get another one if needed.

From: Milt: San Fransisco, CA

Comments: Great reel!!!! Makes the older revos I have fell like ton.

From: Eric

Comments: Amazing reel! I got one and now I just ordered 2 more! Very light and super small! They are way better than diawa and shimano reels! And excellent power for fish in the Chesapeake bay! Highly recommend them for anybody!

From: Bob: Baltimore, MD

Comments: November reel better than the older models smaller and lighter. I think the profile is smaller than the curado and chronarch E'skeep it up Abu Garcia.

From: Hieu: Houston

Comments: cant wait for tyhem to releaser to public i love the old old ones match with duckett man nice pair

Comments: Been playing with one of these for about 3 weeks and what can i say... Abu has done it again. I came from curados and chronarchs and loved those reels but then... I found Abu. I will be fishing these reels all year this year and cant wait to see what they come up with next.

From: Derick: Brigham, UT

Comments: Got one of these way before they are made to the public. Awesome reel ! Smalleer, lighter, but just as strong ! Great reel !!!!

From: Chris: Ooltewah, TN

***Note: If you have questions about this product or need assistance with an order please email your questions to info@tacklewarehouse.com
View Large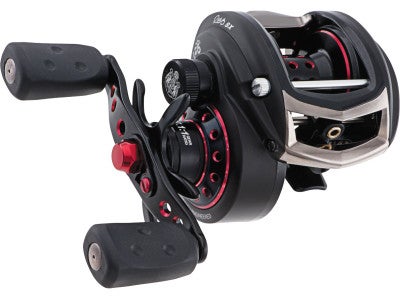 Place Your Order
More Abu Garcia Reels Casting