All Terrain Tackle Grassmaster Jig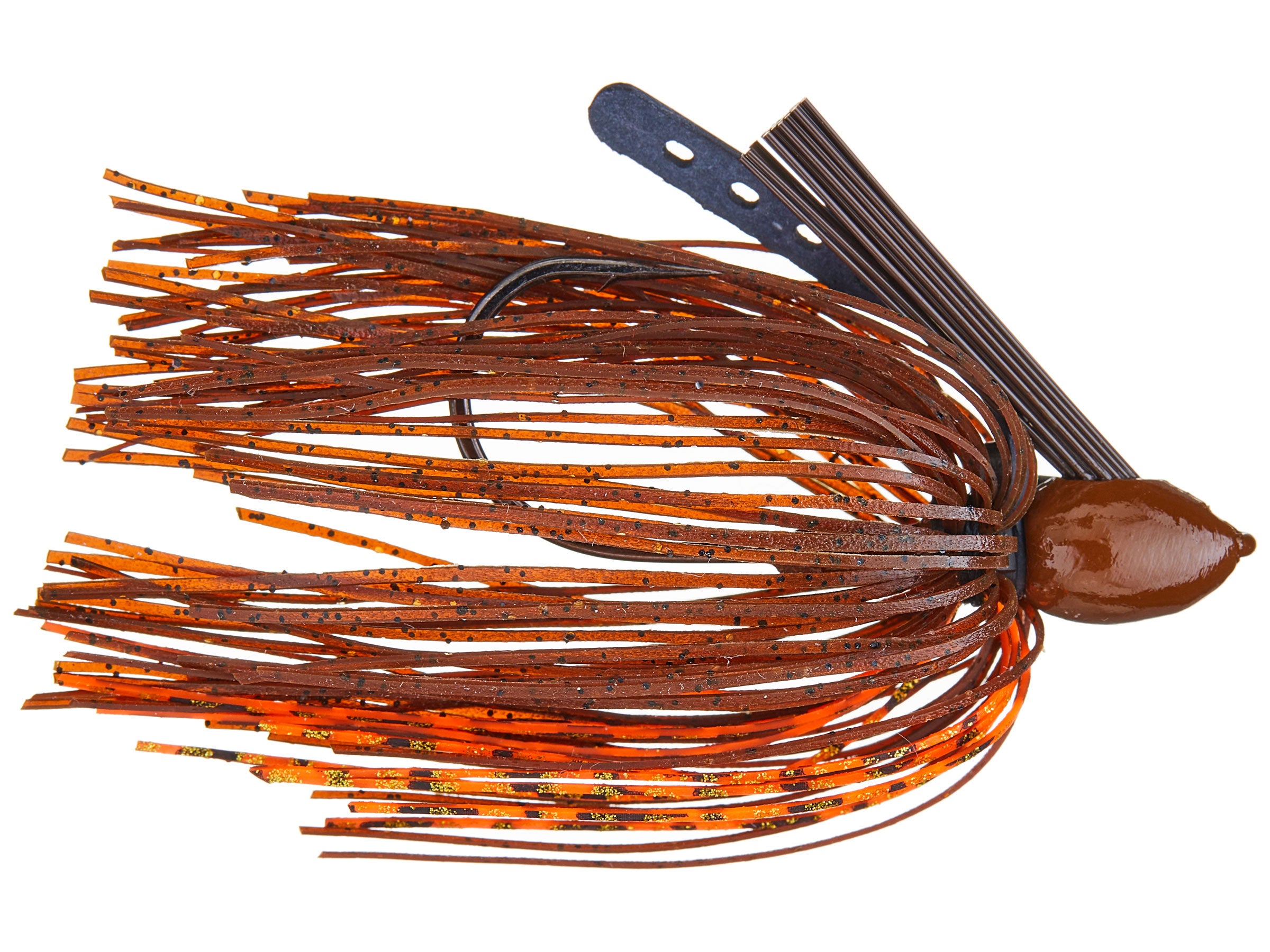 Field tested on Florida's Lake Okeechobee, The All-Terrain Tackle Grassmaster Weed Jig can be fished in and around the thickest vegetation. The Grassmaster Weed Jig's pointed head and low angle weed guard can punch through super-heavy grass mats. The Grassmaster is built on a super-sharp 2X strong Mustad Ultra Point hook for horsing that hawg out of heavy cover. The All-Terrain Tackle "hidden eye" design allows the Grassmaster jig to get in and out of vegetation better than any other jig.
Endorsed by FLW pro Scott Martin, the big 1oz model is his favorite jig for fishing the super-heavy mats found on his home waters of Lake Okeechobee. These mats are so thick that raccoons walk across them without touching water!
12 Colors
More From All Terrain Tackle Jigs
Customer Reviews
Comments: They say no jig is 100% weedless. Ok. Well, this one is 99% & I'll take it over any other grass jig on the market. Aside from this being the absolute best jig for punching & working through the heaviest grass with minimal if any hangup, if I was to ask for the best design & quality jig on the market, this would truly be the only one for me. The head shape & design is perfect for getting through the thickest crap & I have yet to chip any paint fishing in weeds. The weed guard is just the right stiffness, perfectly angled & cut the proper length right out of the package. The quality silicone skirt length is "ok" out of the package, but I do prefer to modify it some. The skirt is also hand tied, which for me is a big quality factor. The rattle band is separate from the skirt collar & can be removed or replaced, unlike cheap jigs (SK Hack Attack) that have the skirt collar rot off after one season & you have to replace the whole skirt & rattle. Finally, the hook on these is a monster! Your 80# braid will snap before this hook gives.
From: Big J: NY 7/1/16

Comments: good jig for grass or mat fishing but also works well as a swim jig. Seems to get hung up a lot when I fish it around wood or brush though
From: John: NJ 6/22/15

Comments: Best grass jig I have used. I used these in deep milfoil and matted water chestnuts. came thru great. these make punch rigs and Texas rigged creature baits obsolete. Good price too.
From: Dave: Mohawk River, NY 4/20/15

Comments: bought 5 of these jigs in 3/4 ounces and used one today to punch some pads and after about 300 casts I can tell you that they go through with no problem and have no problem with the weed guard or skirt only caught 4 biggest was 2 1/2 pounds but great jig
From: Jim: Philadelphia, PA 9/23/14

Comments: This is a really good grass jig. It is the only one that I have found that will not hang up in Kissimmee grass.

From: Goldy: Coleman, FL

Comments: This jig is AMAZING! It never catches grass and my favorite color is watermelon red flake with a netbait paca chunk on the back in watermelon crayfish.This thing catches fish.

From: Noah: Sioux Center, IA

Comments: This thing feels bulletproof. It definitely does not catch a lot of grass, and the hook is strong. Haven't caught anything on it, but I trust it enough to stick with it until I do.

From: David: NH

Comments: Jigs are nice but the hooks are inconsistant...some are nice and sharp, while others are dull out of the package

From: Whitey: Southern, IL

Comments: awesome jigs..... best i have found for getting through those mats.

From: James: Toledo Bend, LA

Comments: This is the best jig on the market for fishing grass, it never catches grass and gets bit! Great product

From: Bill: Highland, TX

Comments: O my god this jig is amazing!! it punches threw the grass great and has life like action on the skirt! get the Watermelon Red jig of this and get a Reaction Innovation sweet beaver as a trailer in Watermelon Red so it matches and you will catch a PIG i've landed three 6.5lb Largemouth on this jig and it won me a tourney!!

From: Tyler: MI
Comments: These jigs are great for working thick heavy grass. I use the 3/4oz in black/blue and is very effective. It doesn't pick up a lot of grass, but when it does just give a short quick pop and the grass comes off easily allowing you to continue working your lure instead of bring it back to clean off the grass. The hooks stay sharp and are very strong. The paint is very durable. I do have a lot of scratches on it from going over rocks, but no peeling or chipping. Overall very good jig for grass.

From: Touny: Overland Park, KS