All Terrain Tackle Jim Moynagh's Football Jig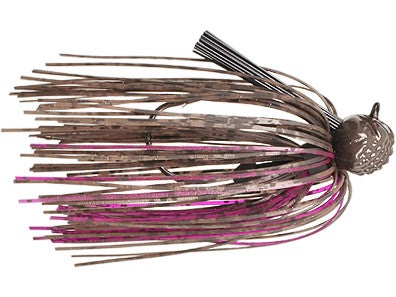 The All-Terrain Tackle Football Jig was designed by FLW tour pro Jim Moynagh. Jim's Football Jig literally rolls through rocks, gravel, and over ledges without hang-ups. The Jim Moynagh Football jig is backed with a heavy black-nickel Mustad Ultra Point hook. Jim Moynagh's Football Jig is a must have in every serious bass anglers arsenal. Jim's favorite technique is to "drag" this jig over rocks with short pulls.
Jim Moynagh won over $250,000 fishing this football jig.
8 Colors
More From All Terrain Tackle Jigs
Customer Reviews
Comments: Caught well over 100 fish on these jigs in a week, black and blue to be specific. The fish absolutely CHOKED the hig including a 5 pound 10 ounce smallmouth. I also caught a 41" Muskie AT THE BOAT on the Green Pumpkin with a Double Curly Tail Grub as a trailer in 20 FOW. These jigs are VERY sensitive due to the bumps on the jighead. Surprisingly, the jighead comes through cover very well, even when pitching it into pads and wood. Long story short, these jigs CATCH FISH. GET ONE!!!
From: Nick: WI 12/21/15

Comments: I bought one of these in 1/2 ounce from gander mountain and in 4 days I caught well over 70 LMB that were 15" and over. I like it but the skirt is now falling apart :(

From: Adam: WI

Comments: These are Garbage! Extremely disappointed in my purchase of them. I bought about ten of these in 1oz. size. 75% of the skirts were put on the opposite way that they should have been, the skirts also have very few strands. Poor quality control.

From: BIG: PA

Comments: Fished these and yes i did have success but the hook bends way to easily. Im gonna stick with dirty jigs

From: meatwad infection: San Diego, CA
Comments: Throw this jig with a paca chunk trailer over rock piles and hard clay and you will catch some nice fish!

From: Carl: ME

Comments: an average football jig at best and yes the hook flexs on big fish no matter what size line that you use.

From: Bob: Rochester, NY

Comments: Hook seems very small compared to other popular football jigs such as "strike king." The hook is much to flexible for my taste as well. I can bend it with my fingers using minimal force. I certainly would not trust this hook when pulling up a 5+ pounder!

From: Matt: OH

Comments: had mine snag on a rock 3rd cats... kind of disappointing I have another though and will see how well it produces.

Comments: Great colors- too bad it's build on a cheap mustad hook.

From: Brian: GA

Comments: Great jig at a great price. I'm a football fanatic. Weedguard is not too stiff, nor too soft. Skirt colors are good, and the hooks remain sharp. Oh and I just cashed a check for $1400 for biggest smallmouth of the tournament. Thanks All-Terrain.

From: Daniel: Spokane, WA

Comments: i think the jig has amazing action and a awesome jig all around

Comments: Ok this jig is nice for deep structure but not the best. I prefer the Strike King mode slightly more it just has more applications in my opinion.

From: John: Batesville, IN
Comments: best football head on the market, i just buy the heads and tie my own jigs, my brother fishes the moynaugh color and wacks em, the divots in the bottom really help sense transitions in bottom contour.

From: Jeff: NJ
Comments: Great Jig, the best hook up ratio out of the 8 different heads I have tried. I buy the heads alone and tie my own jigs, the dimpled bottom seems to transmit bottom contour extremely well.

From: Jeff: NJ
Comments: i love this jig i have it trailed with a Berkley crazy legs chigger craw in black and blue and have caught a ton of fish off it! i am very satisfied

From: Brian: the bluegrass state