All Terrain Tackle Rattling A.T. Jig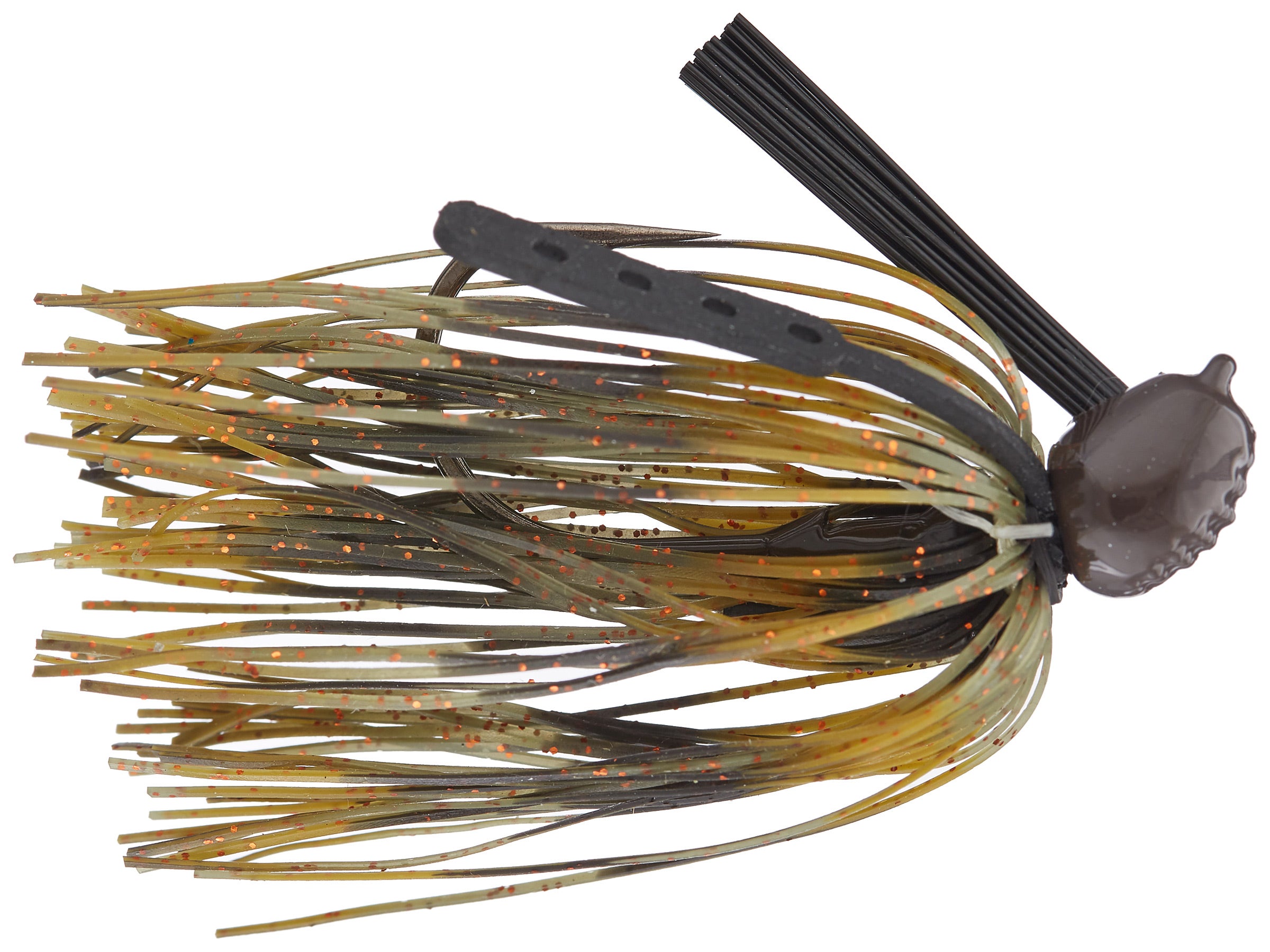 The All-Terrain Tackle Rattling A.T. Jig is the one jig that can do it all! Whether you fish trees, bushes, weeds, rocks, or docks, the A.T. Jig will get the job done. The A.T. Jig's "hidden eye" design keeps you fishing instead of removing weeds. The A.T. Jig offers a triple-coated paint job that is designed to last. This jig is built around a super-sharp Mustad Ultra Point hook that keeps fish hooked.
FLW Pro Anthony Gagliardi used the 1/2 oz version of the A.T. jig to help him win the 2006 FLW tour stop on Lake Murray!
12 Colors
More From All Terrain Tackle Jigs
Customer Reviews
Comments: These jigs are better than the big named jigs. The 3/8 oz black and blue jig with an electric blue chigger craw is my go to jig for dirty water. It fishes well around structure. I like to fish it around reeds and pads. These jigs are well worth the money.
From: Aaron: Olympia, WA 4/4/16

Comments: Had the skirt bust off of a brand new one today after a couple fish and the paint got chipped away very quickly from fishing rocks but I always seem to catch my biggest fish on this jig for some reason especially the 3/4 oz junebug.
From: John: NJ 6/22/15

Comments: Great Jig. The 1/2oz size has a bigger hook than the 3/8oz so if you're looking for a bigger bite hook I'd go 1/2oz. The weed guard is great for a store bought jig because they give you a full weed guard that you can trim to your liking. The inverted line ties are always a plus and the skirts are made high quality with a extra band. Only problem I had was the paint on the jighead will come off quick if you're fishing rocks but the fish don't seem to care. Overall its a great jig for the money!
From: Jbird: RI 11/17/14

Comments: I'm a big fan of these jigs, for the price. I like the head design and the paint withstands some good abuse. When I first got them, I lost several fish after setting the hook and turning the reel handle a few times. I started trimming 4 fibers off of the front of the weed guard and trimming the whole guard down a little. This really helped my landing %.
From: Tyler: KY 10/2/14

Comments: Amazing jigs! The hook on this jig is crazy strong, first fish I caught one day was a 23 pound blue cat (I was targeting bass, this guy just slimed my line up) but the hook was not bent one bit, and he was ripping out drag set at 8 pounds! The only change necessary was a new trailer, and then I was pulling bass out the rest of the day! Awesome jigs, available in great colors too!
From: Dave: Joliet, IL 6/11/14

Comments: Great jig for pitching timber. If you fish it right it doesn't get hung up around trees at all. Not the best jig for rocks but it gets the job done. Only complaint is that the rattle breaks off after a while of fishing thick stuff.
From: Unknown: USA 3/13/14
Comments: Great hook, but the weed guard kills it. The weed guard can also double as a leaf spring for a dump truck. I ended up cutting the weed guard off and using just the hook when conditions allow.
From: TK: PA 3/6/14
Comments: Best Jig Ever!!! I catch tons of big fish on this jig. My favorite is the black/blue one paired up with a Bass Assassin 4" Pure Craw in black/blue.

From: Muzzammil: MN, USA
Comments: Just won a tournament on this jig in the pb and j color. Great jig, comes through wood and rock pretty darn well, especially for the price.

From: Julian: Amherst, MA

Comments: Best value I have found for jigs that you can buy from a store. They have a trailer keeper that works well. Good hookup ratio. Skirts hold up well. The paint will chip on abrasive surfaces after some use, but that doesn't bother me. I trust AT products when money is on the line.

From: Scott: AR

Comments: Great Jigs! I've been buying them for three years now and have pushed them on my buddies...work great up here in WI and have earned me some money. Thanks again for a great product guys.

From: John: Seymour, WI

Comments: best jigs on the market paca chunk and your good to go,

From: Guntersville, AL

Comments: best jig on the market yet!! i have yet to lose a bass of anysize on this jig!! 1 and a half years

From: Kyle: Itasca

Comments: Great jig! Nice hook-up ratio and really durable like they said. Seaguars floro and a paca chunk trailer and you're good to go.

From: Dave: SC

Comments: Bought a number of these jigs. They seem very nice except the paint chipped off on the first outing and i wasnt even fishing a rocky terrain, bit dissapointing

From: Ryan: Cape Town, South Africa

Comments: Best reed jig on the market. Match your forage Tie it up & hang on. Quality hooks and skirts & the best head design. you need these in your line up

From: Brent: Lake, MN

Comments: Amazing jig. Works well in all areas of the lake. Paint is really durable when worked over rocks. Perfect match for a paca chunk.

From: Dave: SC

Comments: Great jig tackle warehouse please keep them in stock.

From: Scott: Weed, CA

Comments: Love this jig! The head design is awesome and skirt never slips down. Agree with Mike, the chigger craw or zoom super chuck look awesome for trailers. Check out his website for new colors and new skipping jigs for 2011!

From: Ben: Wisconsin, USA
Comments: This jig is okay but the hook isn't very sharp after a few fish and the weed guard isn't very thick so it gets hung up a lot. There are a lot better jigs out there on the market.

From: John: Pierre Part, LA
Comments: The best head design I've ever seen on a jig. All-terrain is a very fitting description. It comes through piles of rocks and brush piles better than any jig I've ever used.

From: David: Winnsboro, LA
Comments: I have this jig in Blk/Blue and Green pumpkin, they work well in and around most types of structure. I have had no issues with the quality of the jighead or the skirt so far. I have lost a couple of the rattles but this happens with any jig.

From: Shaun: Port Orchard, WA
Comments:Love this jig. paired up with a crazy legs chigger craw it has great action. Fished Saturday after Christmas and whacked two 7 lbers.
From:Mike: Erwin, NC