Amphibia Depthcharge Sunglasses - $148.99
The only high end sunglasses guaranteed to float, Amphibia Suglasses feature several fishing specific technologies, and are already being used by top Bassmaster Elite Series pros, Jeff Kriet, Mike McLelland and Jeremy Starks.
The Amphibia Depthcharge Sunglasses are designed to fit comfortably no matter how your face is shaped, to stay firmly in place through your most physical activities, and to float in water. On top of all this, the Amphibia Depthcharge Sunglasses are built to last, ensuring that they'll stand up to whatever you can dish out, time and time again. High quality performance sunglasses - the Amphibia Depthcharge Sunglasses will never give you that sinking feeling.
Features:
MHD Maxim Horizontal Displacement Technology - Light reflected from the water's surface is horizontally polarized. Amphibia's polycarbonate lenses were designed to maximize the horizontal displacement of the surface reflective light. Amphibia's polarized lenses contain a special filter that also blocks intense reflective light, with maximum glare reduction.
AirCel Flotation Technology - Simply put Amphibia Sunglasses FLOAT. Never lose a pair of sunglasses in the water again.
Waterphobic Lens Technology – Amphibia's lenses are specifically designed to repel water and snow on both sides of the lens.
TiBridge Technology - Uses titanium alloy encased in high silicon rubber to provide a custom fit for your face, no matter the shape or size.
TR90 Construction - Amphibia frames use rugged TR-90 polymers for maximum durability. High silicone rubber is used to eliminate any slippage and provide a custom fit.
Comments: tight and uncomfortable for the first two weeks, then so loose, every time you bend over they fall off your face. The only good thing about them is that they float. Save your money and buy a pair of Wiley's or Oakleys
From: RJ: PA 7/25/14

Comments: Great sunglasses for everyone! They're light, durable, have the best lenses on the market, and above all else they float! Never again will I have to dive to the bottom of the lake to get my $200 glasses

From: JP: LA

Comments: A little on the bulky side but they're really comfortable to wear with a hat which is huge for me. Haven't had the balls to see if they float yet though. excellent clarity too. overall i'm happy with them.

From: Seth: Spokane, WA


***Note: If you have questions about this product or need assistance with an order please email your questions to info@tacklewarehouse.com
View Large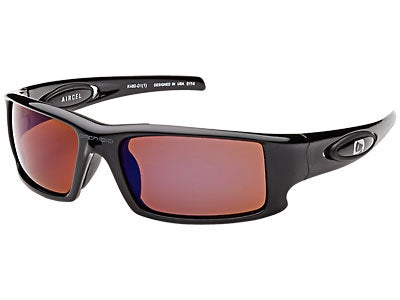 5 Available Colors
More Amphibia Performance Sunglasses