Ardent Apex Pro Casting Reels - $129.99
Weighing in at only 6.3-ounces, the Ardent Apex Pro Casting Reels deliver lightweight, tournament-caliber performance. Compact and easily palmable, the Apex Pro's feature a rigid, high strength aluminum frame that forms a solid foundation for the inner workings of the reel. Packed with 11-bearings (12+1) as well, it delivers incredibly smooth functioning as well.
The 270-degree magnetic brake system also provides a wide range of cast control for different lures, and it's also externally adjustable for quick changes on the water. The Deep V 6061 T6 machined aluminum spool delivers increased line capacity, while reducing weight, and the lightweight aluminum swept handle delivers excellent cranking leverage. Available in both a speedy 7.3:1 gear ratio and a powerful 5.3:1 gear ratio, the Ardent Apex Pro Casting Reels have what it takes to put you on the leaderboard.
-High Strength Aluminum frame
-Deep V 6061 T6 machined aluminum spool
-Carbon Fiber swept back handle
-270 Degree Mag Brake system
-Swept back forge aluminum star drag
-Backed by a 3-Year Warranty
Delivering lightweight tournament-caliber performance at a reasonable price, the Ardent Apex Pro Casting Reels packs a host of features and power into its compact, durable frame.
View Large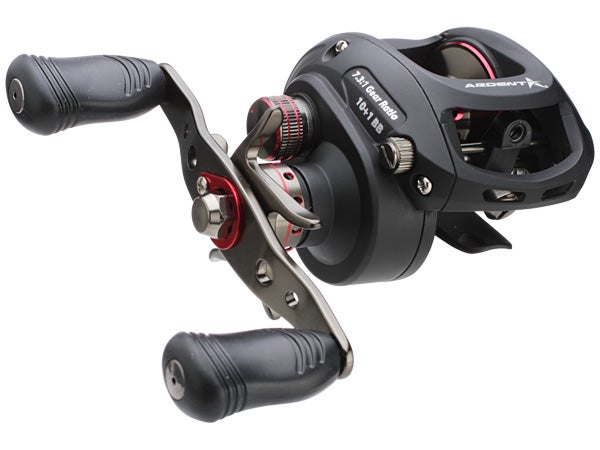 Place Your Order
More Ardent Casting Reels
Comments: have had reels in the same price category from several other companies in the industry. This blows the competition out of the water! Performs just as well as the $200+ reels that I own!
From: Jacob: Louisville, KY 1/26/16

Comments: Purchased 2 Ardent Apex Pro reels & now have to purchase more. They are super smooth casting & retrieving & the drag system allows super fine adjustments. Brake system is easy to adjust. Best reels I have ever purchased, even though I had previously spent a lot more money for less precision.
From: Sean: Jackson, NJ 1/4/16
Comments: I began purchasing Ardent reels a few years ago. Although Ive used better reels, I was content because they were American made. I recently have bought 3 of the Apex Pro and 6 of the Apex Elite over the past year. Although it was somewhat disappointing to see the new series made in China, the quality is 10X better! The quality and function has really stepped up from previous Ardent models previously made in America. For the price, these are really hard to beat.
From: Big John: NY 10/22/15
Comments: I love this reel for its versatility. I have about 4 of them & have them paired up for different uses. Whether it be for Flipping, frogging, Spinner-bait or Jig. The reel's flexibility is incredible, it handles anything i ask it to do & of course casts a mile. Cant wait to see what the grand and other reels have to offer. Once, I get my hands on them.
From: Brian: Springfield, MO 10/21/15
Comments: I picked up a pair of these when Ardent sponsored our fishing team. I stuck these on my savvy micros from Dobyns & it's a match made in heaven. They're so smooth and cast so well. I can work a texas rig or a crankbait slowly & i can burn a buzzbait on top of the water with the same reel & it does both equally flawless. I would highly recommend these to anybody that wants a great reel that won't break the bank.
From: Jeremy: Dallas, TX 10/14/15

Comments: I love my Ardent Apex Pro bait casting reel. These reels have worked great for me in all conditions, wet, windy, sunny and dry and hot! They have not let me down, while others are picking at theirs, I am casting away.
From: Joe: Three Rivers, MI 7/26/15

Comments: This is my go to Frog, top water, jerk bait & worm and jig reel. It has held up to some solid abuse that the California Delta can throw at you & has pulled in some Giants. Ardent has really stepped up to the plate to compete and even surpass some of the high end brand reels.
From: Wes: Delta, CA 5/12/15

Comments: Very smooth reel for the money, I spooled mine up with 65lb Sufix braid and went frog fishing this reel has great speed & it's durable. I'll be buying more soon!!
From: J.B. CA 5/8/15

Comments: I am in love with my new Ardent Apex reel! I had been in love with the Lew's Tournament and still like it, but I am switching my reels over to the new Apex. Better, longer, easier casting, smooth operation, lighter weight, and love the black matt finish.
From: Eric: Rock Island, TN 12/15/14

Comments: While this reel looks, feels and I am sure will perform as my other Ardent reels do, I was very disappointed that it had that odious sticker 'Made In China' on the reel foot. I have chosen Ardent reels in the past due in large part to their being made 100% in the U.S.A. Which, sadly, is no longer true.
From: Fred: Asheville, NC 11/1/14

Comments: This is the best reel on the market. Extremely light weight and casts a mile. I have changed over to an avid Ardent user and absolutely love these reels. Easy to use, dial in and handles any battle with that big fish like a champ!
From: Ryan: Sumter, SC 10/7/14

Comments: its the perfect reel for ther tournament fisher like me whos a younger bass angler im 14 so i cant afford like the daiwa steez but this gets the job done and more and its made in the us if im not mistaken so its a win

From: Eric: usa maryland frederck

***Note: If you have questions about this product or need assistance with an order please email your questions to info@tacklewarehouse.com