BOSS Finesse Flip Jigheads 4pk - $4.99

The BOSS Finesse Flip Jighead features a custom, high-quality paint job with a large skirt cone and built-in soft plastic keeper. Perfect those situations when a more subtle presentation is the key, it's backed by a super sharp Mustad Ultra Point Hook (3/0 in 3/16oz, 4/0 in 5/16oz) to seal the deal. Available in several colors, the BOSS Finesse Flip Jighead also features an ideal weedguard that protects against snags - not hooksets.
If you are looking for any skirt material to customize your jigs, don't forget to check out Skirts Unlimited Skirting Material.
4 Per Pack
View Large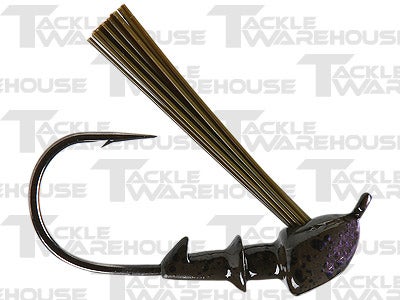 More BOSS Jigs
Comments: The Finesse Flip jigheads realy are a great jig head for ultra clear lake fishing. The compact size, smaller 3/0 stout hook, & shape of jig head make great deal of difference for clear water fishing. These work great in tough situations that reguire you to slowly crawl your bait. Fish like these with a trimed skirt, and a baby sized compact trailer. Fish them slow for big fish.
From: Dean: Novato, CA 7/17/14

Comments: These are AWESOME! The colors are great and the hook is wicked sharp! oh and yeah the price is pretty seet too. They pair great with BOSS or Skirts Unlimited Skirts.

Comments: I buy these in both 5/16 and 3/16oz. great quality. 3/16 is great for swim jigs. 5/16 is my go to pitching jig. paired with boss skirts and 3" chigger craw this is will and has caught many quality bass for me and my buddy.

From: Justin: Caldwell, NJ

***Note: If you have questions about this product or need assistance with an order please email your questions to info@tacklewarehouse.com