Bac Rac Rod Rack - $125.00
The Bac Rac is the back-seat angler's dream come true, allowing any co-angler to neatly organize all their rods without the tangled mess. The Bac Rac holds four rods and easily mounts into the crease of any bass boats back battery compartment in seconds, without tools or fasteners. Rods are cradled in EVA foam and secured with a strap for rough water. No matter how rough the water, your rods are safe, secure and easy to access in the Bac Rac. The Bac Rac comes pre-drilled for easy permanent installation if needed. A heavy nylon backpack is included for easy transportation and storage.

Dimensions: 11"L x 10"W

Click the logo to view their review.

Click on the logo to read their review.
Color:
Black
View Large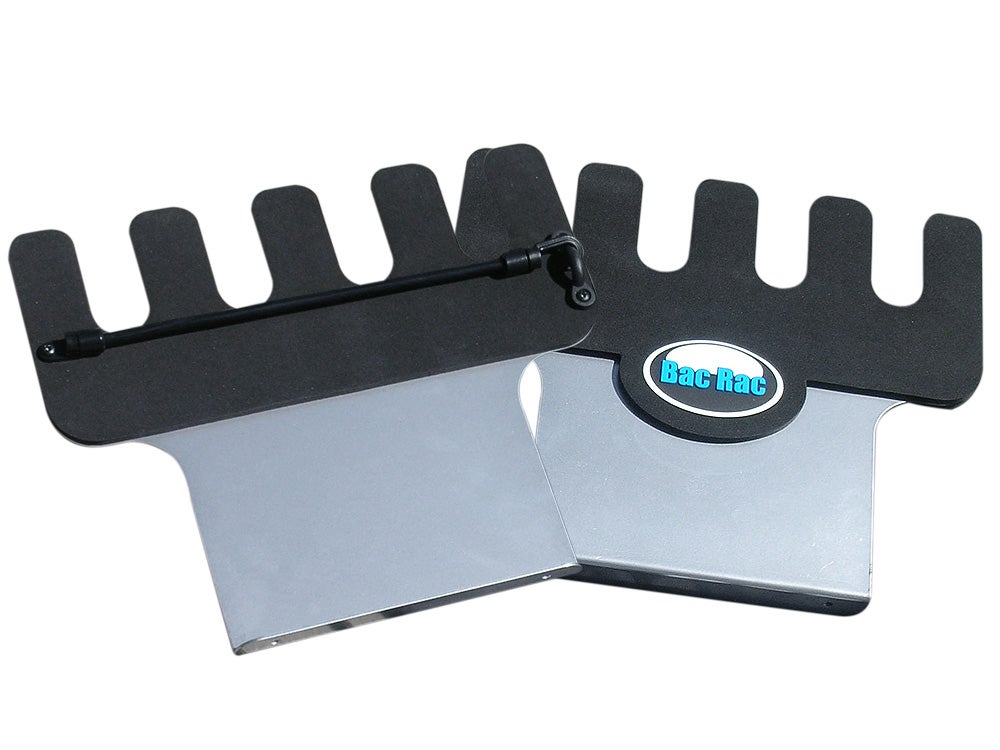 1 Available Colors
More Bac Rac Rod Rack
Comments: Need a 6 rod version! 4 rods isn't enough!

From: Kevin: Burleson,TX

Comments: This is the best invention for carrying rods for the rear of the boat fishing! I had the chance to try it our for 3 days on Lake Anna, VA over the weekend, it works flawlessly! I was a bit skeptical and nervous with all my rods/reels hanging on the back beck...But this thing works and keeps your rods and reels out of harms way...I would recommend this to anyone who fishes tourneys or off your buddy's boat from the back end! I was able to put the 6 rods I brought with me in the rack without any problems of them getting tangled or messed up in any way shape or form! I know you can put 8 rod/reels combo in easily, and maybe able to get up to 12 with a little effort...The Bac-Rac is sturdy, easy to clean (if necessary) The straps that hold the rods in place are strong, durable and holds everything in place nice and tight, so your equipment doesn't get bounced around and scratched up! This is a MUST have for the back of the boat fisherman! My buddy who I fished with, even said he would buy one just to mount in his boat for such occasions! I am happy that I purchased this piece of equipment for my rods to be able to fish more effortlessly from the back of the boat! Thanks TW!

From: Shark: Where Blue Angels Fly, MD

***Note: If you have questions about this product or need assistance with an order please email your questions to info@tacklewarehouse.com