Bagley Diving B Crankbait - $9.99

Balsa wood baits have long been known for their lively, natural action in the water and their extreme buoyancy. Other woods and plastic materials have since come on the scene, but many pro's still turn to them and keep old proven ones around for year because of their innate fish catching ability. Bagley has been making some of the best balsa wood baits for over 50 years, and Bagley baits have probably more wins in big tournaments that almost any other crankbait made - including four Bassmaster Classics.
The ultimate deep diving balsa crankbait, the Bagley Diving B Crankbait has a big balsa wood body with a deep diving lip that is weighted with a lead ballast that helps this lure get deeper quicker than any other crankbait by creating a deeper angle of decent. This makes it an ideal choice for fishing deep shorelines or over submerged structures. Available in a variety of colors, the Bagley Diving B Crankbait also gives off a wide, thumping action that calls fish in and lively deflective capabilities that makes them commit.
| | | | | |
| --- | --- | --- | --- | --- |
| Bagley | Length | Weight | Depth | Class |
| Diving B3 | 3" | 11/16oz | 0-16ft | Floating |
View Large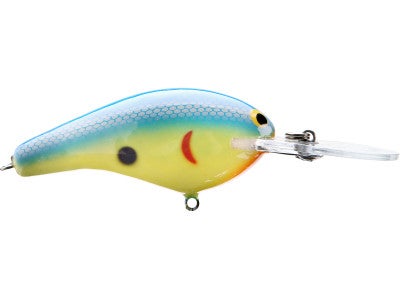 More Bagley's Hardbaits
Comments: Excellent Balsa Cranks! These have been an long time favorite of mine. I love how they are able to dive in a variety of depths with out loosing their action. The DB3 is rated to dive down to 16 foot but you could technically throw it in a foot of water and the bait will not slide on its belly like other cranks will.
From: Michael: Bayonne, NJ 5/19/14

Comments: These old school colors are great. The gill and shad spot are a signature mark of the Bagley line. Nothing about these baits suck! This is a great price for lures that come from industry pioneers. If your not catching fish, it's not because of the spot on the side of your lure.

From: Roger: Lafayette Louisiana

Comments: All these new bagleys have exceptional actions. BUT- the colors suck. Seriously bagley- it's 2013 and realism is the name of the game. Last I checked, crawfish don't have gills & a shad spot lol. Jokes aside- enough with the giant black spot & red gill marks. Having to have them custom painted out of the package is not cool.

From: Brian: GA

***Note: If you have questions about this product or need assistance with an order please email your questions to info@tacklewarehouse.com