Bandit Flat Maxx Crankbaits - $3.88 to $5.39
A flat bodied crankbait can be the answer to a slow day on the water. Pair this design with a coffin lip and put The Bandit Flat Maxx to work. This design produces a tight wiggle for a natural look. The coffin lip design of the Flat Maxx makes it ideal for throwing around wood as it will deflect from the hard cover creating a slight pause and directional change that will trigger instinctive strikes. The Bandit Flat Maxx is an ideal crankbait for cold water.
| | | | | |
| --- | --- | --- | --- | --- |
| Bandit | Length | Weight | Dive Depth | Class |
| Deep | 2.75" | 1/2 oz. | 8-12 ft. | Floating |
| Shallow | 2.75" | 1/2 oz. | 4-8 ft. | Floating |
Comments: I picked up a flatmaxx shallow runner when they first came out. Its been a while, and I throw it on and off. Know what? NOTHIN. I am going to give it to the snotty little kid in my club who thinks he has a future in bass fishing because he owns a jersey.

From: Meatwad

Comments: Jerry, Same issue happen to me too. I broke the lip off on my 5th cast. Great lure but not durable

Comments: Outstanding lure for Walleye,Bass and Northern. However the bill on one lure broke off first time out of the box on a rock while retrieving it and I was not abusing the lure at all. I also noticed when I pulled this same lure from the box there were very obvious flaws in the paint job too. This makes me question the lure from a quality stand point. However I still recommend buying it as it will catch fish.

From: Jerry: Rushford, MN

Comments: My go to flat CB. I use the Little John MD, Bomber Flat A and the Flat Maxx when the water temps fall below 60 degrees. All have their place but the Flat Maxx is the one I tie on the most mainly because it dives a little deeper than the others. For rip-rap that drops off quickly into 10+ water it can't be beat. A steady retrieve works but a jerk-jerk-pause retrieve seems to put more fish in the boat.

From: Derrell: Summerville, GA

Comments:These cranks are a great buy for the money! They are just like a Bandit 200 series but they weigh a little bit more allowing you to cast even further. I love the color schemes on a lot of the cranks Bandit offers but the Flat Maxx, to me, is better than the 200 series just because of you can cast them better. The only thing you may need to consider on the Flat Maxx is they are a little bigger than a 200 series so if the baitfish are smaller in your area, you might want to stick with the 200 series. (200 series make a slight better vibration in the water than the Flat Maxx). Long story short, the Bandit Flat Maxx is one of my favorite crank baits.
From:Josh: Lebanon, TN
***Note: If you have questions about this product or need assistance with an order please email your questions to info@tacklewarehouse.com
View Large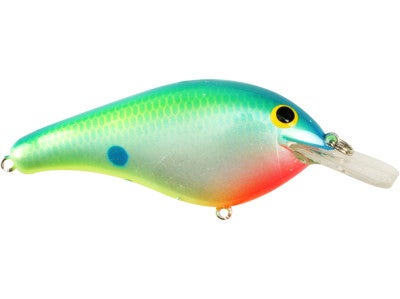 11 Available Colors
More Bandit Crankbaits