Bandit Ledge Series 250 Crankbaits - $5.79

Bandit Lures, the makers of quality and innovative crankbaits, has added the Bandit 250 Series to its already popular crankbait line-up. Due to its weighted chambers, this rattling mid-range true-tracking crankbait is perfectly engineered, allowing the bait to stay in the strike zone longer. The Bandit 250 is a third larger than the ever-popular 200 Series with a new lip design to help it reach depths of 12-14 feet. Whether you're a pro or a weekend angler, the Bandit 250 Series Crankbait can help take your fishing to the next level. Land it… with a Bandit.
Click on the Product Video link below the image to see Bassmasters Elite Series Pro Greg Vinson discuss the Bandit Ledge Series 250 Crankbait.
| | | | | |
| --- | --- | --- | --- | --- |
| Bandit | Length | Weight | Depth | Class |
| 250 Series | 2.75" | 0.70oz | 12-14ft | Floating |
View Large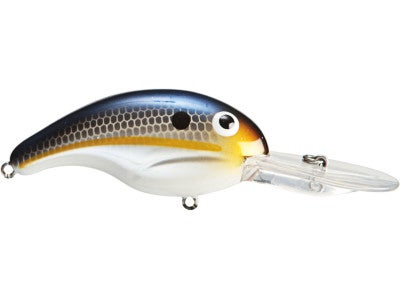 More Bandit Crankbaits
Comments: Very pleased with these baits. The colors were what drew my attention to them. I bought a metal flake shad and natural shad. Been doing quite well with them along the dam at my local lake.

From: Caleb: IN

Comments: Nice bait. It has a good action and takes it down deep. I set this up along a Spro Fat Papa 70 to whack them in the deeper waters.

From: Joey: Phoenix, AZ

Comments: Did anybody order the rootbeer? These are great baits that won't break the bank. I only use Bandit and Spro crank baits

From: mark: Spokane, WA

Comments: I purchased 2 to try and was very pleased with the product. First day out cought 8 fish on the Charteuse Fleck. The crankbait ran true all day. This is the 1st time I have used Bandit crankbaits but was impressed. I was able to get the bait down to about 13' on ten pound test.

From: Fishbell: Fort Mills, SC

Comments: Generally I think Bandits colors/patterns suck. I find them to cheap looking especially in the face of so many "real" designs out there now. I am however VERY pleased with these lures. They have some new colors that seem to be a real upgrade (in the 250 and other sizes too) as well and this is a nice fat lure, and upgrade in size. I am very excited to toss this lure out. I am glad Bandit is doing some upgrades and making some great changes !!! Keep up the good work.

From: Pskirner: Cleveland, Ohio

***Note: If you have questions about this product or need assistance with an order please email your questions to info@tacklewarehouse.com