Bass Minder Line Reminder Stickers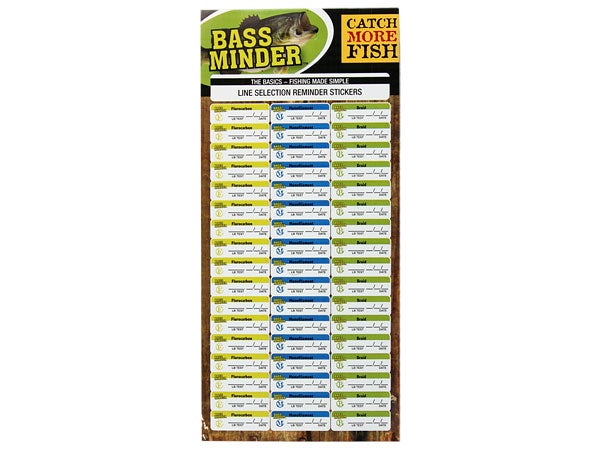 Stop forgetting what type of line and pound test you have on your reel - and how long it's been there. The Bass Minder Line Selection Reminder Stickers are here to make your life easier. Color-coded for Fluorocarbon, Monofilament and Braid - each sticker also has designated areas to write in Pound Test and the Date you spooled your reel.
The line on your fishing reel won't last forever. But, too many anglers don't replace their line until something bad happens - like a broken line. Prolonged exposure to sun, heat, and cold weather, can make fishing lines brittle and more likely to break - and it always seems to happen when you've hooked the "big one." Don't let it happen to you - use the Bass Minder Line Reminder Stickers keep track of all your line and reels.
More From Bass Minder Labels
Customer Reviews
Comments: I've been using these line reminder stickers for a while now. When you have 3, 5 or 10+ rod and reel combo's to keep track of and use, these stickers eliminate all guesswork. They're helpful when changing lures, making certain your line is not old, and keeping you organized. This "at your fingertips" information can be breed more confidence in your decisions. And we know even under tough conditions, a little confidence can make a big difference. Try them - you won't be disappointed.

From: Gus: Vestavia Hills, AL