Basstrix Paddle Tail Swimbait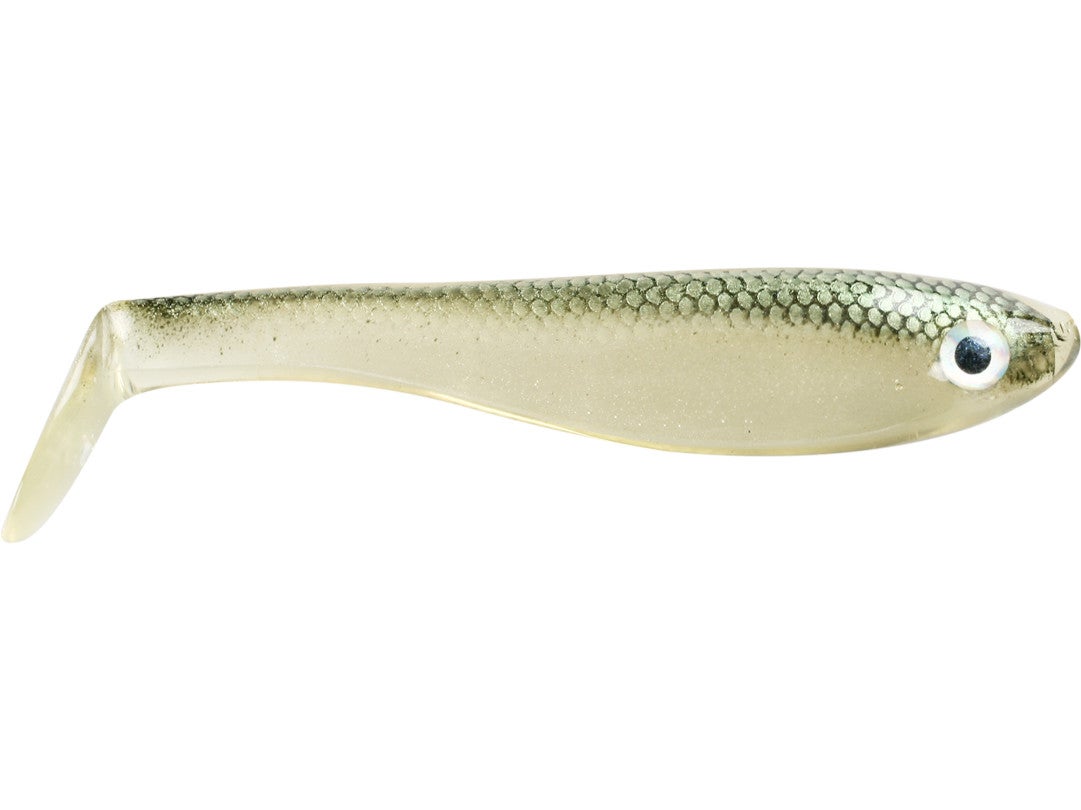 Tackle Warehouse Exclusive Color - Light Hitch
| | | | | | | |
| --- | --- | --- | --- | --- | --- | --- |
| Length | 3.5" | 4" | 5" | 6" | 7" | 8" |
| Quantity | 5 | 5 | 5 | 3 | 3 | 2 |
| Actual Length | 3" | 3.5" | 4" | 5" | 6.5" | 7.5" |
| Recommended Hook Size | 3/0 | 3/0 | 4/0 | 5/0 | 6/0 | 10/0 |
The Basstrix Paddle Tail Tube Swimbait is the original paddle tail swimbait. Several lure manufactures have tried but failed to perfectly replicate the Basstrix Paddle Tail Tube. The realistic finish, life like holographic eyes and natural swimming undulation is the reason why the Basstrix Paddle Tail Tube is the most sought after soft plastic swimbait!
Try Blade-Runner Swim Bait Insert Weighted Hook, Gamakatsu Weighted Superline Spring Lock Hook, Owner Weighted Beast Twistlock or use the Lunker City Belly Weight on your favorite EWG Hook. Any of these will work great with the Basstrix Baits.
33 Colors
More From Basstrix Swimbaits
Customer Reviews
Comments: Basstrix are great swimbaits, work really well, and hold up as well as most any other swimbait. They are highly effective. They do emit some sort of weird oily grease though, so keep 'em bagged up. Don't take them out of the packs and load a plano tray, or you will have a tray oozing goo all over your tackle box or bag. Still, wipe 'em down, add some good scent, put 'em on a half ounce jighead, and go to work. Will get bites when often nothing else does. And set the hook hard!
From: Big J: H-town 2/17/17
Comments: The only thing bad about them is the price! I use the size 6" which is actually 5", and it slays bass. My go to colors are yellow perch and ayu. I use a 5/0 weighted screw lock swimbait hook and add on my own trailer treble hook. If you are un a budget I highly suggest the keitech swing impact fat in the 4.3"
From: Emmett: Edina, Minnesota 12/19/16
Comments: Ok lets make a swimbait and sell it listed as 5 inches long but then ohhh wait lets trick ppl so when they get the product its really only 4 inches long. If Basstrix is sooo great and make the best paddle tail swimbait then why in the world would they mislead and lie about the sizes of their product. Just think of all the paddle tail swimbaits on the market (ALOT) and the other companies don't false advertise their products. If you sell it at being 6 inches long then make it 6 inches long. Very simple, but then again common sense isnt so common anymore.
From: Adam: Indiana 12/31/16
Comments: These are still the best hollow body swimbaits out there. I've been throwing Basstrix since they were still a secret and TW didn't carry them. A lot of questions about rigging so here's what I do. I only throw the 6" & 7" sizes. I use a 7/0 Trokar weighted swimbait hook for the 6" and a 9/0 for the 7". Remember that the 6" is actually only about 5.25" long. As with any hand poured swimbait you WILL occasionally get one with a bent tail or crooked body. To fix this simply heat up some water to a light boil and then dip the back half of the bait into the water for about 30 seconds. When you take it out put it in the fridge situated the way you want it for about 5 minutes. Works every time.
From: Hydrilla Gorilla: Lake Seminole, GA 3/5/16

Comments: A little tip with these, if the tail isn't paddling like you would like use a lighter to soften the plastic about & inch and a half from the tail or where ever the narrowest section falls (be careful not to scorch the lure and leave a black spot on it). Doing this will make it thump much more & has yielded great results for me.
From: Will: VA 2/10/16

Comments: I agree with the assessment that these aren't for the recreational fisherman. I am an avid fisherman, but not a tournament fisherman. They don't swim well at slow speeds. I bought these for some "trophy hunting" at a local lake. They are beautiful lures & they may yet work, but the action isn't what you get from Keitechs. Although Keitechs aren't as realistic, my confidence is much higher with those.
From: Rodney: Gainesville, GA 1/27/26

Comments: Not for the recreational fisherman. These cost a lot, not all swim right, etc. we know that and it's just part of the game. When money is on the line and the swimbait bite is on, these will get you paid.
From: Jay6: USA 12/26/15

Comments: I got the 6 inch Threadfin Shad for fall fishing Northern Ontario Smallmouth. The picture makes the bait look halographic, with very silver scales. What I received is an almost dull purple and not at all what I was looking for. I have not tried the bait yet, but am so far disappointed in the product for being advertised incorrectly.
From: Chris: Ontario, Canada 10/9/14

Comments: I bought the 3.5 inch bait, nice looking bait but it needs to be cranked very fast or trolled fast to perform. Maybe the longer bait would do better... but at their price I won't ever find out!
From: Mike: Dowling, MI 7/6/14

Comments: IF you are having problems with the action of these baits you can always drop them in boiling water for a little bit to soften them up. That usually makes the action better on most swimbaits. If the eyes fall off you can always just glue them back on. If that boiling them won't help, and they are rigged correctly, then you may have gotten a bad batch. If you continue to have problems with these the Keitech Fat swimbaits always swim true (without boiling) and have a really good action to them. They don't look quite as good as these because they don't have the eyes or the neat designs but I don't think that would matter much unless you are fishing ultra-clear water.
From: BGood419: Ohio
Comments: Disappointed in the latest 5 inch batch I purchased. The baits seemed larger than normal and did not have the normal action. The lure rolled through the water instead of the swim action needed to get bites.
From: Mike: Purcellville, Virginia, USA

Comments: Having trouble with 6" paddle tails. Most of them the tail section is too thick and has very little action. When I first bought these that was not the case. I have been using the j-will swimbait head and the blade runner weighted insert hook. They are rigged straight and centered properly. Customer service from basstrix is hard to come by. Dont waste anymore of your money. I have started using other brands. Now I am stuck with several baits that dont work.
From: James: TN

Comments: Bama rigs with these ,lol. why not just troll around with a giant net. I use these occasionally ' one at a time ' on a weighted hook. Fun to fish these. They have nice action. I guess if desperate we could cast about 20 or 30 on wires and run some electroshock to boot ROFL.
From: Pat: San Jose, CA

Comments: Great swimbaits,awesome kick on thein the tail,i use them for pike in England and they love the pearl colour.These baits are durable considdering the tooth prey i catch on them

From: Jason: London, UK

Comments: very disapointed.... no action on my bama rig unless burned.. netbait all the way
Comments: still the best hollow bodied swimbait on the market!! all i throw on my bama rigs

From: Nicholas: San Jose, CA

Comments: The 4 inch in blue back herring on the back of a dirty jigs finesse swim jig in light hitch color is THE BEST swim jig combination u can buy and you will catch tons of bass includeing the biggins
From: Trevor
Comments: Great swim bait! Got alot of large mouth on these baits. Colors are very nice, and the action too! Throw them on a scrounger jig head and reel slow on the bottom. Very soft though, after a couple of fish the swimbaits done. Got myself some mend-it to fix the rips. Other than that it's the best swimbait out.

From: Glasspar: Castro Valley, CA

Comments: The big smallmouth were slamming the the six inch basstrix in yellow perch on a recent trip to Lake Vermilion. Needed a stinger treble though.
From: Big J: Houston, TX
Comments:Better looking and softer than other paddle tail swimbaits, you get a harder thumping kick with these than others. Basstrix is the original tube swimbait, and still better than any of the imitations. Try skinning the clear plastic coating off the tail to make it kick even more wildly. Also try rigging sideways to give the impression of a wounding fish slapping on its side. I would love to see Basstrix add a line of wounding baitfish colors, with bleeding gills. Guarantee it would be a killer.
From:Big J: Houston, TX