Bends Mender Deflator Needle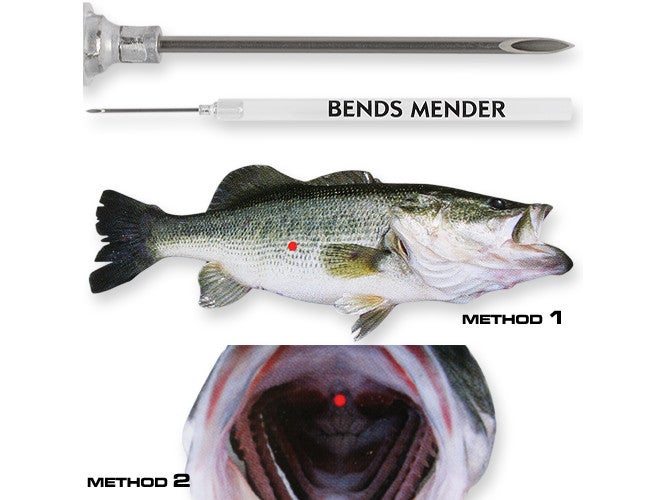 The Bends Mender is designed to deflate the air bladder of a fish caught in deep water. Some fishermen prefer the through the mouth method as a way to deflate the air bladder.
A fish can arrive at the surface bloated--especially when caught from deep water. In effect, the fish has "the bends". If released, it cannot descend into the water properly unless the air bladder is deflated. Use your Bends Mender to save the fish's life...
Features:
The Bends Mender comes with a protective cap, and built in reamer to clean the needle after each use. Bends Mender makes deflation easy with explicit directions.
Method 2 is recommend for beginners.
More From Bends Mender Accessories
Customer Reviews
Comments: Being an avid summer time fisherman, I've had to fizz fish for as long as i can remember. was getting tired of fooling with small needles that get clogged after one use. thought i'd give this one a try. So far this little needle has been one of the best purchases I've made. very sharp needle, that has a wide straw that lets you blow out anything clogging it, if that is a problem (but haven't had to unclog it yet). This needle definitely gets the job done. VERY impressed.
From: Dave: KY 6/21/14

Comments: It's not as hard as people make it out to be. Insert the needle behind the side fin and once it's inserted then put the fish under water. When the bubbles stop remove the needle and bingo the fish should be on the bottom of the livewell sitting up. Saves fishes life and you precious ounces in tournaments.

From: Will: AL

Comments: DO NOT fizz under water. A needle is not a one way valve and if water enters the air bladder the fish can die. Do not attempt to fizz a fish if you are not absolutely sure of what you are doing because it is also not the best way to reduce the bloating in the air bladder. Use the crate method to release fish imediately.

From: Will: GA

Comments: the fizzing HAVE to be done underwater : look at the bubbles that come out of the fish... anyway you can find the correct way on YouTube. And remember to clean the needle properly and store it in a clean place.

From: Lot: Italy

Comments: U shouldn't fizz under water. Listen for the hissing instead. Water can get inside the fish if done submerged.

From: DJ: MI

Comments: Definite Life Saver for the fish - and a small investment to make sure they are caught again another day. It's best to either hold them under water in your livewell and watch all the bubbles come out.

From: Russ: Canton, GA