Berkley Havoc Beat Shad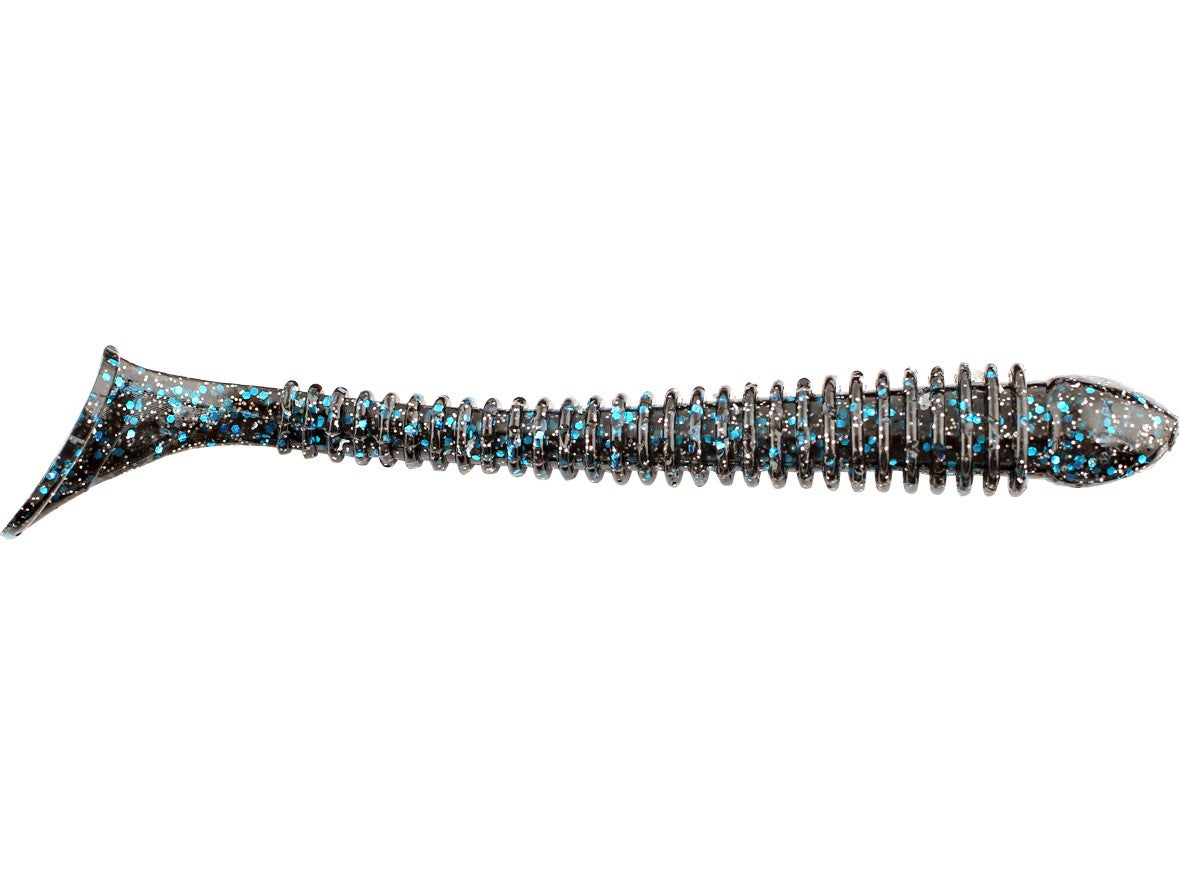 Catch the beat and catch a ton of bass with the new Berkley Havoc Beat Shad. Designed with the help of Elite Series pro, Michael Iaconelli, the Beat Shad is a hybrid bait - part grub and part finesse swimbait. It features a longer baitfish style profile with specially designed ribs that catch water and put out a very natural, subtle vibration. The ribs also give the bait a very natural feel once the bass grab on, causing them to hold on longer for better hook sets. On the retrieve, the Beat Shad's boot tail beats side-to-side at any speed, triggering the natural feeding response from bass.
There are a ton of rigging options for the Berkley Havoc Beat Shad. Rigged on a darter head, it tracks perfectly through the water column, and Texas-rigged, it can be fished like a worm in and around cover. It can also be fished on a shaky head for a completely different look than traditional straight tail worms. And finally, it's perfect as a trailer for a spinnerbait, vibration jig, or swim jig. Fish tested, angler approved, the Berkley Havoc Beat Shad will give you the edge to catch more fish and release your inner pro.
7 Colors
More From Berkley Swimbaits
Customer Reviews
Comments: Good bait but not as nice as the Impact. Neither more nor less durable than the Impact. Colors are not great, a little gaudy but I like the pearl, and the GP is okay. I fish this style of bait two ways, on a swimjig and nose hooked weightless. I have found that nothing beats the Impact when fishing nose hooked method, it casts better and sinks faster but these are still pretty good on a swimjig. Tails still get robbed all the time just like the Impact.
From: Nate: USA 5/12/15

Comments: Great little bait, esp. as a trailer on swimjigs & chatterbaits. I've really had great luck finesse fishing these on back of micro chatterbaits and finesse spinnerbaits (try removing the dbl hook off of a SK rocket shad, adding 2 split rings then a 2/0 hook & these as a trailer... slays the smallmouths on the river). Also in comparison to swim impacts, who cares about durability @ $2.99/8 pk, that's 16 for the same price as 1 pkg of 8 swing impacts! GO HAVOC! would like to see some more color choices though.
From: Greg: Butler, PA 5/7/14
Comments: I really shouldn't be letting this out but... Berkley Havoc Beat Shad + Chatterbait = Deadly Combo!!!
From: Justin: USA 4/7/14
Comments: Using these on a shaky head setup. Hook: Pumpkin Ed 3/16oz 3/0 Line: 20lbs Sunline SX1 with 1ft seaguar Blue Label 15lbs leader. Amazing you can let it drop or swim it so universal. I also love that the head of the bait is a little stronger than the rest of the bait

From: Sonny: Wareham, MA United States

Comments: Nice bait. Since im a cheap Bassterd i like it better than the swing impact solely on price alone. It doesn't swim as good as the S.I but who cares when your saving money.

From: Tim: Tolland CT

Comments: I made the mistake of ordering 6 bags of these based on reviews alone. I was looking for a swim jig trailer with a paddle tail to save some $ from big hammer. Thought this looked like the ticket and ribbed design was cool. Could be the swim jigs I use (4/0 hooks) but I found the beat shad to be too small and the paddle tail only moved if retrieve speed was really fast. I did try changing how I had it hooked (moving it back) to get more water resistance to the paddle but it was only semi-successful. Going back to the big hammer for now but still hoping to find a cheaper trailer with the ribbed design.

From: Nate: MN

Comments: I got some of these to use on the back of swim jigs, and they are great for it, flexible tail and good action. But a fair warning to all, some baits have a scent thats smelly to us but good to the fish. These top it off. No way am i saying dont buy this, but it smells like actual poop. use these, just dont put your nose near em.

From: Zach: orlando fl

Comments: Let me start by saying I'm a Havoc fan. I picked up a couple packs of the Beat Shad and was fishing a tourney when I decided to tie one on. I can say I am really impressed with this bait. It has great action and the color selection is awesome. This bait helped me catch fish and it has produced bites that I was not expecting! There is a down fault, the bait is extremely soft. Your lucky if you can catch 2 fish before it is destroyed. I have tried to glue them, melt them and have not been able to repair them. Will buy more and continue to use them with the hope Berkley will improve the design to hold up better.

From: Darren: Portales NM

Comments: Used these as trailers on chatter baits, swim jigs, and spinners. NOT durable and will NOT last more then a dozen cast until it breaks. Almost looks like they in-bedded the salt into the lure.

From: Miguel: Rosewell, NM

Comments: Awesome little grub, just as good as the swing impact! All of you keitech guys are just being bitter...who cares about knock offs..etc. These are half the price and come in a few really good colors. I will be buying these from now on.

From: Michael: Endicott, NY, USA

Comments: I used both Keitech and Berkley. Keitech is softer with better action and better scent, resulting catching more fish here in West Coast. I guess in the clear water, fish gets smarter and very selective. Maybe you guys in the South don't have to. But with only $3 difference (that's like a cup of coffee at Starbucks!), I would stick with Keitech.

From: Jade: SoCal

Comments: This is a great bait. And there a knockoffs everywhere in the tackle world thats part of the business. The only thing I take issue with is Berkley claiming that Iaconelli designed this bait. We all know he had absolutely nothing to do with designing this bait it is a direct copy of the keitech swing impact. Just sell us good lures at a great price don't lie to us like we're idiots. All this being said I bought 3 packs of these. They would be even better if they were powerbait and not havoc.

From: rjd

Comments: Man this lil bait is the real deal!! I like it on a darter head or on a split shot rig!!!

From: Brian: Burlington, NC

Comments: For all you clowns who complain about the Havoc lineup you are right. DONT BUY THEM! LEAVE THEM ALL FOR ME! Especially Pit Bosses, Rocket Craws, Craw Fattys, etc etc etc. Berkley is giving you quality baits for 2.99! What! AND you get like 10 per package depending on which bait you choose. For all you hooligans complaining about "knock off" check yourselves because you didnt invent jack squat.

From: JP: Minneapolis

Comments: Some of you guys need to get a girlfriend...or maybe just go fishing more. How many A-Rigs are available? How many Senko style worms? Shad Rap clones? Wiggle Wart clones? Bagley clones? Rattletrap clones? Anyway. Unlike you, I fished the Beat Shad today. I was very impressed. These little grubs really loaded the boat. I was fishing the green/blue color on a 1/8 jig head. I was swimming and hopping the lure through brush and grass....and fishing it like a do nothing worm on some warm flats. I caught several nice ones on the same lure...these little guys really hold up well. I'm sold.

Comments: I have supported Berkley from my earliest days of fishing. The original power bait scent to this day brings me back to being a young fisherman. That being said I also have enjoyed fishing Keitech baits the past few years and love them. The entire havoc line is made cheaply and sold at a cheap price point. I have felt every havoc bait out there, for some designs the cheapness and poor quality wont make much difference. BUT I highly doubt that the way the havoc baits are made and the plastics they use could fish and have the action as the keitechs. I do life supporting USA business, but the Japanese make incredible fishing gear. I have to give credit where credit is due.

From: Greg: Albany, NY

Comments: Great Job Berkley! Great Job Ike! Sweet bait, colors, and price! I can see this playing a role in the classic this weekend!

From: Gman: smallie & largieville

Comments: Earl couldnt be more right.. This is a product review not a Fishing Forum, and whether or not Berkley has more money than god, you can only produce so much? Skeet produced the little creeper, so when he moved to Berkley he's gonna fish his sponsors equip. How many possible swimbait body's are there? Some baits Defanatley catch more than others, if thats the case we'll find out what catches more.. Beat shad-Swing Impact.. GO!

From: Sammons: Lake Texoma, TX

Comments: I was almost going to let the sick fish slide until I saw this incredible rip off of the keitech swing impact. Berkley should be ashamed of themselves like Matt said those idiots have enough money to fill up 100 gymnasiums and they can't come up with their own idea!! Doesn't really matter anyway because I'm sure the keitechs swim and fish 1,000 times better then these cheap rip offs anyway so hopefully nobody will buy them.

From: Eric: NJ

Comments: While you guys are complaining about knock offs, I am spending less money, supporting a company in the USA, and more importantly CATCHING FISH! Its also better when a pro staffer dosemt have to use a competitors product to catch fish while they can support their sponsors. And if knockoffs bother you guys so much then go spend 8 pointless dollars on an Original Senko, $5 more then what you should pay for any bait like that.

From: Matt: South Florida, USA

Comments: Hey, how many people have made the Yamamoto Senko? I'll bet you fish with one of those knockoffs. If you haven't fished the product, don't leave a review.

From: Earl: Cali

Comments: already got one..its called a keitech swing impact. good job berkley....

From: JW: VA

Comments: As macho man randy savage would say "DYNOMITE!"

From: GMAN: Mid West