Berkley Havoc Bobby Lane's Grass Pig Swimbait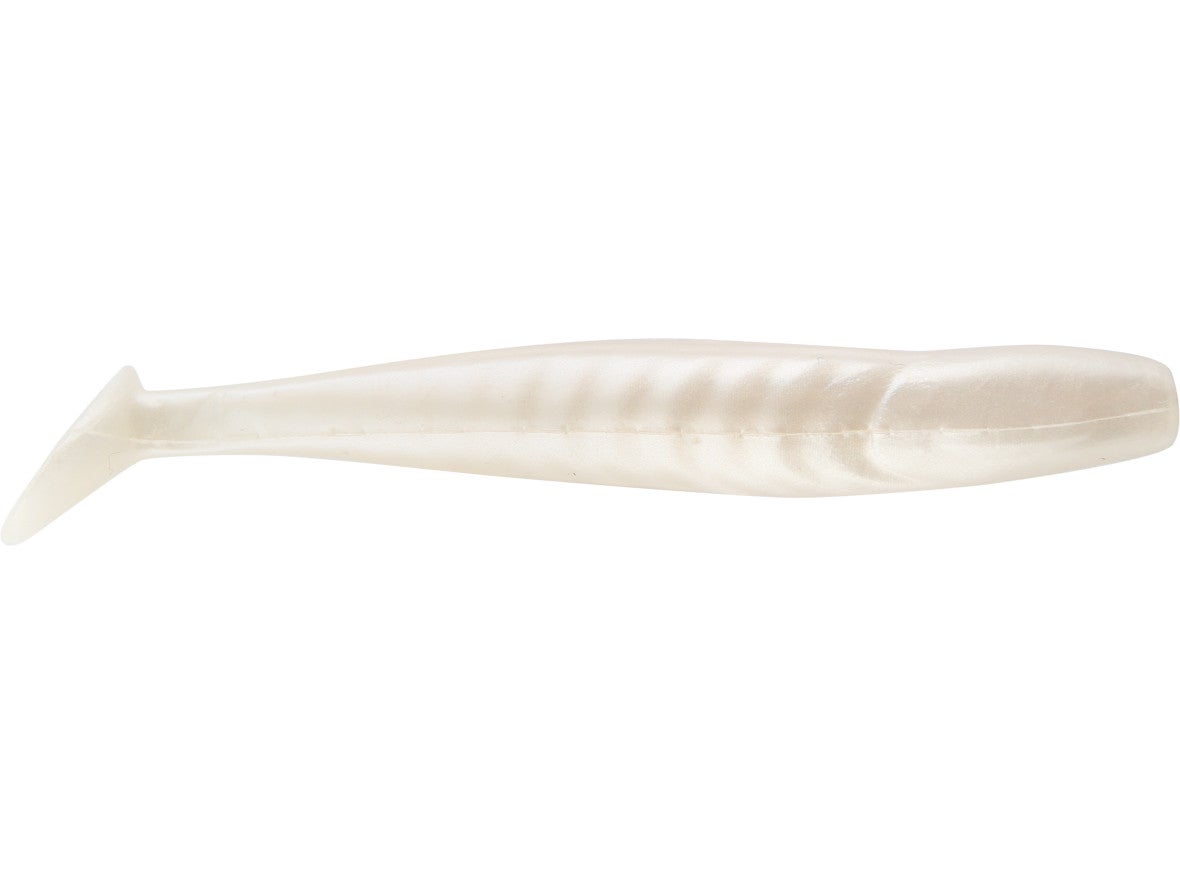 Pro designed to help you catch more bass, Berkley is continuing to release their new line-up of Havoc baits, which have already accounted for some solid finishes at the 2011 Bassmaster Classic on the Louisiana Delta.
The Berkley Havoc Grass Pig was designed by BASS Elite Series veteran pro, Bobby Lane. Swim the Grass Pig by clumps of weeds or on top of weed lines to entice violent strikes from bass lying in shallow areas, or in deeper water, slow your retrieve down to find suspended or bottom-dwelling monsters. Its specially designed body and tail, as well as, its precise soft plastic formulation allow you to fish it as slow as you want and still produce that irresistible wiggle. A versatile swimbait, you can rig the Berkley Havoc Grass Pig in a variety of ways - on a weighted swimbait hook, Florida-rigged, on an offset wide gap hook, or on a jighead.
| | |
| --- | --- |
| Length | Quantity |
| 3.5" | 10 |
| 5" | 6 |
14 Colors
More From Berkley Swimbaits
Customer Reviews
Comments: That bait IS A BEAST. definitely should be in your tackle box. bass love then
From: Drake: Brandon, MS
Comments: Used one of these as a chatterbait trailer the other evening. Use the 3.5 inch ones!
From: Hunter: Morgantown, WV 7/27/15

Comments: I discovered this bait last summer...fish it like a Senko but with some thump. Bama Bug color performs best for me. Inexpensive, very soft rubber, reasonably durable. I use 5/0 Mister Twister bayonet style hook. Even my novice friends can catch bass with this bait.
From: Bohemian Basser: Lincoln, NE 7/23/15

Comments: i use these with VMC 3/32 4/0 weighted hooks. awesome bait, skip it under docks and over hanging trees let it fall, bazinga!
From: Matt: Wareham, MA 6/18/15

Comments: Recently used the Grass Pig Jr. on a trip to Florida as a trailer for a chatterbait. While it caught fish and is priced right, the tail got bit off every bait on the first or second fish.
From: Tim: Buffalo, NY 2/15/15

Comments: I've used it for a year now as a swim jig trailer. Other swim baits, namely the Trigger-X Slop Hopper WAY out perform it. Don't get me wrong, it still catches fish, and I do use it cause it comes in colors Trigger-X doesn't have. Overall, wish the tail had a little more thump to it. If you like super finessy swimbaits, this is for you. Descent durability. If you want a lot of thump to the tail... maybe not so much. The price makes it hard to beat, but remember you get what you pay for.
From: Tom: Ham Lake, MN 12/12/14

Comments: This is one of the Best of the Berkley baits in a long time! Where on a 5/0 screw lock hook or as a trailing on my Chatter type baits...this is the bait I choose. Bass don't hit them, they attack them! Bubble gum is a must for your tackle box!
From: Parks: Memphis, MO
Comments: The 3.5 pearl white rigged on a 2/0 Mustad power lock with a 1/16 oz weight is unfair to the fish.

From: Scott: Water Valley, MS

Comments: i love these things, i put them in a 1/8oz swimbait hook and slam fish left and right

From: Nick: TX

Comments: great bait. Smaller version is money on the back of a swim jig with any retrieve speed. I also use the larger version with a weighted 4/0 swimbait hook. The trick with a swimbait hook is to use a screw lock hook. Because this bait is not the most durable thing a screw lock is totally necessary. It holds the bait perfectly in place for a large number of fish. The bait doesn't have a crazy wobble that you might expect it to have. It has a nice tight wiggle that absolutely drives the bass crazy. Overall awesome swimbait. Buy yourself several packs because they are a great CHEAP swimbait.

From: Austin: Monroe, MI

Comments: Great bait when the bass are spawning in grass. Fish it with as little weight as possible and very slowly. I used it on 20LB braid. As soon as it swims over the bed they hammer it. Great bait.

From: Parker: Vandalia, Missouri

Comments: My go to swimbaits. Using a owner beast swimbait hook, I nail bass in shallow open water and around grass. It swims well and lasts long.

From: Justin: Mason, OH

Comments: amazing bait has great action the fish just can't resist it. The swamp gas color is just sweet looks just like a bait fish I do recommend this bait !!

From: Preston: Austin Texas

Comments: Been using these all week on a weighted swimbait hook on shalllow grassy flats. Caught 30+ Bass 3 days in a row on just grass pigs, retreive at medium speed. Also rigging weightless texas rigged is a very productive technique. Fish it like a senko and they go after it, as the tail flutters as it sinks.

From: Myke: Fremont,Nebraska

Comments: I use this lure all the time and it never disappoints. In one day i caught 9 bass all on the same lure, very durable and flat out catches fish.

From: Ben: Austin, Texas

Comments: I have recently purchased a few bags of the 3.5" grass pig and have noticed some of the baits have bent tails. I found a way to fix the problem by dipping the tail portion in boiling water for about 7 seconds, take it out and correct it, continue doing it until it is shaped right. A grass pig with a bent tail will not wagger, and the body wobble is gone. Berkley needs to find a way to package it correctly.

From: David: Murrieta, CA

Comments: amazing action put it on a tour grade swim jig and hold on

From: Jace: Newnan, GA

Comments: This bait has a greatt action at slow speeds and the way the body moves along with the tail really makes the bass go crazy. It also works great as a swim jig trailer and makes the whole jig move giving a very injured baitfish reaction. TThis bait is vary durable and is a great buy.

From: Ryan: MN

Comments: bought these at a local tackle store on the way to the lake and on an impulse buy got a pack of these. Fished them on a weighted hook at first, and had limited results. Then I put it on a 1/2 oz swim jig, cut an inch off the pig, and it was like magic. The action is perfect, bc it swims at any speed, even when you kill it. the whole jig rolls and sways slightly, and the paddle tail goes nuts back there and using it right in the thcikest grass or down grass lines is a killer way to get big fish. And at $3 for 6, you can afford to fish them, unlike most swimbaits. They're durable too, getting multiple fish out of each one. And when they start to slip, cut half an inch off and re rig.

From: AJ: Flemington, NJ

Comments: These are great as swim jig trailers

From: Chris: OH

Comments: This is a very good bait.bought it in pearl silver flake and put on a jig for a trailer and caught a 3 pond bass. Good bait and I will check out more of their products

From: Connor: Arkansas

Comments: Don't let the low price scare you, this swimbait does work, and works very well. The action is very good, body and tail wobbles and all that, not lacking at all. You can try these for spotted bay bass and Calico bass as well. Good luck.

From: David: Murrieta, CA

Comments: Berkley Havoc Lane's 5" Grass Pig Swimbait VERY good bait great action pretty durable and only 3 bucks! fish it like a swimbait or cut the head off and boom swimjig trailer!

From: Louis: Baton Rouge

Comments: It's just like a plastic stick and the tail has very little action. I prefer the reaction innovations skinny dipper. I guess that's what you get for $3 though.

Comments: Excellent swimbaits! Rigged with a weighted 5/0 EWG and you are good to go. I have caught alot of spots and largemouth on these. I like them because they have a good wobbling action, they are cheap, and pretty durable

From: Colby: Pace, FL

Comments: i love these because you can fish them unweighted and reel them as slow as you possibly can stand it and the tail still swims great. i work it just like the big swimbaits through treetops in clear water and they are also great on swim jigs.

From: Colton: TX

Comments: These are great baits for swimming through weeds and other cover. I rig them with a 5/0 EWG and a pegged 1/16 bullet weight. Caught a few yesterday on em, biggest was a 3-09. California and Pearl white were the productive colors.

From: Evan: Bossier City, LA

Comments: used these last week on toledo bend. worked great. i was experiencing a lull when i pulled one of these out and started chunking it as far as i could into some newly flooded areas(lake has been historically low). imagine not cutting the grass for a year or two in your yard then flooding it with about 2" of water. that is what i started casting into because i couldn't get bit on the edges anymore. by surprise i caught one, then another, then another, and so on. sold me on this style of lure. i can't wait to try it again.

From: Flattown Basser

Comments: Bought a pack of these (water melon candy) and used a 4" Ewg monster hook, pegged with a 3/16 oz tungsten weight, pitched this bait on the outer weed edges and caught so many 2's and 3's on it, i had to buy another pack, has a nice slit down the belly making hookups easy, I was also dipping the end of the bait in chartreuse spike-it dye, to give it more of a Bluegill look.

From: Brian: Aurora/Naperville, IL

Comments: I like to fish this bait weightless and peg a tungsten weight on it. My first bass of the season which was 3lbs 2oz was caught on a weightless grass pig. I'm loving that green pumpkin for this bait.

Comments: 2nd feedback is that this bait still really works well. My only comment would be for more colors is minnow flavors.

From: Barry: Sugar Grove, IL

Comments: Aweome Awesome swimbait for florida, best color is swamp gas

From: Central Florida

Comments: Great Swimbait action and Price. I used it with a Trokar 5/0 weight hook.

From: Barry: IL

Comments: Picked up a couple bags of these to try out. I love the texture. They are kind of rubbery and seem to be pretty durable. I caught a bunch of fish on them and have just ordered 4 more bags :) I was fishing it on a 5/0 Gamakatsu Superline hook, slightly bent out. I will be using the 6/0 springlock hook when I get them.

From: Patrick: Palm Beach