Berkley Havoc Boyd Duckett's Juice Worm - $2.99
The Berkley Havoc Juice Worm is the brainchild of Bassmaster Classic winner, Boyd Duckett. Offered in both 6-inch and 8-inch sizes, the Berkley Havoc Juice Worm features a unique design that won't allow the bait to roll over during the retrieve. The applications are endless for this instant classic. Available in a wide range of fish catching colors, tie on a Berkley Havoc Juicew Worm and go to work.
Havoc baits are designed by the pros with the best shapes, actions and colors bass love. Make Havoc your go-to bait when bragging rights are on the line ... Havoc Baits. Unleash the Action!
"Every angler needs a good worm in their arsenal of baits. The new Havoc Juice Worm has a unique design so it will not roll over during the retrieve for a consistent presentation, and it has a high action tail even at slow speeds. The applications for this bait are endless and the results are sure to make you a believer. Each cast in a tournament can be the difference maker for a big win and money in the bank. So I squeeze the most out of every cast with the Juice." - Boyd Duckett, Bassmaster Elite Series pro.
| | |
| --- | --- |
| Length | Quantity |
| 6" | 15 |
| 8" | 12 |
Comments: this is the best worm on the market. my cousin and I fish these all the time and his favorite color is red shad in the 8in and mine is junebug in 6in and he was fishing and he caught a 4 pd perch and I fish mine and get 5 pounders all the time. this is the best bait out there you have to get some get a 3/o for the 6in and a 4/o for the 8in and get a 1/4 oz weight and your good to go!

From: Luc: Sharon pa

Comments: picked up a check on the 8in red bug yesterday. Great bait a little beefier then say a culprit. Also better durability. Just wished they offered a 10in

From: Jonathon: TN

Comments: Best worm of all times. Cheap. T-rigged. Electric blue, white, black/blue flakes, green pumpkin -- all these colors works on Potomac River. Dip 'em with garlic dye, bass gobbles them up!

From: Billy: Washington, DC

Comments: The Juice Worm Jr in red shad is my go to shaky head bait.

From: Christian: Jersey Shore

Comments: Great action and have had sucess all year with the 6" and 8" versions. Green Pumkin, electric blue and Black and blue

From: Paul: Chesapeake Bay, MD

Comments: I had a pack of samples with three different colors and I thought I'd give'em a try. Used the Electric blue in stained water to land two, 2.75 lbs largemouth, as well as a good sized bullhead. For the price of these worms, it might be worth buying a bag or two.

From: Joseph: Syracuse, NY

Comments: Great Bait! Throwed it on a cold front the other day only thing that could catch fish. Green Pumpkin in stained water texas rigged on a 4/0 gamakatsu offset and a 3/16oz bullet weight great bait worked slow!

From: Dano: Yorba Linda, CA

Comments: Great looking worm, just like the old tournament series but with added "ribs" on the top and bottom!

From: Jason: MI, USA

***Note: If you have questions about this product or need assistance with an order please email your questions to info@tacklewarehouse.com
View Large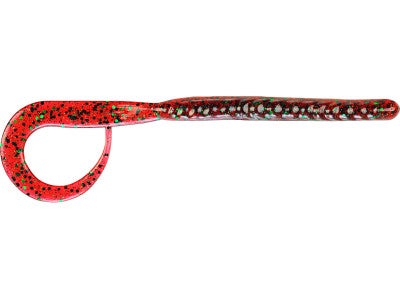 20 Available Colors