Berkley Havoc Ike's 5" Flat Dawg -
$1.99
OFF
MSRP: $3.49
You Save: $1.50
Designed by Elite Series pro, Michael "Ike" Iaconelli, the Berkley Havoc Ike's Flat Dawg is the culmination of years of on-the-water experience and months of field-testing. While it may fall into the category of soft stick bait, it is a far cry from your standard worm imitation.
Unlike other stick baits, the Berkley Havoc Ike's Flat Dawg has two flat sides. This allows it to catch more water on the fall, slowing its descent and accentuating its action. It also features a slightly crooked tail that produces increased vibration. You can throw it on a split shot, shakey head or Texas-rig, but where it really excels is on a wacky rig. Also covered with a number of small pits which give it a unique texture the makes bass hold on longer, the Berkley Havoc Ike's Flat Dawg is available in a range of proven colors for any fishing situation.
"If you like fishing soft stick baits, and if you want to catch bigger fish, and more fish - in heavily pressured water. Try the Berkley Havoc Flat Dawg." - Mike Iaconelli, 2003 Bassmaster Classic champ and 2006 BASS Angler of the Year.
Comments: They tear easy but so do the original senkos and these are less than half the price for 2 less baits. The flat shape has a great side to side wobble on the fall.

From: Clayton: Gardner, KS

Comments: Try the Flat Dawg drop shotting. Caught me my personal best Largemouth. Over 6lbs. Glides through the water if you use a 1/0 EWG for the drop shot hook.

From: Felix: Albany, NY USA

Comments: Nice action and definitely a fish catcher, but I got 10 fish on 8 baits fishing it wacky style. I went through one bag in less than an hour catching dinks. I haven't tried using an O ring, but I'm not sure that it would work well due to the flattened shape of this bait.

From: Charles: Scranton, PA

Comments: Great stick bait works great only downfall bass tear these things up way to easy.

From: Vegamax: CA

Comments: this bait will sink with a nice wobble even when rigged weightless and even more with a wacky jig head. due to it being flat sided, it's not as meaty as your typical senko style bait. therefore, it's extremely soft and helps give it great action. on the downside, durability is sacrificed greatly. it's easy for bass to bite one end and tear it right off your hook when wacky rigged. for the price range you can't complain too much but you will go through the whole pack in no time.

From: Elijah: Seattle, WA

Comments: Higher salt content than a yamamoto senko.... this thing is the deal right here!!! Durability isn't its strong suit, but it sure catches fish! can't beat the price either. Thanks berkley!!

From: James: Lake Minnetonka, MN

Comments: This has great action in the water wacky rigged or texas rigged weightless. My only complaint is that i wish the head was wider to make texas rigging easier, to solve this i cut the top off. I was surprised to see that Berkley put salt in these, LOTS of salt similar to the amount in a Senko. It has about the same durability as a Senko but at such a low price it's not an issue.

From: Adam: Long Island

Comments: finally! A cheap good stickbait! Thank you berkley and iaconelli, I can't wait to get my hands on these!

From: Cullen: Ashburn, VA

***Note: If you have questions about this product or need assistance with an order please email your questions to info@tacklewarehouse.com
View Large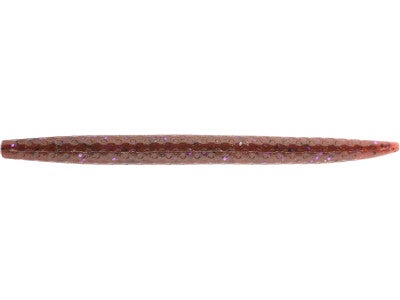 12 Available Colors
More Berkley Soft Stickbaits