Berkley Havoc Ike's Devil Spear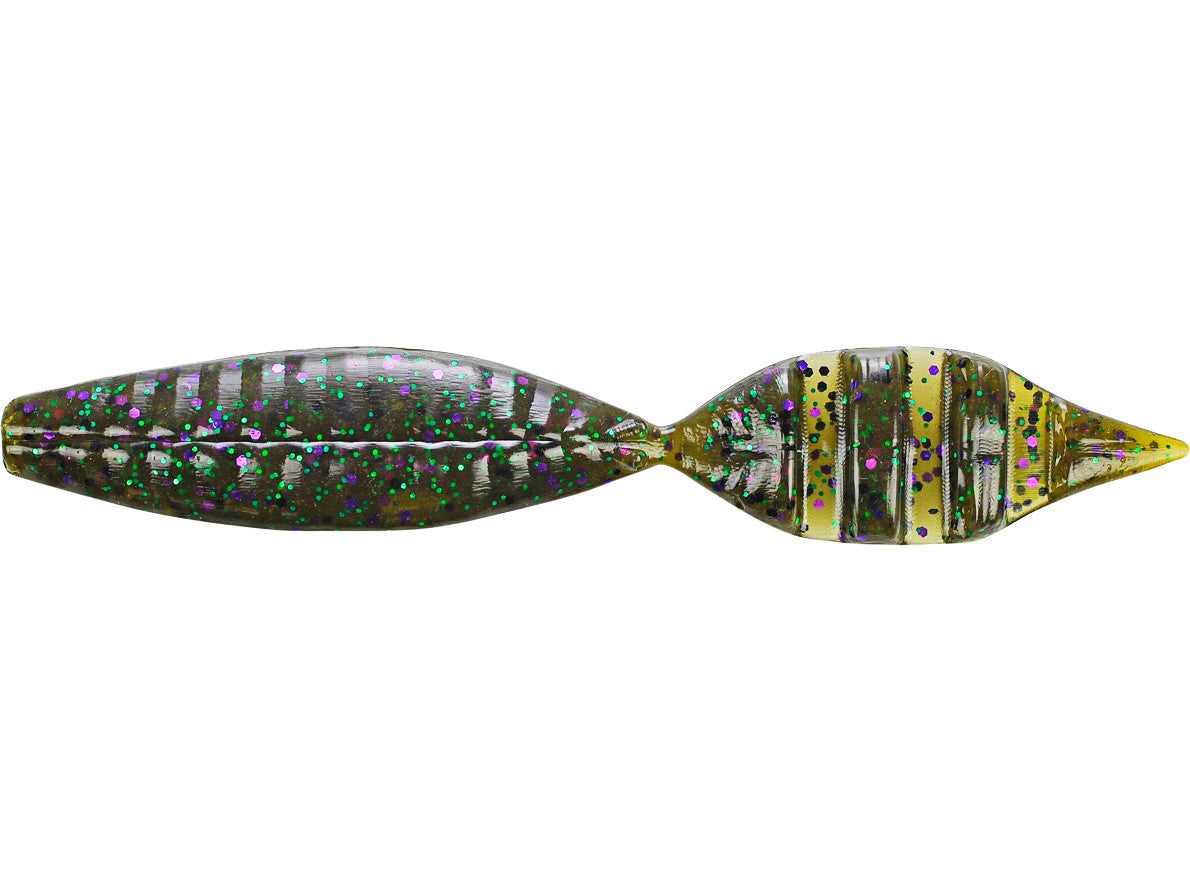 Pro designed to help you catch more bass, Berkley is releasing their brand new line-up of Havoc baits to coincide with 2011 Bassmaster Classic on the Loisiana Delta.
The Berkley Havoc Ike's Devil Spear was designed by 2003 Bassmaster Classic Champion, Michaeal Iaconelli. He wanted a bait that would really penetrate thick cover yet have a great action on the fall. With its streamlined body and original spear-shaped tail, the Havoc Devil Spear is sure to be a favorite around the heavy stuff.
"I love this bait. I can fish it many different ways, and the design is completely original. While I worked with Berkley on this design, it was clear that we needed to come up with something off-the-wall that was entirely functional on any bass-fishing technique. I wanted a bait that could be fished easily in heavy cover and have a great action on the fall. We came up with a segmented tail to create a flapping or whipping action. The Devil Spear is tough, but retains all the action." - Michael Iaconelli
| | |
| --- | --- |
| Length | Quantity |
| 3.5" | 10 |
| 4" | 8 |
18 Colors
More From Berkley Creature Baits
Customer Reviews
Comments: they get the tails ripped off pretty easy if you get a short strike. the bait is still usable without the tail, you just don't get as much action. I love the lure for jigs. swim, punch, etc.
From: Matt: USA 5/20/15

Comments: These baits flat out catch big bass and there is almost no way to rig it wrong. Dozens of presentation applications. T-Rig, on a fb head & dragged, punch rig. As a depth charge or swimming across a shallow flat as a swim bait. You will hook up some donkeys. I fish this bait all year round any time of day. One of my faves
From: Skit: Avon, MA 5/8/15

Comments: I just realized this past weekend that the smaller version of this bait is the PERFECT trailer for a 1/4 oz. chatterbait. I wasn't too impressed when this first came out but after throwing one on a chatterbait I was very impressed. The tails dances all over the place when reeled in. So now I have found a permanent spot in my tackle bag for this bait.
From: Gary: PA 11/10/14

Comments: Ike knows what's up. Rig em sideways. Throw some mega strike in the tail grooves and these psycho bass catchers disperse those amino acids all over the place. WOOOOOO

From: Ric: Bassimton, Bassachusetts

Comments: Used this bait in back for a couple years hands down the best flippin bait out their! with a 5/0 vmc flipping hook 1 ounce vmc tungsten your ready to go

From: Tanner: WI RIpon

Comments: the 3.5 size is great on the drop shot! Smallies eat em up like yo thats a big smallie!

From: Rock Pile: Smallie Ville

Comments: I like this bait, dont get me wrong but but if u could only buy one bag of havoc baits I would go witht he pit boss. I have cought way more fish on them.

From: Cameron: AR

Comments: Split this baby down the tail and swim it like a swim jig. Dont rig it flat. My go to flipping bait also and durable as heck!

From: Tyler: Pardeeville, Wi

Comments: omg put this baby on a biffle head and it works magic! rig it so flat side is up and hold on. Also a great flipping bait. bigger profile than it looks.

From: Gman: front deck over ledges

Comments: Throw it on the back of a chatter bait. Big girls love spears!!

From: Jesse: Reno, NV

Comments: nice lure they get a lot of hits rigged texas were it isn't flat in junebug red.

From: Connor: AR

Comments: wow, these actually will produce. redbug is the color I have and it worked great

Comments: Just do yourself a favor and buy a bag of these. Mike iaconelli is tha man

From: Bubba: NJ

Comments: Attention Walleye Fisherman... Bait is made for bass and more flipping and pitching technique, but it is a killer swim bait either texas rigged (1/8 oz. and 3/0) or on a belly weighted EWG best color is either the pearl blue or the bluegill. Give it a try, interested in what other eye' fisherman think.

From: Noah: Estancia, NM

Comments: Such an awesome and unique bait! My go to punching bait! I feel it is something our highly pressured Utah bass haven't seen! Definitely a got to have bait in anybody's box!

From: Jace: Orem, Utah

Comments: One of the best trailers for a chatterbait!

From: J.D. VA

Comments: bought two bags in Junebug and Red Shad..caught some lm bass on both color, using weight texas rig..and i'm dying to try it with a football jig and the many other ways u can fish this lure..

From: John: WI

Comments: Slapped one of these in watermelon red on a swimbait hook with the tail vertical and worked great, awesome action and extremely weedless, thanks Ike!!

From: Zach: Brown, IN

Comments: Like the others I was a bit skeptical, but grabbed a bag anyways. Doesn't look like much, but I don't try to argue with the fish...

From: Bob: United States

Comments: Extremely skeptical about it and grabbed them just to fill out a Dick's promotion. Turns out these things do catch fish. Drag it along the bottom, swim it, or buzz it they all work. Great bait for the price.

From: Gundersmith: FL

Comments: I picked up a pack in red shad caught a couple. Just wondering if anyone tried different colors and did any good?

From: Jake: Ohio

Comments: The lure of 2011 for me! It caught 90% of my bass this past season! Landed my 5# smallie with the spear.

From: Cher: WI

Comments: Fished it Texas rigged and caught 3 bass. Biggest went 4lbs. I mised fish and would pitch it back and they would bite it again and again until caught. never had a plastic do that. the action of the flapping tail is unreal

From: Mark: Lexington, KY

Comments: Very versatile bait, burn it across the top and the bass come running, fished it on a texas rig with an 1/8 ounce weight, also very strike prone.

From: Britton: Memphis, TN

Comments: Awsome little bait, easy on the wallet, and the best part it outright catches bass, I fished mine on a light jig head and hopped it on the bottom, super good action and good design, thanks IKE!!!

From: Mrbond007: East Lansing, MI

Comments: This bait is very cheap and very good also another bait from the HAVOC series is the crawfatty and the pittbosses

From: Johnny: Boca Raton, FL

Comments: bait is a lot bigger in person than you would think. more like a flippin bait

From: Bobby: Max Meadows, VA