Berkley Havoc Skeet's Pit Boss - $2.99
Pro designed to help you catch more bass, Berkley is releasing their brand new line-up of Havoc baits to coincide with 2011 Bassmaster Classic on the Loisiana Delta.
The Berkley Havoc Skeet's Pit Boss was designed by top Bassmaster Elite Series veteran pro and 2009 Bassmaster Classic Champion, Skeet Reese. He designed it to be the ultimate flipping bait. The Havoc Pit Boss's short compact body is perfect for getting in and out of cover, and its action is second to none.
"I love fishing with a flipping stick. I designed the Pit Boss to mimic bait fish, as well as, crayfish. It's the perfect size to match the most common forage sizes and has the best possible action to get bites in all conditions." - Skeet Reese
| | |
| --- | --- |
| Length | Quantity |
| 3" | 10 |
| 4" | 8 |
| 5" | 5 |
Comments: Best compact creature bait on the market. Especially lethal in grass and thick weeds and is a good punching bait. The action is great but subtle enough to appeal to both aggressive and sluggish bass. One of the first baits I reach for in a pitching/flipping situation.
From: Tyler: Grand Juntion, CO 9/23/14

Comments: Best craw I've ever used, have caught fish on them Texas rigged, jig trailered, and topwater. Bass crush these things and every now and then a catfish will get in on the action. only problem is durability I've had big bass suck these things clean off the hook of a Texas rig before. Overall its a great bait.Best colors for me are, Okeechobee craw, perfection blue fleck, and electric blue.
From: Zane: OK 8/31/14

Comments: Hands down best craw on the market, use these exclusively Texas rigging, and weightless rigging. Bass simply cannot handle these, the way the arms pulse through the water. Also very durable, I've caught 20 bass and only went through two, and when the top slices open cut them half an inch down and use as a jig trailer. Tie on a size 4 EWG and you will have a bass on guaranteed.
From: Brett: CT 6/9/14

Comments: These are absolutely amazing! i bought a pack of the black and blue in 4" and paired with a 3/0 EWG texas rigged with a 1/8 oz. i caught more bass in a single day than i have in a long time. i only wish i had a 4/0 hook instead. Best texas rigged bait for me. I don't see a reason to buy another when the Pit boss has the action and the colors i need!
From: Kieran: Marietta, GA 5/28/14

Comments: Performs well and has a great selection of colors. I was missing a few hookups, so I tried bending the hooks out a bit with pliers, only to have the hook break. I'd intentionally bent other brands' frog hooks before and never had an issue with them breaking.
From: Mark: NC 5/27/14

Comments: Theres something about this bait that fish just like. I've never had much luck with any other of Berkley's Havoc baits but this one is the exception. Occasionally an arm will get torn off and I find, when it does, it doesn't balance quite properly. In the case of this, I just rip off the arm on the opposite side. It seems to work just as well with two arms as it does with four. It's a solid bait that I would recommend to anyone.
From: Victor: St. Catharines, ON Canada 5/17/14

Comments: I have to tell you I am in love with this bait. The legs really do have a very good swimming action. Rigging the hook on this bait is super easy. This bait has so much variety it is unreal. You can jig it off the bottom, you could swim it like a swimbait, you could use it as a trailer, or you could use it as a punching bait. The waters in my area are so overfished it is almost unbelievable, so I have experimented and found out that you only have a couple of options when fishing overfished waters. The first option is to use a bait that the fish have never seen before, or you can use a bait that mimicks the baitfish really really well. I fished this bait in murky water and pulled out a 2 pounder right after somebody had just got done fishing that spot spot. Durable is very low on this bait though.
From: Tucker: San Antonio, TX 4/29/14
Comments: I was on a 0 fish streak for 2 weeks straight fishing pretty much every other day, with everything in my tackle, at my local lakes... Bought these for the hell of it since they were a top seller... First cast today and yesterday, nailed some big fish on them and continued to throughout the day on a simple Texas rig, couldn't ask for a more powerful bait... A couple times I walked right up on some fish and could see them clearly and they struck without a second thought. Only problem I've had is the fish destroy it, after 2 or 3 the top comes unhooked just like any Texas rig would but, it just seems these break a lot easier than most baits. Definitely will buy again!
From: Larry: CA 4/28/14
Comments: Great creature bait. Has good action, but is not very durable i guess that's why their only $2.99. Every time i have thrown this bait i have gotten bit. A few weeks ago i had 5 fish for around 16lbs and had a 6 pounder break off at the boat. If you want to catch fish buy this bait.
From: J.C.: USA 4/28/14
Comments: Went through 3 packs in two days!! I've never caught more fish on a single lure. They cant get enough of it. I'll flip it then use a slow retrieve back to the boat. Get's em every time!
From: Cliff: Marksville, LA 4/4/14
Comments: Awesome lures! I recently caught a solid 3.5 lb. bass at a local pond with the Watermelon Red Pit Boss! They provide a pretty large profile and larger fish just inhale them! Just ordered some more in a different color that I couldn't find at my local Academy!
From: Chase: TX 3/9/14
Comments: Something about this bait just works. This think is a fish catching machine!

From: DE: Phoenix, Az

Comments: bought the 4" in green haze from my local dicks sporting goods thursday,saturday i had a seven 7 pound bass in my hands.monday i went to the closes bass pro shops hour and half away to pick up some 5" junebug, and today i cought a 7 1/2 pound bass and i have cought plenty of fish in between, needless to say these things are awesome im gonna pick me up some more!!!!!!

From: Colby: jasper G.A.

Comments: I caught tons of fish on these using them top water like a buzz bait or a Stanley ribet frog There also great for pitching and for punch rigs and jig trailers. Great bait. The claws tend to get ripped off if you get a lot of dinks to hit but all you have to do to prevent that is let them eat it and the claws stay back in there mouth Bigger fish just inhale these. Great bait. Really versital I plan on getting more

From: Josh: WI

Comments: Green Pumpkin Purple is the cats meow! Was catching bass on them all day when the Rage Craw wasn't working

From: Matt: Lakeville,MN

Comments: These Things are hands down the best flippin bait on the market. They have proven themselves time after time, and tournament after tournament. Most people also hook them wrong the Top View is the top of the bait i know the bottomw pic looks like that should be the top but its not.

From: Swizzle: Holbrook Ma

Comments: Awesome bait! still waiting for the 3 inch!

Comments: These things are great. They have more action than you'd think. It takes very little speed to get them swimming. Not only are these really good for flippin and pitching they are really good for swimming and fishing them like a Biffle Bug on a Hardhead or Wobble Jighead. California is nice Green Punpkin/Red color that works well in most Texas/OK lakes. Junebug is my go to color for muddy water. Thumbs up on these. I buy them onsale for $1.99 a pack which can't be beat. Buy some!

From: Basszilla: Lake Fork, TX

Comments: I was fishing this in Big Texan on a Texas rig flipping it up under bushes. I caught one 2lb bass and hat another huge bite but my drag was not set and i snapped the line setting the hook. I like how this bait looks. The only cons I can think of are that bluegill like to "Jackhammer" it and rip off the arms. Also it rolls over when you swim it. Overall a good bait though.

From: Ethan: Charlottesville, VA

Comments: Great bait. you can jig it from the bottom or even run it along the top of weeds. you can get about 4-5 fish each with just one. Buy a pack, you WONT regret it :)

From: Paul: south Florida

Comments: Great bait in both the 4" and 5" sizes. Have caught good tournament quality Florida fish in the 5" size on several different colors. Best colors for me so far are 'Bama Bug', 'Lime-Purple Passion', and 'Green Pumpkin Purple'. I've tried some of the other colors like the 'Perfection' variants and dark blue variants, and they seem to work, but the three I listed earlier have performed best in our Central Florida lake systems and local ponds. I texas rig these for the most part - casting, dragging, yo-yo'ing, pitching, & flipping them to varying degrees of success. This is one of those baits that can pretty much 'do it all'. They are very versatile baits! Do yourself a favor and try them. You won't regret having a few bags of these laying around!

From: Shawn: Tampa, FL USA

Comments: really great bait. i even caught fish working it on top of weeds. crazy

From: Konrad: IL

Comments: Bought 2 bags to test back in feb. By the end of may I had won 2 tournaments on the upper Chesapeake bay, and had about 30 bags. Black blue is good for me, and big texan with some chartreuse spike-it on the tail.. killer. Well worth the price and my go to flippin bait

From: Jake: dover, DE

Comments: This is a good bait I caught 7 bass in a hour I was using electric blue color this is my favorite bait now.

From: James: Jackson , TN USA

Comments: Swimming it, hopping it, crawling it, jigging it, it doesn't matter. This bait will catch fish. Even at a straight retrieve, the claws put off more action than any bait on the market. Also makes a killer bed fishing bait. Punch it, flip cover, it's just an awesome bait.

From: Caleb: Grandview, Texas, United States

Comments: I caught 65 bass in about 4 hours on these in perfection blue fleck. Do I have a new favorite bait? You bet.

From: David: Monroe, La USA

Comments: These have been deadly on the bass here in MN. Big bass just can't resist them. The Bama Bug color has been the most effective for me followed closely by the Green Pumpkin Purple.

From: Kealon: MN

Comments: Great colors. I use these as a football jig and swimming jig trailers. I find that the appendages come off very easily though. I will continue to use them because of price and quantity.

From: Adam: WI

Comments: Bought this by accident and it was the best mistake ever. Have caught a lot of bass on this using Texas rigged. My first time Texas rigging this year and I'm very pleased.

From: Jim: WI

Comments: Have been murdering the pigs in a new pond on these guys, went through a pack in a couple days, has caught easily 7, 2.5-5 pound fish.

From: Hunter: IA

Comments: Tried the pit boss for the first time. I caught a 3 pounder within 20 minutes. I was using the perfection color. I also missed a couple of fish. My new go to bait when the bite is tough

From: Hunter
Comments: Durable, easy to rig, many colors and overall a great bait.

From: Colton: IA

Comments: They look good, the action is there, the colors are right. They have such a bad chemical smell though. Soaked 'em in BANG Pure Craw for half a day, then sprayed with F2(a little secret), and they still stunk. R.I. Sweet Beavers outfished them today 18:1!

From: Bill: IN

Comments: I have been a die-hard R.I. Sweet Beaver man for a long time, but these things are the real deal.....and for $2.99 a bag. Bye Bye beaver, hello Pit Boss.

From: Basswipe: Meatwads pond

Comments: This became my favorite go to bait last year. Fish it On top of the water, pitch it, throw it on as a trailer. Already got 35 bags ready to go for spring and getting ready to order some more colors. Also excited to see what the new 5" Papa pit boss will do.

From: Wachati: Louisburg, KS

Comments: tried this bait for the first time in a new hole yesterday. got hooked up to a nice bass on the first cast.!!!! great look and awesome action to this bait!!

From: Bob: Kerrville, TX

Comments: The side with just a few ribs is the "top" of the bait. If you look closely u can see 2 little elongated eyes on this side as well. Hope that helps u out Bama Mike...

From: TJ: OH

Comments: good value. They are durable and the powerbait scent makes the fish hang on. However, about half the baits in each bag are deformed. They really need a better storage method. When you get them dip the flappers in boiling water until they are straightened out.

From: Cullen: Ashburn, VA

Comments: first time trying it out caught 40 fish in 3 hours in black and blue AWESOME BAIT!! BUY SOME!!

From: Chris: Houston

Comments: this bait is so awsome.i got it in green pumpkin and big texan and black blue. this bait is good for pitching around docks and laydowns. i caught my biggest fish on thi bait in black in blue. love this bait will be buying more.

From: Charlie: NC

Comments: Which side is considered the top? The side with just a couple ribs or the side with ribs all the way down? I know which side I believe is to be the top but when I look at some of the colors I feel like they should be the other way. Just wondering what yall think. With that said, I have rigged it both ways and this bait is money. lay lake grass, stumps, and rocks.... hang on.

From: Mike: Bama

Comments: Very smart design and I really like the Havok plastic. I would really like to see a shorter and slimmer version of this bait. The size and profile of the 4" version is perfect when the fish are on, but I very often have to switch to a 3.5" beaver when things slow down. I live in an area where the smallmouth prevail so I understand if not everybody agrees.

From: Nate: Pasco, WA

Comments: LOVE THIS BAIT!!! This is by far my favorite craw, designed by my favorite pro. Im from Iowa where a 5 pound bass is a monster and this perfect little bait has accounted for about 3 for me this year. My two favorite colors are the natural presentation Big Texan and Sapphire Blue, which i use for my jig trailers. All I do is hop, pop, and swim this baby short distances and occasionally pause it then pop it and wait for the strike! When the spawn starts this will be my go to bait!

From: Hunter: Muscatine, IA

Comments: The pit boss, considering the color selection, durability and price is probably the best beaver style bait on the market. It is extremely tough, excellent color selection and you get enough to last a day because they are so tough for $2.99. Big tex,california, junebug, green pumpkin and bama bug are the best.

From: Jacob: Wellsville, Ohio

Comments: Update on my earlier review. This season has accounted to 50+ largies caught on the pit boss from 1 foot to 20 feet of water I love this bait dont hesitate buy it now

From: Aaron: Lake Mills, WI

Comments: This is my back up to a Beaver. When the fish are really eating a beaver, I'll put this on and save some money. Good chatterbait trailer too...not so hot as a jig trailer. Overall a pretty good bait for the price.

From: Chris

Comments: I used this bait a lot this year with no luck, I mainly used it as a trailer on a jig. When I would change the trailer to the zoom super chunk I would start catching fish again, maybe I should try them again next year.

From: Chris: Ohio

Comments: This is one amazing Lure! I have consistently caught quality fish in numerous ponds and lakes. This bait saved me on my last tournament at lake cochituate where this allowed me to finish in the top. It is also my new go to bait where a lot of times before i would pick up a senko. Overall this is a bait that you must try! also as far as colors go, you cant beat the old standbys of black and blue or green pumpkin but other colors such as lime purple passion can work as well. Tight Lines!

From: Phillip: MA

Comments: awxome bait so much action in this thing impale it on any 1/2 ounce jig and bass will kill it.. best color is the summer craw, 2nd bama bug, this things only problem is its durablity man it ripps after 3 fish over all good lure

From: Tim: MI

Comments: All I can say is that this is THE BEST soft plastic made.....PERIOD! I own 10 different colors now. If I could only have one lure on my boat at any given time; this would be the one. I prefer Black/Blue and Perfection but the others colors I own are hard to beat as well. I normally pitch these with a Trokar 4/0 Flippin Hook and a 3/16 oz Tungsten weight. I just recieved the lime/purple passion and am very excited to get out on the boat with those. GREAT JOB Berkley; please dont ever stop making these. And as ALWAYS.....Tackle Warehouse offers A+++++++ service! I can honestly say that BPS and Cabelas has lost 100% of my business to Tackle Warehouse.....they are 2nd to none.

From: Gary: PA

Comments: I've been carolina riggin this bait lately due to the extreme heat and havin great success bumpin and dragin the pit boss along on the bottom. my favorite color is plum, the color almost perfectly resembles the craw fish on my local lakes... and for a 2.99 price tag.. you cant go wrong! tight lines!

From: Justin: NJ

Comments: The havoc baits have a great cation i use em a lot i would definatly recomend em

From: Louis: LA

Comments: I went out for a trip on canyon lake and all day only caught 2 2 pounders all day. I decided to try the pit boss in green pumpkin/red flake for my first time. on my second cast, I hooked a 10 pound 2 ounce bass. (my personal best) This is now my go to bait for any fishing condition.

From: Bryce: Orange County, CA

Comments: went out for the first time in a while yesterday, in the florida 95 degree heat, caqught 4 in an hour and a half. 1st fish hit my pit boss as a swam it passed some brush, it went 5 pounds. My next 3 fish were all caught traditional flipping, including a fish that was in the 10 pound range. I was ussing a craw fatty too and didnt get bit when using it. The pit boss is the only bait ill flip besides a senko or fluke!

From: Mike: Riverview, FL

Comments: This bait is INCREDIBLE! This is by far the best Havoc Bait and probably the best punching bait made. What a bargain at $2.99 for 8. I have 6 colors now and plan on buying other colors as well. I rig with a Trokar Flipping Hook (size 4/0) and a 3/16 to 3/4 oz tungsten weight depending on how thick the cover is. I have yet to be skunked while having one of these tied on my line. My favorite colors are green pumpkin/ purple and black/blue. You MUST buy this bait. If I could only have three baits in my tackle bag this would be one of them. (the other two would be a 4" yum dinger and a Yum 3" wooly bug). But when I need a big profile bait in heavy cover.....this is the one.

From: Gary: PA

Comments: Went out fishin' yesterday and beat my 2 hour time limit best. upgraded from 5 fish in 2 hour to 7. 5 of those fish on the junebug color. i texas rigged it and tossed it beside underwater bushes and they picked it up and RAN WITH IT! thank God for 50 pound braid...

From: Reid: Clinton, NC

Comments: i have been a berkley fan for years and i cant beleive people think that this is better then powerbait line....yes the pit boss has good action...but powerbait is still better than the crap they call as havco!!

Comments: the biggest bass of my life on Kentucky Lake ledge fishing with a football jig paired up with the Ockeechobee craw color. Great action and awesome bait for the price. STOCK UP!!!
Comments: Totally rad flippin, pitchin, and punchin bait. crazy arms, so durable, and some wacky colors only seen with tthis bait. Action is unlike any other. stock up now!

From: Scotty: VA

Comments: Pit Boss, Brilliant! Flip it at any structure in the lake and hold on tight. Go with lime-purple passion on a c-rig for smallies, they hate it in a good way.

From: Ehner: Minot, ND

Comments: Pitchin' or trailin' these things just work. Cali and Okeechobee are my go to's.

From: Carter: TX

Comments: Fantastic! have alot of action, especailly when texas rigging on a 4/0 wide gap hook with a 1/4 ounce worm weight. You can realy launch them far out and they stay well intact on the hook, so i dont have to worry about any fish ripping the craw off the hook.

From: C.I.: Canada

Comments: Super pimp pitchin bait. Those flappers flap like a drunken chicken. A drunken chicken that bass think is delicious! No scent...add your own. Or dont. I dont care.

From: The Lure Reviewer: Alantown

Comments: I am very impressed with this bait. They flat out catch fish. The action is superior to other beaver style baits. My first time to use them today and I caught 9 bass pitching to cypress trees with my best 5 just over 15 pounds. I used a Mustad 4/0 tube hook and a picasso 3/8 tungston weight.

From: Lonnie: LA

Comments: It'll catch bass thats for sure. Only problem is the plastics are on the cheaper side and have trouble staying on hooks.

From: Daniel

Comments: Great bait, perfect for flippin, cant wait to use it as a jig trailer. perfect price too.

From: B: MI

Comments: Love this bait. Best beaver bait in my opinion and has worked really good for as a jig trailer for my dirty jigs no-jack flippin jig and pitching jig

From: MN
Comments: This is the best creature bait ive ever used. When down to my local pond for about 30 mins and caught two 4 pounders. I was using it texas rigged with a bulet weight and throwing near cover then popping my rod up and down of the bottom. Usually hit them on on the fall. GREAT BAIT! its amust buy!

From: Tyler: GA

Comments: This is the best soft plastic I have fished. I got a pack of the Black Blue color and Carolina rigged it on i 6'6" Graphite rod with a good speed reel. I had 14lb Sufix Elite line with a 3/16 lead bullet weight, size 12 brass swivel and about a foot long leader of Bass Pro Shops XPS 8lb Fluorocarbon. Cast, let it sit for a minute or two then slowly reel. They are looking at it and when it starts to leave they slam it. After half an hour caught 4 bass over 14in. They hit so hard they ruin the baits. STOCK UP ON THE PIT BOSS!!!

From: Aaron: Lake Mills, WI

Comments: Best flipping baits on the market.great action yet not too crazy. Perfect for punching mats or flipping cat tails. Great colors. I'm ordering like 20 packs next paycheck

From: Mike: Riverview, FL

Comments: My go to bait for bass period. Most versatile bait ever used, pitch it or swim it. Best way for me is used as buzz bait. The outside claws have the perfect action tickle the water just enough to entice and not scare. Caught so many on this bait lost count long time ago.

From: Alex: Palm Bay, FL

Comments: want to drive a bedding fish up the wall so fast she eats the bait on teh first flip, fish it weightless on a wide gap hook like you would a fluke, pitch it on the bed and just let it fall to the bottom, it will fall mostly horizontal, with its head down just slightly and those flappers just causing enough drag to slow it down, when it hits the bottom let it sit for a few seconds with the flappers up in the water then just pop it up and let it sink. The slow fall drives the fish nuts as it just sits in her face for so long 95% of the catches i have like this in the spawn on a bedding fish the bait never even reaches the bottom before big mamma destroys it. If that doesn't work fish it on the surface like a toad.

Comments: five star bait!!! Ive used lots of flipping style baits and never have I had the success with them like I have with these. This bait flat out catches them!!! Yes they are soft yes they will tear but thats part of a soft plastic bait. I get a few fish per bait and am very happy with that. I would rather spend 3 bucks on bait and catch allot of bass then spend 5 bucks on a bait that will last 10 fish per bait but will on;y catch you a fish here and there. There success far outweighs the cost. 4/0 ewg lazer trokar and pegged 1/4 ounce tungsten weight most of the time for me.

From: Joe: Indiana

Comments: great bait great action caught 4 fish in a hour

From: Josh: Fort Worth, TX

Comments: I was flipping the banks on a very cold day and they would not hit it! i decided to cast out deep, reeling pretty fast, and caught a nice 3 or 4 pounder. Great bait!

From: Mason: Brunswick, GA

Comments: AWESOME BAITS!!!! went fishing yeterday and went through a pack of vampire orange in 6 hours on 10+ bass! these are very durable, at least 5 fish per bait! i only went through an 8 pack because of thick cover and overhanging trees. all bass were over a pound each with three 2 pounders and a monster 3.5 pounder! best bait ever i tried 6 different flippin type baits and they only bit on this!

From: Basslayer: Roseville, CA

Comments: These baits are phenomenal! The swimming action the flippers give off is like nothing ive ever seen before. they flat out catch bass, and they are super durable too! Great bait, Tackle Ware House please keep them in stock.

From: Tyler: Cincinnati, OH

Comments: i agree with brett, these things r RAW they're awesome flipping baits also work good on jigs if you cut like half of the body off. it gives it a good bulky profile. sure they rip but softer plastic=better action so get over it!

Comments: For all you guys complaining about the durability of these baits they're SOFT PLASTICS. What do you expect, start fishing crankbaits if they are so bad.

From: Brett: IL

Comments: Great Bait. Caught alot of bass /w the Dean Rojas Eco Pro Tungsten weight with a 4/0 Skip Gap Gamakatsu hook combo. You will burn through them fast. Vampire Orange FTW!!

From: Chue: Chisago, MN

Comments: This is my first year fishing for bass since moving to Oklahoma. I have tried crank baits to other plastics and nothing performs as the Pit Boss. I did not realize the bait was designed for flipping and so, I have been Texas rigging it and casting it. A few weeks ago in the mist of our heat wave I caught 2 bass within 30 minutes over 18 inches. The June Bug color is what I have been using in stained water. For $2.99 i will keep buying these baits. My only complaint is they last only a few fish. So when the head is torn I just bite off and use as a trailer.

From: Martin: Edmond, OK

Comments: this is a terriable bait it rips very easily but it is a good price but I can find much more durable baits out there for a little bit more money but more durable.

From: Noah: Coral Springs, FL

Comments: best beaver baits on the market! super cheap, durable, have great action and come in good colors. first time i tried these the fish wouldnt hit anything else! the legs kick really well on the fall so just flip em and let em sink. the body design is great or texas rigging because the plastic is thicker in the front where it usually tears, i have been getting 3-4 fish per bait. plum works the best for me.

From: Jason: San Jose, CA

Comments: These things are great! Started using them Early this year and have been hooked ever since. People are right, they only last a couple fish before the top splits but other than that no complaints! Back Blue has bee hot for me and im up in Minnesota! Great Price for a Great bite !

From: Sam: Crystal, MN

Comments: I used thm as a punching bait and caught maybe a fish or 2 but it's not as durable as i thought, then again it still works great and their so cheap to! The devil spear works great to as a fliping bait

From: Mike: East Brunswick, NJ

Comments: Sweet!!!! Great bait! I texas and carolina rig this and it does great! Awesome scent and the4 arms give it a sweet action!! Buy some!!!

From: Scott: VA

Comments: This bait has been exceptional to say the least in the spring. Just dragging it along the bottom slowly has been killing. I average maybe 3 fish per bait, but i'll take that. Highly recommend it, oddly the hot color's been lime-purple passion for me.

From: Basstard: MN

Comments: I keep reading how "durable" these baits are. I've purchased a couple packs and have yet to catch more than one fish per bait. They get bit VERY WELL; there is now doubt about that. BUT, they haven't held up well for me. Just about every fish I catch on these baits; the bait is no longer on the hook when I boat them. I'm using a 5/0 Punch Hook. I'm torn weather to buy more or not. Price is good, baits catch fish, good action; just wish they held up A LITTLE better.

From: ACH: SoCal

Comments: Used this bait in a local pond. The absolutely smoke this bait. It was post frontal, i was burning it back to the boat and the smoked it. Good for a swim jig trailer too. Awseome action, very durable, and its only $3!! I used to throw the sweet beaver 4.20, Pit boss is way better in my opinion. Alot more action. The best color for me was junebug

From: Yangers: CA

Comments: Used this bait for pitching around docks and weed patched on Minnetonka and it was killer. I love the action you get from the flappers, all you have to do is rig it up with a 4/0 wide gap hook and a pegged 1/4 bullet weight then pitch it under a dock and let it sink to the bottom, when you pick up your slack youll feel a bass on. Great bait and for only $3 I love it!

From: Matt: MN

Comments: Great looking frog... I've seen them work well on videos, and hear how nice they work... Mine rolls over when I try to work it... I must've got a dud... Nice... I might try to stick a suspend dot/strip on one side and see if it straightens up... Or, buy another one and see if I get luckier...?...

From: Dave: Bay Area, CA

Comments: These bait are by far one of the best plastics i've ever used! California color is absolutely lights out. U will not be disappointed!

From: Luke: La Crescent, MN

Comments: I wish I'd bought more than one bag of these the first time out because the bass where I fish were eating them up! I've restocked for now and plan on getting more soon but don't hesitate on this one!

From: Mike: Jackson, MO

Comments: Outstanding bait, the only regret is I only bought one bag. Used it up the first day out.

From: Mike: Erwin, NC

Comments: It is a Pit Boss! Found out how well they worked on the Potomac last weekend! They do work differently then other beaver type baits

From: JC: PA

Comments: bass definately love the action. I've been using it texas rigged with trokar hook and popping it along the bottom or quick darting jerks. Con: doesn't hold up well. after the top is worn out I'll use the bottom on a jig

From: Barry: Sugar Grove, IL

Comments: amazing bait,tried it out for the first time this weekend and on the 3rd cast caught a 4 pounder. love the Okeechobee craw color. wish they held up a little better though still a great bait.

From: Jonathon: Mt. Juliet, TN

Comments: This bait is KILLER! Buy them and catch yourself some fish. It's a sweet beaver on steriods!

From: Chris: CA Delta

Comments: Great bait for getting a reaction strike. Just rip it off the bottom, and kill it.

From: James: Calumet City, AL

Comments: this is a pretty beefy bait. longer and thicker bodies than most other flippin baits i use.

From: John: D, CO

Comments: this is a pretty beefy bait. longer and thicker bodies than most other flippin baits i use.

From: Chris: Eau Claire, WI

Comments: I guide on Lake Fork Tx. & my customers have caught many huge bass on the Pit Boss. The largest so far is #11 Lbs. Caught by Justin Bishop from Monroe, La.

From: Johnny: Frisco, TX
Comments: sweet flipping bait. looks great on a swim jig too

Comments: Has great action. The center tail acts like a beaver bait and the outer tails flap. Good for flipping and swimming.

From: Brian: Mississippi, USA
Comments: One awesome bait, first cast caught a 3 pounder. Few cast later caught a 4 pounder. Will be buying more.

From: Larry: Millington, TN
Comments: Excellent bait for the price. Vampire Orange is an awesome color. A buddy of mine picked up a pack of Black Blue yesterday and got a 6 lb bass on his second cast. These things are sweet.

From: Daniel: North Carolina, USA
***Note: If you have questions about this product or need assistance with an order please email your questions to info@tacklewarehouse.com
View Large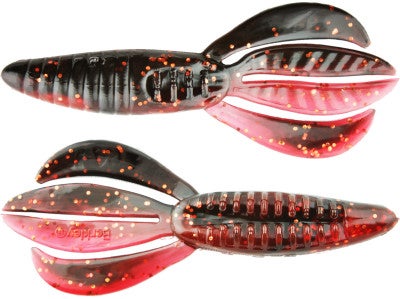 28 Available Colors
More Berkley Creature Baits