Berkley Havoc Skeet's Sick Fish Swimbait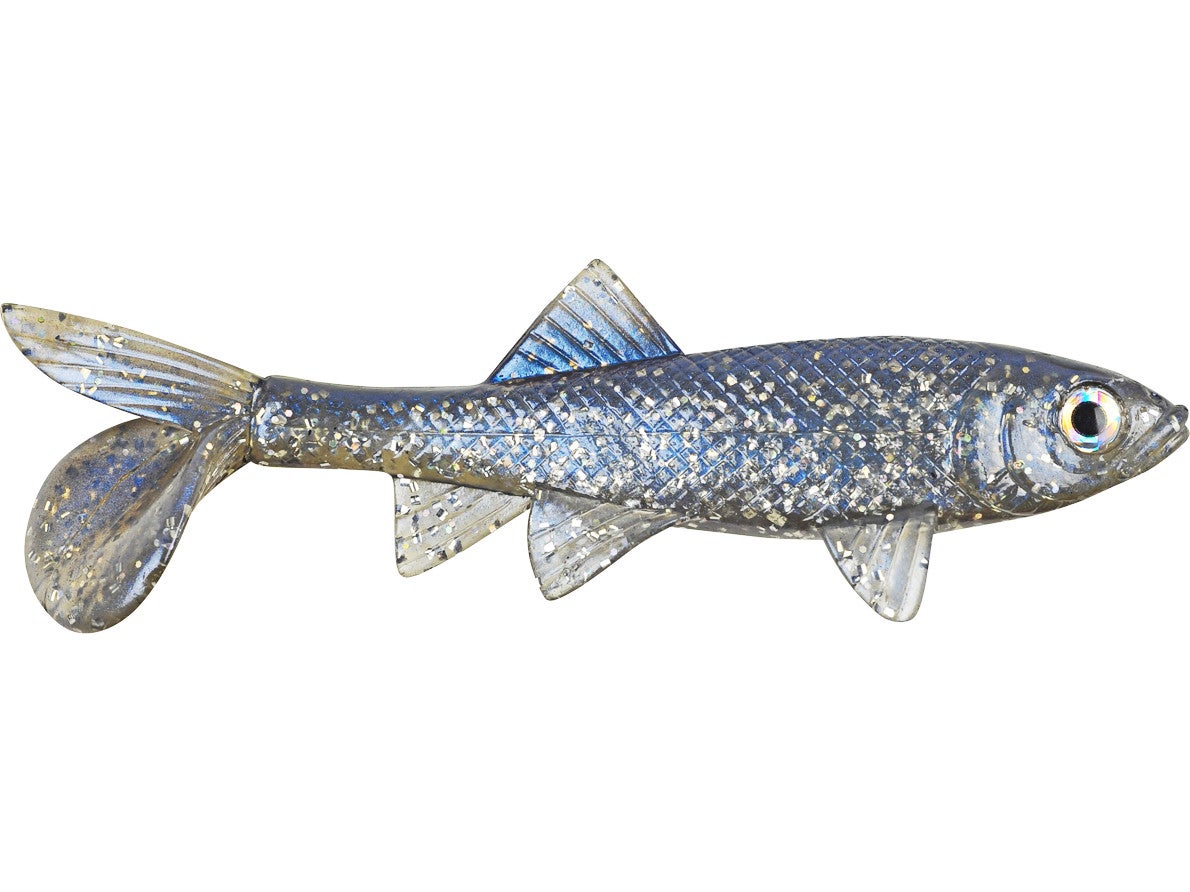 Bassmaster Elite Series veteran pro and 2009 Bassmaster Classic Champion, Skeet Reese, spent a considerable amount of time designing and perfecting the new Berkley Havoc Skeet's Sick Fish Swimbait. Featuring anatomically correct fins and a profile designed to mimic any number of forage fish, the soft, full bodied Havoc Sick Fish has an incredibly lifelike swimming action at both fast and slow retrieves thanks to its unique tail design. Rig it weedless on a weighted or unweighted EWG hook, on a jig head, or even on an umbrella rig, the Berkley Havoc Skeet's Sick Fish is destined to be a classic.
| | |
| --- | --- |
| Length | Quantity |
| 3" | 5 |
| 4" | 2 |
| 5.5" | 1 |
7 Colors
More From Berkley Swimbaits
Customer Reviews
Comments: This baits profile was copied from the Little Creeper Trash Fish (hence, "Sick Fish") Berkley & Skeet did this in the appropriate way through LC, which says a lot about all three involved. (Everybody wins) Performance vs. cost and durability depends on the situation and both shine in different applications. Try a weighted wacky hook thru the nose, Drop Shot or slitting the belly with weighted SB hook for best results.
From: Outcast: USA 4/3/16

Comments: The 3" is great for drop shotting. The action is nice & subtle and the Light Hitch color worked great. I was on a pond for an hour & a half and had 5 fish on but only landed 3 (this was probably because of some rigging mistake since I don't drop shot much).
From: Tommy: USA 1/22/16

Comments: Love it. Many fish are attracted to it. Largemouth, small mouth, crappie, etc. I ran it top water with no weight and a plain hook, light action on an open faced reel. I was pleased. It takes damage from the fish for sure, but as someone who somehow looses her bait half the time it's exactly what I'm looking for. I was actually able to rig this upside down as well and have it be effective to get longer life out of the bait after the top had been torn up pretty bad. Has a lot of pliability in movement depending on how you rig it, and with the right working it looks stellar.
From: Shelly: Hills, OH 5/7/15

Comments: These swimbaits might be designed for targeting bass, but I'll tell you that the 5.5" version with a weighted 7/0 hook works awesome for Pike and Muskie, they just inhale this bait. Unlike some of the reviews here, I find the action on theses to be superb. The only downside to this bait is it's durability, I'm sure that against bass they last just fine but against toothy fish they do wear out REALLY fast, as in a couple of cathes and your looking for a new bait. This is not a huge deal because they don't cost much. Overall I'd recommend this bait( the 5.5" version), it works VERY well and allows you to fish some shallow weedy areas nicely due to its design.
From: Vincent: Ontario, Canada

Comments: Big C; also try the Disco Shad and also the Gold Nugget in the 4"; they are also very soft as well. I found that the painted patterns tend to be stiffer. I love the looks of the Clear Bream and the Tennessee Shad but they are indeed stiffer. I have gone back through my Sick Fish Collection and have actually cut down to four patterns (in the 4" and the 3"). I now am only using the Disco Shad, the Gold Nugget, the Light Hitch and the Swamp Gas. I am thinking I have all bases covered with those choices and all are much softer.
From: Gary: PA 3/5/14
Comments: Thanks for the info Gary! The only reason I bought the clear bream Is because Bass Pro didn't have swamp gas(that will teach for not buying from Tackle Warehouse!). You are right about normal swimbaits, my caffeine shads only last one fish. I hope I have a better experience with the swamp gas color.
From: Big C: OR
Comments: To the previous reviewer; try the 4" in the swamp gas or light hitch colors; they are a lot softer than the clear bream. I definitely noticed the 4" clear bream is not near as soft as some of the others; must be because of all the paint on them. But if you get a different color I am sure youll like those as much as the 3". These baits do not have a ton of action; they are more of a subtle presentation but that's why I like them so much. I agree that the 3" are awesome; but give the 4" a try and I think you too will love them. Best swimbait on the market in my opinion. So many people throw a caffeine shad swimbait or one of the million baits just like it. This bait is different than your average swimbait; that's what makes it so great. I have never tried the little creepers and feel as though there is no need either. The toughness of these baits is phenomenal as well. I have caught 10+ Bass on each bait plus a few pickerel as well. I own about 200+ of these baits which may very well be a lifetime supply.
From: Gary: PA
Comments: I got the 4 inch and 3 inch versions in two colors. The 4 inch in clear bream is made out of the same material as those twenty-five cent swimbaits you get at the gas station. Poor material, poor action. The 3 inch in chartreuse shad is a great lure, It is made out of normal soft plastic material. Overall 4 inch sucks and the 3 inch is pretty good. If you want a 4 inch swimbait, the Strike King caffeine shad swimbait gives you the most "bang for your buck."

From: Big C: OR, USA

Comments: The 3" version is phenomenal; I now own plenty of these in all 10 colors and very happy with all of them. I rig these on a 1/4 oz or 1/8 oz standard eagle claw jighead. I need to make a few small modifications to them in order for the jighead to work properly but it was well worth the time figuring it out. I have caught a lot of bass on these; even when nothing else would work. I always have one of the 3" versions armed and ready. I'm surprised at the amount of negativity I read on these; I have nothing but good to say about them. And most of the time I have been able to buy them for a mere $2 a pack through tackle warehouse. With the durability of these baits my 200+ inventory may be close to a lifetime supply!

From: Scott: PA

Comments: Very impressed, not too stiff like every one keeps saying. Soft thumping and slight side to side action, the fins wiggle a bit too. You cannot go wrong for the price.

From: Anthony: franklin park. Usa

Comments: Nice Bait! It seems that some colors(For what reason, I do not know...)are softer than others. For the $, you can't beat it. I use a 3/16 drop shot weight, break off the lie tie, insert into the bait(Straight with the Lateral Line) and use a Owner 4/0 Beast (Hook no weight) Deadly. Be sure to use a Exacto knife to cut a small slit in the belly for better hook ups.

From: Rusty: Texas, where else?

Comments: Best swim bait on the market, cheap, strong, and effective. Not a ton of action but they still work. I even use them as trailers for swim jigs. They catch bass like none other. I got the green penny but I am sure any of the other natural colors will work too.

From: Lane: Fort Wayne, IN

Comments: I have never tried the Little Creepers so I cannot do a comparison; but I can tell you that these baits catch Bass. I was out last weekend and the topwater bite was lousy because of rain and wind so I had to change directions quickly. I threw on the Sick Fish for the very first time and first cast I caught a nice 2-lb. Within 10 minutes I had 2 more Bass and a nice Pickeral. This bait saved the day. I was using the clear bream in the 4" with a VMC swimbait jighead. I also ended up catching two more Bass before I decided to head in. I LOVE these baits and will continue to buy them.

From: Gary: PA

Comments: Its got good action but if you try to rig it up with a weighted swimbait hook be sure to rig it up thru the bottom of the mouth or it will take lots of damage so just be careful of that but overall its a good bait

From: Cam: MA

Comments: this bait has worked money for me over the past 2 months!! The way you can swim it slowly has been money! We fish this at lake lanier and skipping it around docks has been the best although we have caught them off flat main lake points with this bait! Even around grass! But we fish it differently! We take a coffee straw and stick it in the mouth of the bait and drive it all the way through and out the mouth. Then stick your line in the coffee straw and run your line out the bottom of the bait. Then take a 1/32 ounce bullet weight and put it inside the bait to give it a little weight. Then we take a 3 ot treble hook and tie it to the end of the line and push it inside the bait with one hook it the stomach of the bait then the other two out the side! Disco shad and light hitch have been unbelievable as far as catching big spots around docks!!!

From: GA
Comments: Pretty cool bait although I haven't caught any fish on the 5.5". If you're going to rig on a weighted swimbait hook, make sure to pierce the spring lock through the bottom part of the mouth so you don't damage the bait as much. Good luck!

From: Mantis: Los Angeles, CA

Comments: These swimbaits seem to be made of different material depending on what you buy. The 4 inch clear bream I bought is significantly softer than the green penny of the same size. The 3 inch green penny color is very soft though, likely because there is less plastic. I am currently working on getting them all softer yet (boiling or letting them sit in Gulp! Alive) but even as they are I was able to retrieve them at a fairly slow speed and still get action. Matching a hook to it is difficult since the plastic can be so thick but if you can manage find a hook that stops before the dorsal fin and cut a small slit in the belly to minimize plastic to hook contact. Give these a try, for the price it won't hurt and even if its too stiff to swim they make fantastic finesse baits.

From: Braedyn: Middlebury, PA

Comments: The trash fish is softer yes, but let me fill yall in on a secret!!! Boil so water, stick this bait in up to the dorsal fish for about 75 seconds!! $$$ folks

From: Chris: Oregon

Comments: threw em out.. Im sure they catch fish, I just dont like them; too stiff for me, not too versatile in terms of wanting to burn of slow roll only an in between.

From: Brett: NY

Comments: Kind of disappointed with this bait. The action is pretty good but the quality is garbage. Its so cheap for a reason. i was rigging it with a owners belly waited hook and while i was twisting the head, both eyes came out and the paint started fallling off. in my mind, not really worth it

From: Jeremy: bay area, CA

Comments: Pike love um. And I have caught as many as 5 of the toothy jerks on one bait........that's durability. They swim at slow speeds fine for me, I can't wait to see how bass like them when the water warms up.

From: Basswipe: Meatwads pond

Comments: Why the hate, this bait is cool for the price, some people can't buy the high end baits fish with what you can.. Know the bait is great swims good cast like a rock and can cover alot of water a depths, caught 3bass 4lbs swimming around a bridge 10- 15feet...

From: M: Fresno, CA

Comments: Thrown this bait enough to come up with applications I like it for. A-rigs and on a weighted EWG fished fast. If you try to slow roll it like the Trash Fish, it will barely kick and the head wobble is almost nothing. Didnt swim on a swimjig worth a damn, and its OK on a bigger chatterbait. I love the price, the colors are somewhat decent, but the bait needs to be about twice at soft. As is, its durability is the same reason it cant swim.

Comments: Disclaimer: ACTUAL REVIEW. Not complaining about a knockoff. Anyway, is it really a knockoff if all things considered (price) it's a better value?

Good Bait. Don't know how people can say they have a bad action, try a different hook or something. Not a trash fish, but also not $16 a pack. I'll take the hit on action and softness for the price difference. They seem more durable too. I've had a few take a decent pike hit and a few drops of glue later be back in the action. For the money, they can't be beat. Swamp Gas is my favorite color, but it looks nothing like the picture here. The actual bait reminds me of a pale, sick, washed out rainbow trout, which is perfect for where I use them. Give them a chance. If you're on here buying, whats $3 to try them? You'll be back for more next time. Then maybe we can get a few more actual reviews.

From: Joe: NY

Comments: Better hook ups if you slit the belly on this bait. EWG weighted hooks or, Owner weighted twistlocks can then be easily rigged to the bait with the belly of the bait opened up. Fishing it as a jerk bait has been most effective for me.

From: Johnny: TX

Comments: This is my 1st experience with this bait, haven't use the other (Original) so I have nothing to compare it to. I rigged this bait on a 4/0 vmc swimbait hook. There wasn't much space for hook point exposure but I've found out that didn't matter. I haven't lost any fish yet. Caught my 1st fish within 20 casts. Caught fish everyday Ive used it and I haven't used it that much but Ive caught 6 total. My biggest fish so far was 4lbs 4oz. The bait doesn't have much body movement, slight wobble but the tail does move quite a bit. I haven't cut the top fin off yet as they said to in the vids, I will soon. The bait has been extremely durable and still looks almost new. I'll buy some other colors and buy a few packs to try on my Yumbrella. Overall Im satisfied with the purchase, it was cheap and it seems it would give me a pretty decent bag limit on a good lake.

From: William: South Florida

Comments: 3" is small hard to find a way to rig took a small wacky worm weighted hook and nose hooked it and also rigged it on a drop shot and caught fish, any other way it either tore it up or swam sideways.

From: Chad: GALLION, AL, US

Comments: this thing is beastly nuff said

From: WI

Comments: Not a good swimbait in my mind, terrible action. I throw the Yum $ Minnow alot and guess I tend to compare everything else to it but was not happy at all with this bait. Save your $ and look elsewhere.

From: Jeret: FWB, FL, US

Comments: I was looking for a review not a bunch of bashing!!!!

From: Chad: IN

Comments: Ok bait. Not comparable with the Trash Fish but you get what you pay for. Mines smell a mix of plastic and glue. Awful. Will keep them in garlic salts to disperse the bad odor.

From: Pat: Montreal, Canada

Comments: caught my first bass on this sucker today. small but it did the job. fish for about 15-20 min and hooked on a lmb. had it chase a few time and as I let it sit the bass just looked at it. it took it when I popped it.

From: Sai
Comments: Bait sucks skin color peeled off before even hitting the water. Waste of money.

From: Calibudd
Comments: "Andy" from Houma, Loooziana is correct...the "Swamp Gas" colorway doesn't have red eyes and rly looks nothing like pic. It's actually a great color. A light white/offwhite/cream w/ a few multi-colored glitter specs and a very light subtle green on top...a good rainbow trout imitation for sure. A nice color for clear water.

From: Tanner: MA

Comments: Hook sizes and rigging: Owner Beast 4/0 for 4.5 inch Berkley Sick Fish and Owner Beast 6/0 for 5.5 inch Berkley Sick Fish. Also works great rigged on Chatterbait, Spinner bait, Swim Jig, Alabama Rig.

Comments: Not sure what to think yet, only fished them in cold water and action is sub par at best. Have not caught anything yet, they seem durable and I am sure you can catch a handful of fish on them. If you like to slow roll a swim bait this is probably not the one to do it with. Threw on a keitech right after and there is just no comparison in action.

From: Brett: KY

Comments: These things blow. Don't waste your money.

From: Derek: CA

Comments: The Creeper Trash Fish are no doubt great baits but the MASSIVE price difference makes these an easy choice. Not QUITE as a soft as trash fish but still very soft by Berkley/machine standards. Arguably better detailing, better colors. Better durability...2.99 is a very fair price. The 3" are tiny, they'd be great little drop shot baits but there's a huge jump from 4" to the 3"...looks like less than half the size. The 4" seem a lil bigger too like 4.5". Fish these things just about any way you can think of...even try nose-hooking them and using them as a much more realistic, more enticing, action-packed, weightless soft jerkbait. The 4" is a GREAT size for A-Rigs, Chatterbaits for big fish, swim jigs, or just on a swimbait hook alone. I'd definitely treble rig it along w/ a monster weighted swimbait hook because there is no belly slit and u'd need one SERIOUSLY WIIIDE gap hook to have a good hook-up ratio.

From: Tanner: Southeastern, Massachusetts

Comments: No Red Eyes like in pic of the swamp gas color

From: Andy: Houma, LA

Comments: Picked up a few packs to test out. It wont replace a trash fish. The plastic is too hard to slllloooooowwww roll like you can the trash fish. Where it does well is applications where the bait isnt the stand alone. Swim jigs, chatterbaits, and A rigs are a good fit here. Things you dont want to burn $6 a trailer on.

Comments: Gave the Sick Fish it's first test run last week. Fishing them on a belly weighted swimbait hook with a stinger treble on the belly. I landed over a dozen largemouth, 2 white bass, and a channel cat, all on the same bait. The only damage was a few scratches and both eyes are gone but the bait is still very functional. This was without using any Mend It or glue. Bait had great swimming action at the slowest retrieve speed. Very excited that they're coming out with bigger sizes.

From: Clayton: Gardner, KS

Comments: for 2.99 and all these great color, they are so worth it.

From: B: NC

Comments: Just got these baits. Awesome action and i love the colors. I would like to see more colors. EWG Weighted hooks work best. Nice to see Benno from Little Creeper Bait clarify the haters. Too many reviews on TW with people u have never wet a line.

From: Kev: Keystone State

Comments: These sick fishes are really sick. This things work just like the trash fish and they are amazingly cheap. People can hate all they want but they'll still secretly buy this fish because its cheaper

From: Master Yoshi: Beijing, China

Comments: i was lucky enough to get my hands on these before they were released they are nothing like what you guys say they are no where near the little creepers!!!!!! little creepers are alot better but these are decent i have found them better on jig heads then anything else but its alot of tail and no body preetty decent good for storking swimbaits!!!!!!!!!!

From: Lewis

Comments: I don't see the problem, when Berkley provides more cheaper lures for guys and same action, the other creepers sells them but twice as much and looked stocked up which tells me that they are over expensive for just plastic lure. I bought many different plastics lures and spent a lot of money but the price of these is awesome and don't really care if they are knock off to other baits. If they made this design in glup sick fish then guys and girls would kiss skeet for winning lure every guy would love. Just little improvements would go alone way for making this lure better.

From: Alex: KS

Comments: Typical Berkley knock off. Not soft enough to swim at crawling speeds, crappy colors, and the gall to claim it as their own. Buy the original, support a local company that makes a superior product. Good swimbaits aren't for those with lint pockets. $8 a bait is miniscule in comparison to what many guy will spend for a Roman Made or custom hard bait. Like the beaver, fish the Trash Fish and support innovators not copiers.
Comments: I aquired some of these from the berkley rep and all I can say is they might not be quite the hand poured colors but they last a lot longer/more fish per bait and are affordable. I can stock my box with enough baits to not have to worry about running out during a tournament