Berkley Ironsilk Monofilament Line 300yds - $9.99


Stronger than iron and softer than silk, Berkley's innovative Ironsilk Monofilament Line offers the foremost in both durability and sensitivity. Featuring reinforced polymer construction, the Berkley Ironsilk Monofilament Line is up to 3X more abrasion-resistant than other leading monofilaments.

Exceptionally limp, the Berkley Ironsilk Monofilament Line provides great handling, fluid casting, and short-term spool memory that melts away under normal line tension. Offering exceptional knot strength as well, the smooth, extra-tough construction allows knots to cinch down cleaner and tighter than competitors. Built with innovation… fueled by passion, the Berkley Ironsilk Monofilament is a cut above your everyday monofilament.
View Large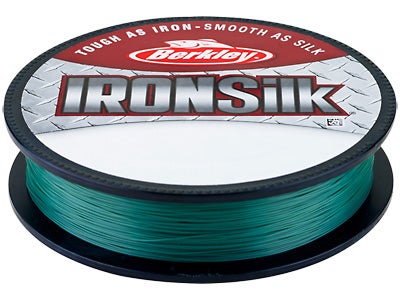 Place Your Order
More Berkley Fishing Line

Comments: I have used this line in 20 lb for the last several days. It casts great. However, this is, hands down, the stretchiest line I have ever used. And I have used just about everything you can buy off the shelf. I couldn't even feel the big blade of my spinnerbait turning until the bait was almost back to the boat. And hook sets? Forget it. This may be a good line for crappie or panfish but it is just way too stretchy for bass fishing IMO.
From: Dean: TX 10/9/14

Comments: This could be the perfect Monofilamemt fishing line, it is tough, cast s very easy, and and is abrasion resistant. It is thinner than normal Mono line, and has an interesting feel to it, very different from every other mono out there, and from what I can tell it doesn't stretch much at all. The only gripe I have is the color, it is an odd green, if they can make this stuff in clear it will be perfect, but for now it works.
From: Brian: Kent, WA 9/12/14

***Note: If you have questions about this product or need assistance with an order please email your questions to info@tacklewarehouse.com