Berkley Nanofil Line Low-Vis Green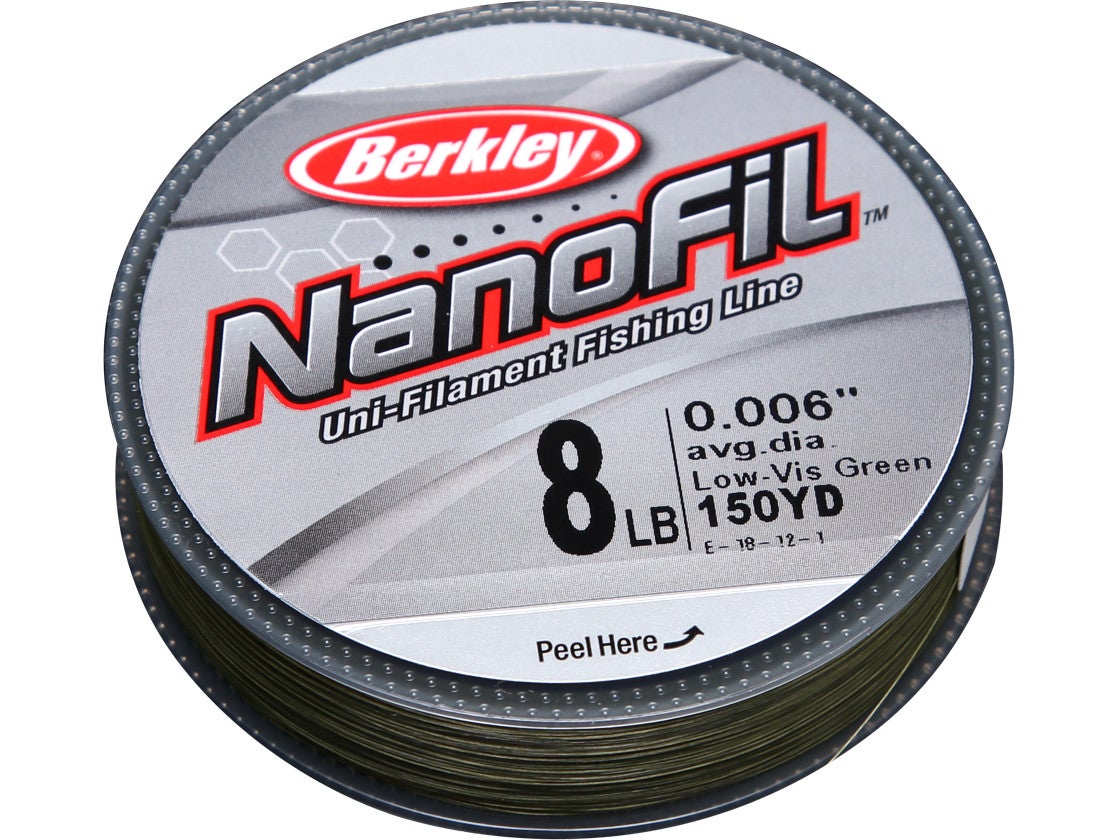 Now available in Low-Vis Green - Berkley's NanoFil Uni-Filament Fishing Line is the next generation of fishing line - and in a class all its own. Not a Mono. Not a Fluorocarbon. Not a Braid. It's constructed from gel-spun polyethylene, much like a superline, it consists of hundreds of Dyneema nanofilaments that are molecularly linked and shaped into a unified filament fishing line. Dyneema is one of the world's strongest fibers, providing NanoFil with superline-class strength, as wells as zero-stretch and exceptional sensitivity. Berkley's uni-filament process also makes it feel and handle like a smooth monofilament, while still allowing it have the performance characteristics of braid. The ultimate spinning reel line - Berkley NanoFil Low-Vis Green Fishing Line is the longest casting, thinnest and most sensitive line Berkley has ever created.
-Ultimate Spinning Reel Line
-Zero Memory Virtually Eliminates Tangles
-Incredibly High Strength/diameter Ratio
-Zero Stretch Means Superb Sensitivity
-Berkley's Longest Casting Line
| | | |
| --- | --- | --- |
| NanoFil | Diameter (in) | Diameter (mm) |
| 4lb | .004 | .102 |
| 6lb | .005 | .127 |
| 8lb | .006 | .152 |
| 10lb | .007 | .178 |
| 12lb | .008 | .203 |
| 14lb | .009 | .223 |
| 17lb | .010 | .254 |
Place Your Order
More From Berkley Fishing Line
Customer Reviews
Comments: Normally I don't write reviews. This line is a whole different story though. With the right rod, every single little bite feels like someone flicking you on the wrist. In other words: A bite is unmistakable. No problems with knot slippage at all. Just use double Palomar.
From: Mike: IL 7/18/16

Comments: I have been using 12lb test for wading walleyes since it came out. Casts super, never broke off a fish yet. I throw mostly Rapala X raps, love the feel with this line
From: PJ: OH 6/21/16

Comments: Nanofil does have a thin line diameter but this line is terrible. I broke off three different times while using Nanofil 12 lb test line. I hate to loose a fish especially due to broken line. Twice I broke off with a Palomar Knot and once with the Improved Cinch Knot. I have used several different kinds of Trilene line for years and was very happy with them until I tried Nanofil. I have never had any line break off like this line. If you want a strong line with strong knot strength don't choose Nanofil.
From: Dan: San Diego, CA 6/9/16

Comments: I have had some 17lb that I originally used on a bait cast reel which I transferred to a 4000 Shimano spinning reel and two years later it's still working perfect. Frays, absolutely. But they have never caused my line to break from casting or landing fish. And to whomever said the 17lb didn't perform well on 2500 series reel. well yeah it's too much line for that size reel don't be stupid. As stated its quiet, no wind knots, casts a mile.
From: Brian: CO 4/10/16

Comments: I love this line. I had been a mono user for years, then I tried braid, then eventually bit the bullet and tried Nanofil. There was definitely a learning curve, ALWAYS check your line for wear and use the double Palomar knot. I wrestled a beast 5 lb largemouth that was badly tangled in lily pads with no breakage from a kayak. It lets me cast weightless plastics a country mile too. Phenomenal on spinning line.
From: Kerr: Boston, MA 3/23/15

Comments: I've been using 10lb Green Mist for the past 2 seasons. Always use backing, more importantly check your line. Nothing performs better for finesse in my opinion, Sensitivity, Durability, Castability.
From: Adam: USA 11/11/14

Comments: Although the line casts fantastic and has zero memory, my experience has been the durability is virtually non existent. In just a few hours this brand new nanofil broke. not 6 feet from the end, but more like 25'. nearly lost a new crank bait & smallmouth in the process, but was able to snag the end of the line and hand line the fish and bait to the boat. removed some more and restrung and same thing happened the next morning. I should have known if Berkley prints a warning inside the label to watch out for fraying and to remove the last 6 feet periodically.
From: Bill: Spring City, TN 6/7/14

Comments: Really have to say, I am a braid lover through & through but I'm never going back unless I need something SUPER heavy. NanoFil casts smoother and farther, reels in quieter and frays less. I find it superior in every way possible, I just wish there was a smoke color! I seriously feel as though tying something else on is a waste of time and money now. Just ALWAYS wet your line and tie a double palomar and it'll never slip- and anyone who is having trouble keeping baits on has not followed those very simple instructions!!
From: Matt: MA 3/17/14
Comments: Sold!!! On a recent trip to NY in November, for salmon and steelhead this line performed flawlessly. Used 17lb Nanofil with a 17lb Floro leader, the Floro broke before the Nanofil ever did. You MUST do your homework on this line, watch the video and us the proper knot. Both my son and I used this line for 2 days with no problems. This line casted farther than anything else we used with less effort. This line will be spooled on all my spinning reels from now on.
From: Howard: South Fork, PA
Comments: I did not like this line at all. Spooled on a 2500 size spinning reel. The line laid in elongated coils on the surface after the cast. It also did not cast as well as power pro. Seemed overly stiff. 17 pound. I hope TW will take this line back for a refund.

From: Karl: SoCal

Comments: I bought a spool of Nanofil right after it was released and have had it on the same 2 spinning reels since with no issues. I use a double Trilene or Cinch knot and a Spro #35 micro swivel. Add a couple feet of Trilene 100% flouro and its the best drop shot and shakey head set up.

From: Eric: Spring Lake NC USA

Comments: OK----You need to tie the appropriate knot (palomar -/ doubleUni too Furo-carbon) if you dont want to loose your lure. It will shrink in cold water and you will loose your knot if not tied correctly....You also must have a mono or rubber backing on your reel---this stuff will slip before engaging the drag especially in colder water/weather...However if you take these pre-cautions you will not find a better casting more sensitive line for spinning reels.

From: Bunker: Haymarket, VA

Comments: Greatest superline I have used. Beyond sensitive and strong if using the right Knot. Double palomar as demonstrated online. Greatest for dropshot. Used same line for a year

From: Kyle: IL

Comments: This is the worst line I have ever used for breaking. It has good sensitivity but it is not strong enough. I lost two crankbaits due to the weekness so I changed back to regular monafilament line. Very disipointed.

From: Harry: Hodgenville, KY

Comments: easily the best drop shot line I have ever used. 12# test casts like a dream and has amazing sensitivity, it lets me fish lighter weights and smaller baits during the tough summer bite. I have read about the issues with it fraying but I use 7# FC sniper as a leader using a double Albright to connect them. I have never had the connecting knot or mainline fail on a fish, I would not use this without a leader but that's just me.

Comments: Casts well...and thats it, its expensive,its slippery so knots don't hold, and it breaks too easy. I had to respool on the first day in the boat, my only option was stren 20lb mono left over from ice fishing and I was happy to switch!

From: Brent: New England

Comments: This is a great line, the bait comes off the rod like it was shot out of a cannon. Only down side is it tends to fray pretty easily. I have only used the 14#. May not be worth the high price though.

From: Jim: New England

Comments: Finally!!!! been waiting for this for almost a year now!!! gonna spool every reel with this stuff. its sooo good and when people complain about breaking off its because of two reasons. 1. not tying the right knot. and 2. not checking the line for knicks in it from abrassion. if you do these two things correctly you will be able to use this line to its full potential!!

From: Pablo: Pembroke Pine, FL