Berkley Powerbait 3.5" Fight'n Bug 8pk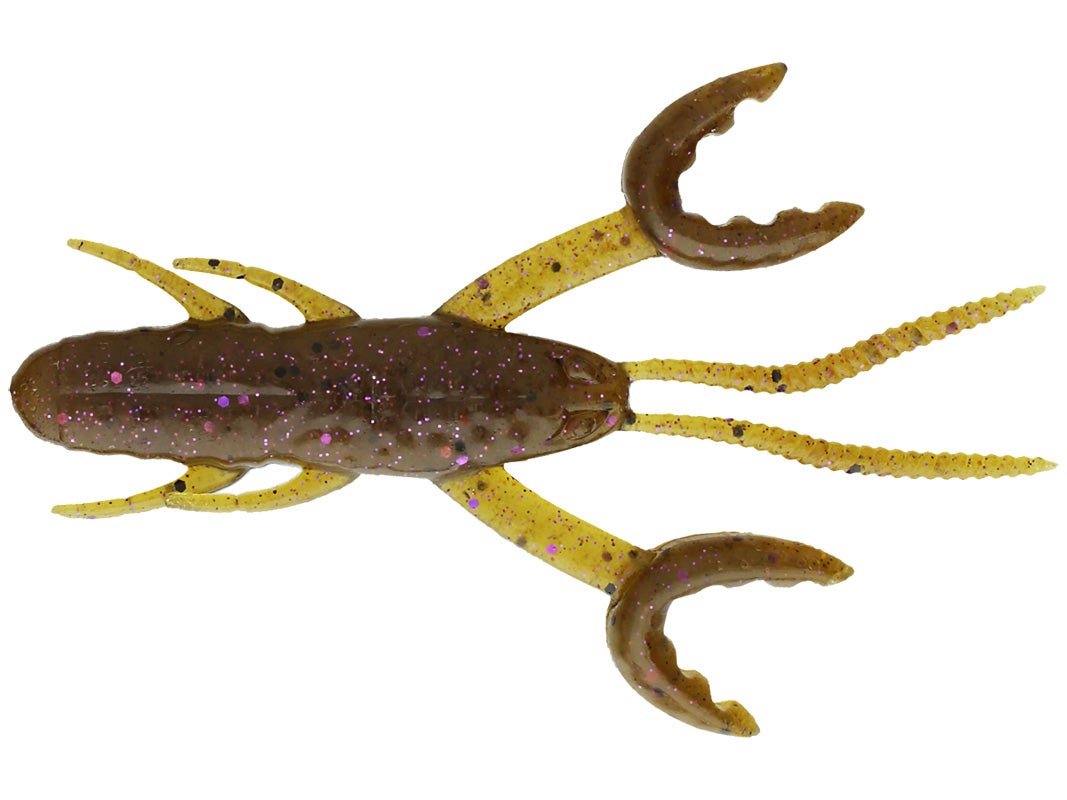 When it's time to go toe-to-toe with bass, the Berkley Powerbait Fight'n Bug throws its dukes up and creates a defensive crawfish posture that no fish can resist. Built with a full-body for easy rigging, the Berkley Powerbait Fight'n Bug delivers tons of vibration thanks to its specially designed "U"-shaped claws. Highly effective on a jig or Texas-rig, the Berkley Powerbait Fight'n Bug really stands out for flipping and pitching applications.

Reinforced with Powerbait Scent and Flavor Formula, the Berkley Powerbait Fight'n Bug encourages bass to hold on longer and promotes more positive hook sets. Available in a number of classic colors, the Berkley Powerbait Fight'n Bug is sure to deliver a knockout on your next fishing trip.
11 Colors
More From Berkley Craws
Customer Reviews
Comments: Absolutely love this craw! Rigged it up on a 1/4 ounce jig head & started flipping & the fish killed it! looks extremely life-like in the water. I have it in Okeechobee craw & green pumpkin and they seem to like the Okeechobee craw color better in the stained water I fish. The only disadvantage is that the claws rip off very easily. I normally can't catch more than three fish before I have to put on a new one. However it catches fish so definitely pick up a bag!
From: Mason: Harris County, GA 5/12/15

Comments: This absolutely catch fish! Best jig trailer I have used in awhile. My favorite jigs to use these with are the Berkley Gripper Jig or Manns Stone Jig. Sometimes I dip the claws in Dip and Glow.
From: Wyatt: New Jersey 8/20/14

Comments: Broke out the Fight'n Bug for the 1st time yesterday. 60 Degree water temps; bass cruising the shallows. They wouldn't touch a swim bait, wouldn't touch a stick worm etc; so I tied on a Texas Rigged Fight'n Bug. In about 20 minutes I had 6 Bass on and lost another 3. Not only did those bass hit those soft crayfish they inhaled them. No hesitation; all I had to do was cast out in front of the cruisers and they raced over to the bait and crushed it. The only reason I missed three was because I could visibly see them take it and hit back too soon on two of them. The 3rd missed Bass happened while reeling in; that brave soul came out and hit the bait as I was pulling it out of the water. First impression of this bait; it saved the day. Great action crawling/hopping across the bottom. Great sized bait; not sure a larger bait would have worked on those small male Bass. GREAT BAIT; glad I purchased them (bought 10 packs back in February). I was only using the Okeechobee Craw color. LOVE IT!
From: Gary: Pa 4/28/14