Berkley Powerbait Chigger Craw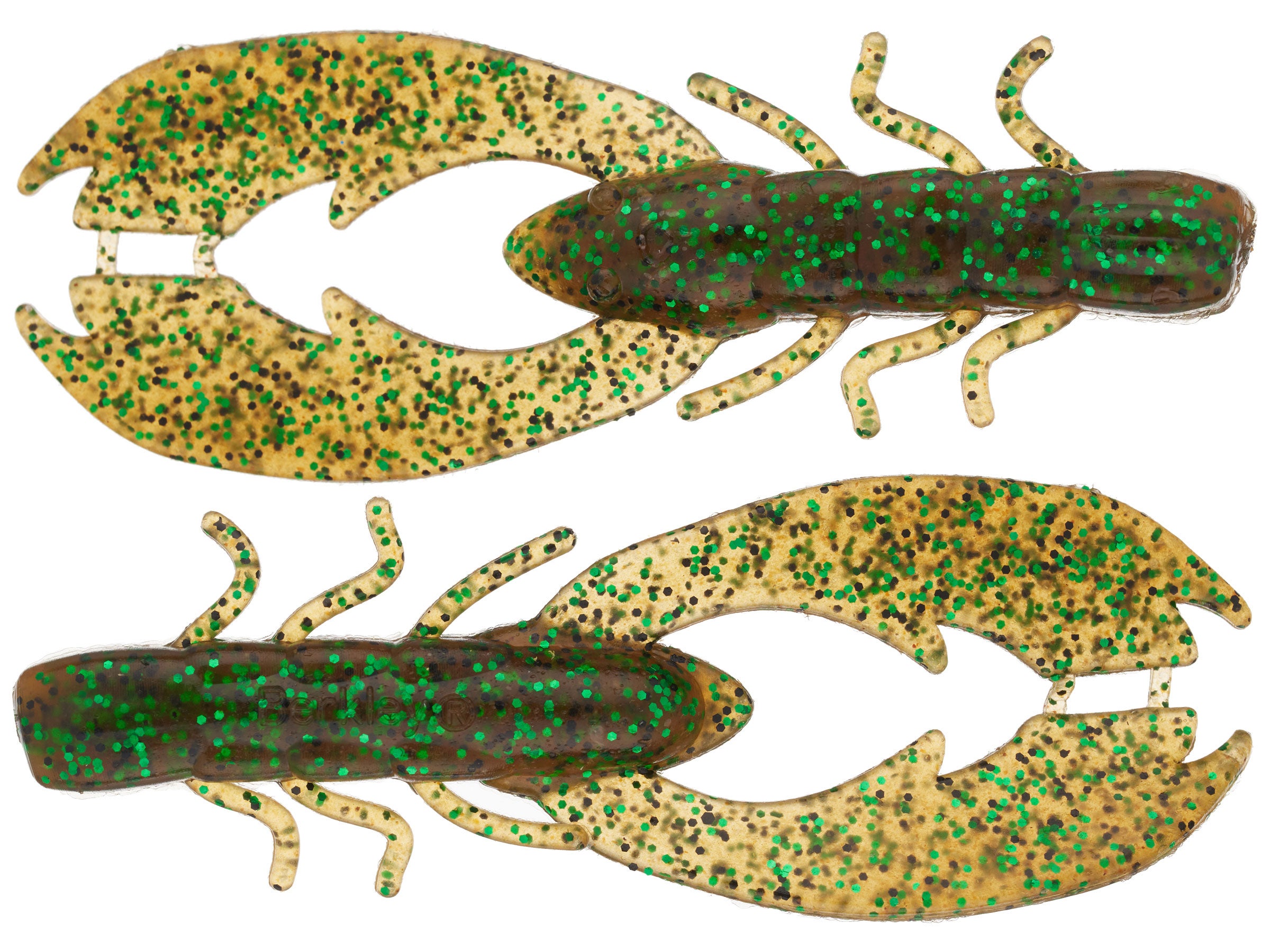 Berkley's development of the Chigger Craw has once again raised the bar when it comes to realistic soft plastics. The Berkley Chigger Craw is designed to mimic a crawfish. The small appendages on both sides of the bait and the claws move through the water with a fluent lifelike action. The Chigger Craw can be effectively fished on a Texas Rig for flippin' or used as a jig trailer to bulk up the bait. The realistic texture and Powerbait scent impregnated into every Chigger Craw will give you the advantage the next time you are on the water.
| | |
| --- | --- |
| Length | Quantity |
| 3" | 10 |
| 4" | 9 |
| 5" | 5 |
7 Colors
More From Berkley Craws
Customer Reviews
Comments: Not sure what the deal is but the quality has gone down. There is a film of uncut extra plastic around all of the claws. Someone did something wrong! It's a shame because I love them, now they are crummy. I thought it was a bad batch but it's all of them now.
From: AW: IN 12/13/16
Comments: This is by far my favorite bait. I use it as a trailer or just on a Texas rig & it catches a TON of fish! Absolutely amazing.
From: Age: NV 9/18/16

Comments: like this bait but have problems trying stay hooked up, I been using 4/0 fusion flipping hooks with this bait but seems to work well with are smallmouth with a mushroom jig,good stuff
From: Cndbass: Ontario, Canada 9/4/16

Comments: These craws straight up catch fish. From Wisconsin to south Carolina I have caught fish consistently. A little expensive and not very durable but they are definitely worth it for a good day of fishing.
From: Jack: Sumter, SC 6/10/16

Comments: I noticed that too with the claw size. I guess I'll have to buy the other version & remove 'crazy legs'. If anything, I wish they would have very slightly rounded the body of it and kept the claws the same. Btw these probly work fine but why mess with a good original design.
4/18/16

Comments: awesome craw! Only one I use other then maybe rage tail craws. Durable, nice action, and life like with great scent. What more could you want. I use it as a jig trailer mostly.
From: Zachary: OK 12/25/15

Comments: Such a fantastic bait on the back of a jig. I have caught more fish flipping jigs with a Chigger Craw on the back than with any other trailer.
From: Aaron: Spring Hill, TN 12/8/15
Comments: where to begin with this bait? It's all around a dominant bait! Not only can you use it as a Texas rig but it's a phenomenal trailer for jigs as well. All 3 sizes will produce big fish and all have there time to shine. If you don't own chigger craws in your arsenal it's time to change that!!
From: Wisconsin Angling Outdoors: WI 10/12/14

Comments: absolutely the best craw out there. Perfect balance of action size durability and looks. It's subtle yet tremendous action is quite natural and enticing too a bass(or whatever wants it). However the Zman Turbo Crawz is better as a trailer and as good as this craw in my very recent experience, and the Zman CrawdadZ is awesome too! But the chigger craw will remain my go to until I flip/punch the Zman baits
From: Jacob: IL 4/3/14
Comments: I love the Chigger Craw; this is my #2 plastic craw. Very nice action in the water and the 4" is the perfect size for hopping/dragging on the bottom with a Texas Rig. I only use the sapphire blue and it's caught me a lot of Bass. I can usually catch 3-4 bass per bait so I would consider it very durable. Plus it has the famous Powerbait scent. The only craw that is better is the Havoc Craw Fatty. But with both of those baits loaded up in my tackle bag there is no need for another craw. I will use this bait once the fish stop hitting the craw fatty. I guess you could consider this my mop up bait. Not sure what changes have been made with the 4" version; they appear prettying the same as the previous version? But try these; you won't be disappointed.
From: Gary: PA
Comments: These have changed. I just got a new pack and the claw design is bigger on 3" version. Dissapointed in the change as I wanted finesse and berkley decided to beef them up. Why change a good thing?
From: Justin: Or