Berkley Trilene Professional Grade Braid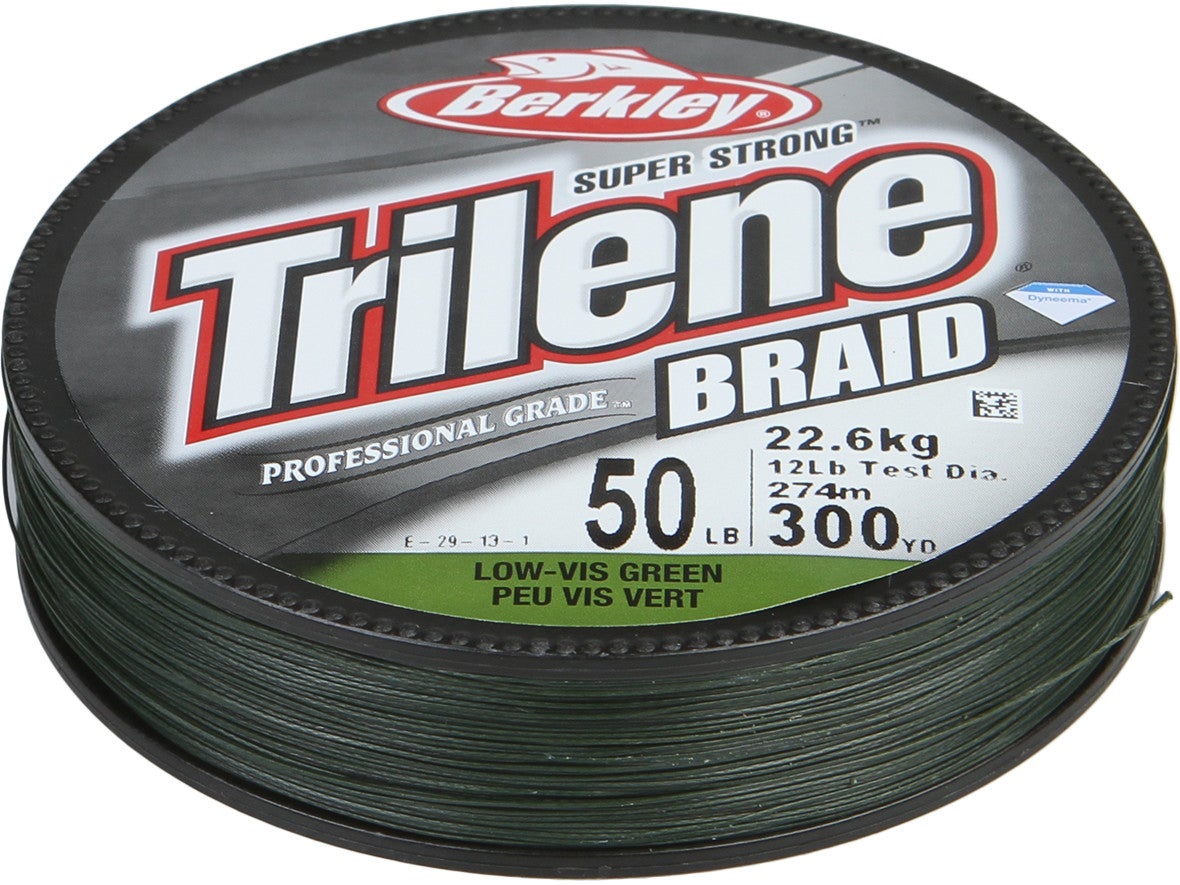 Tournament-level braid worthy of the Trilene name, the Berkley Trilene Professional Grade Braid was designed for Berkley's top pro's on tour. Featuring an advanced 8-carrier Radial Braid construction and the highest-grade Dyneema fibers available, it is strongest braid Berkley's has ever created. Its optimum blend of pick count and 8-carriers creates a weave that is ultra-round, smooth and quiet. It stays round for better manageability, casts further and doesn't "buzz" through the guides either thanks in part to a special coating that also holds color longer than other braids. Pro-approved and tournament-tested, Berkley Trilene Professional Grade Braid is what you want on your spool when everything is on the line.
-Unique tracer coloration
-Special coating technology holds color longer
-8-Carrier Radial Braid Construction
-Highest grade Dyneema fibers
-Ultra round
-Strongest Berkley Braid Ever
-Smoother, quieter surface
-Casts further
"... this brand is the best I've used. Handles and casts great!" - Davy Hite, Elite Series pro
"Great flipping braid, comes through the guides smoother." - Guy Eaker, professional bass angler
Place Your Order
More From Berkley Fishing Line
Customer Reviews
Comments: Freak'n awesome line. Normally I run power pro 30. Only because power pro 20 is a terrible line. Pp 20 broke at 12 to 15lbs on the regular. I fish inshore on the carquinez strait. Very rock shores and I needed a line that meets it's rating on the package. I will tell you that power pro 20 and 30 are great casting lines but those lines just can't handle snags, or the accidental bail mishap. Yea yea I'm only human. I lost probaby $60.00 in lures and sturgeon rigs this year on power pro and oh yeah spider wire invisibraid. Great packaging by the way spider wire. Hands down this berkley professional grade has held up and has held me up hooked to a vise. I feel confident now that I can go down to a light test line and get even further casts. I would also like to say that this line casts as far as power pro and is more durable as well. Also I have not lost a lure since the switch. Thank you Berkley for being honest.
From: Jeremiah: Crockett 12/21/16
Comments: I have recently purchased 50lb test for my frog rod & as someone who has some experience with braid I would have to say that this line is pretty good quality. It cast very smoothly & makes minimal noise compared to some of the sunline braid. I haven't used it much yet this year but I can say that for the most part the abrasion resistance is pretty decent much better than some powerpro. the only issue that I see is that is does lose some of its color but that isn't a huge concern to me. Overall I would rate this as equal to the main braids such as sufix832 and powpro.
From: Jake: Cheboyan, MI 5/31/16

Comments: This line is not professional quality as the label states. Line flattens out & loses strength very quickly. Flipping into heavy weeds with the 50 lb I broke off multiple fish. Going to give it a 1/5 because it was effective for about one day.
From: Alex: WI 4/4/16

Comments: This is the best braid ever, I hauled in a 20 plus pound gator that took my frog down and went under the weeds with no problem. The gator ate my frog as I was walking it along some pads(here in Mississippi) and I set the hook on instinct and got him good on the spro. But I had 50 lb braid and it did not fail in the powerful gator. He tried to get away but just couldn't, am a firm believer in this braid now!
From: Koltin: MS 8/25/15

Comments: Definitely a couple of noob braid users reviews below. Guys there is no braid that is resistant to shock and if you fish the same way you do with Fluoro or Mono you are going to lose baits on your casts and hooksets. In my opinion this braid gives PP a run for its money. I am not sure if this is as sturdy as PP but it is slightly more manageable and seems to hold its round shape a little longer. There are very few braids that can match up against PP so yes this is good line.
From: Nate: Mardon, WA 7/30/15

Comments: Love this line. I throw it on my spinning gear and its flawless. Great knot strength.
From: Ryder: Dinwiddie, VA 5/21/15

Comments: Fished with this on a few of my reels last year. I normally use power pro and I didn't notice any difference. Like all braid it's susceptible to sharp objects but a leader can fix that problem.
From: Andrew: NJ 1/19/15

Comments: Line does not break during a cast because the line "sucks". The only way that happens is if you had a horrible backlash and whipped the lure real hard or you had a knick or fray somewhere in your line and did not know it. You can cast a half ounce lure on 4lb test mono and it will not break during a cast if it isn't damaged. Some of the line reviews on here make me wonder how some people are smart enough to even spool line on their rods.
From: Rob: Lewistown, PA 7/11/14

Comments: line breakage during a cast is a product of a "zero stretch" line. All braided line will do this if you backlash on a hard cast.
From: Jay: OH
Comments: you guys need to check your guides for scratches or damage if you're getting so many line breaks. That stuff doesn't just happen because the line sucks. I have super old 8 lb test that I use and it never does that kinda nonsense.

From: Bad: CA

Comments: I second the first review, I bought this new berkley braid 30lbs because berkley is my go to line, flouro, mono as well. This pass weekend I was throwing around a 1/2 lipless bait when all of a sudden after a cast I heard a snap and along went my lure shooting off in the distance; however I did get my lure back becuz braid float and after pulling 20 yds of braid off the water my lure was on the other end; so that showed me my knot didn't break the line did. I hope it is a bad batch, time will tell.

From: Wayne: Stafford, VA, USA

Comments: I have to admit. I was very excited to see a profession grade braid by Berkley Trilene. I love their 100% floro so I though I would give the braid a try. I bought 30lb test to use for Northern Pike and I must say I am not too happy with the line. It frayed a bit and I lost like 3 spinner baits just casting and it clean snapping off, not at the knot by the way. I think I will try it again and see if maybe it was just a bad batch or what not. Its knot strength is great and hook sets are what you would expect of braid. I would give it 3 out of 5 in hopes that the fraying and breaking was bad luck or I was doing something wrong.

From: Matthew: Hartland, WI, USA