Berkley Trilene Professional Grade Tracer Braid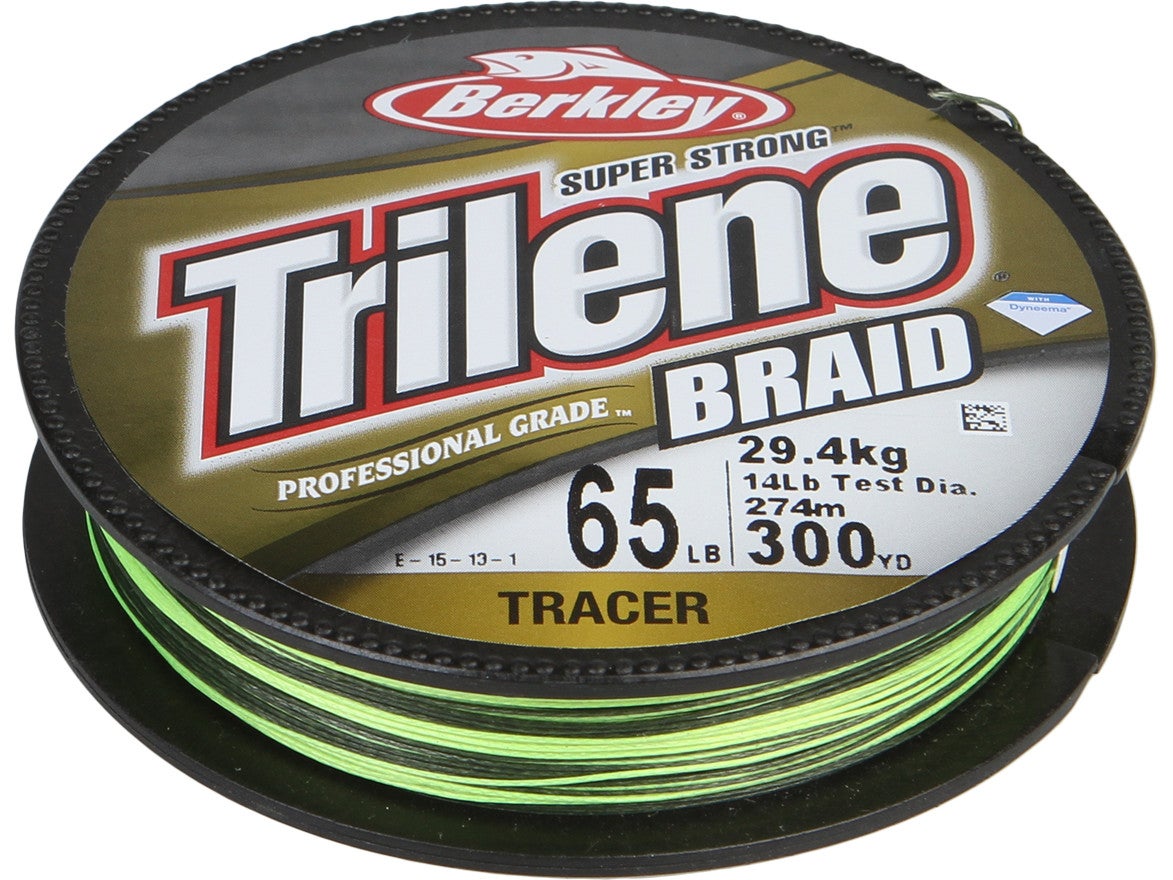 Featuring alternating hi-vis and lo-vis coloring that provides a point of reference to easily detect line movement, Berkley Trilene Professional Grade Tracer Braid is tournament-level braid worthy of the Trilene name. The strongest braid Berkley has ever created, it features an advanced 8-carrier, Dyneema fiber, radial braid construction. This optimal blend of pick count and 8-carriers creates a weave that is ultra round, smooth and quiet. Offering longer casting, its slides through guides with no "buzz" and features a special coating that holds color longer and greatly contributes to its quieter, smoother surface. The 2.5-ft hi-vis and 2.5-ft low-vis coloring also allows you to measure your amount of line - every hi-vis pass is approximately 5-ft. Designed for Berkley's top pro's on tour, Berkley Trilene Professional Grade Tracer Braid is perfect for the many bass fishing applications where watching your line is necessary for detecting bites.
-Unique tracer coloration
-Special coating technology holds color longer
-8-Carrier Radial Braid Construction
-Highest grade Dyneema fibers
-Ultra round
-Strongest Berkley Braid Ever
-Smoother, quieter surface
-Casts further
"The strength and handling of this line is unmatched... The construction of the line creates a braid that is the strongest I've ever fished." - Brandon Palaniuk, Elite Series pro
"... this brand is the best I've used. Handles and casts great!" - Davy Hite, Elite Series pro
Place Your Order
More From Berkley Fishing Line
Customer Reviews
Comments: Best 30# line ive found to date!!! Ive been thru 4 different brands of braid this last 2 seasons! Nothing but trouble till I found this! Ive had nothing but luck or finally found a line worth a darn! Ive tryed all the big brands P.P. & the spidy line and a couple others to name a few and this line is by far the best bar none! Musky approved!! Wont use anything else from now on!! Im using Abu Garcia sx30 Revo spinning reels & its the best set up for the money#!
From: Chad: Eau Claire, WI 7/22/16