Berkley Vanish Fluorocarbon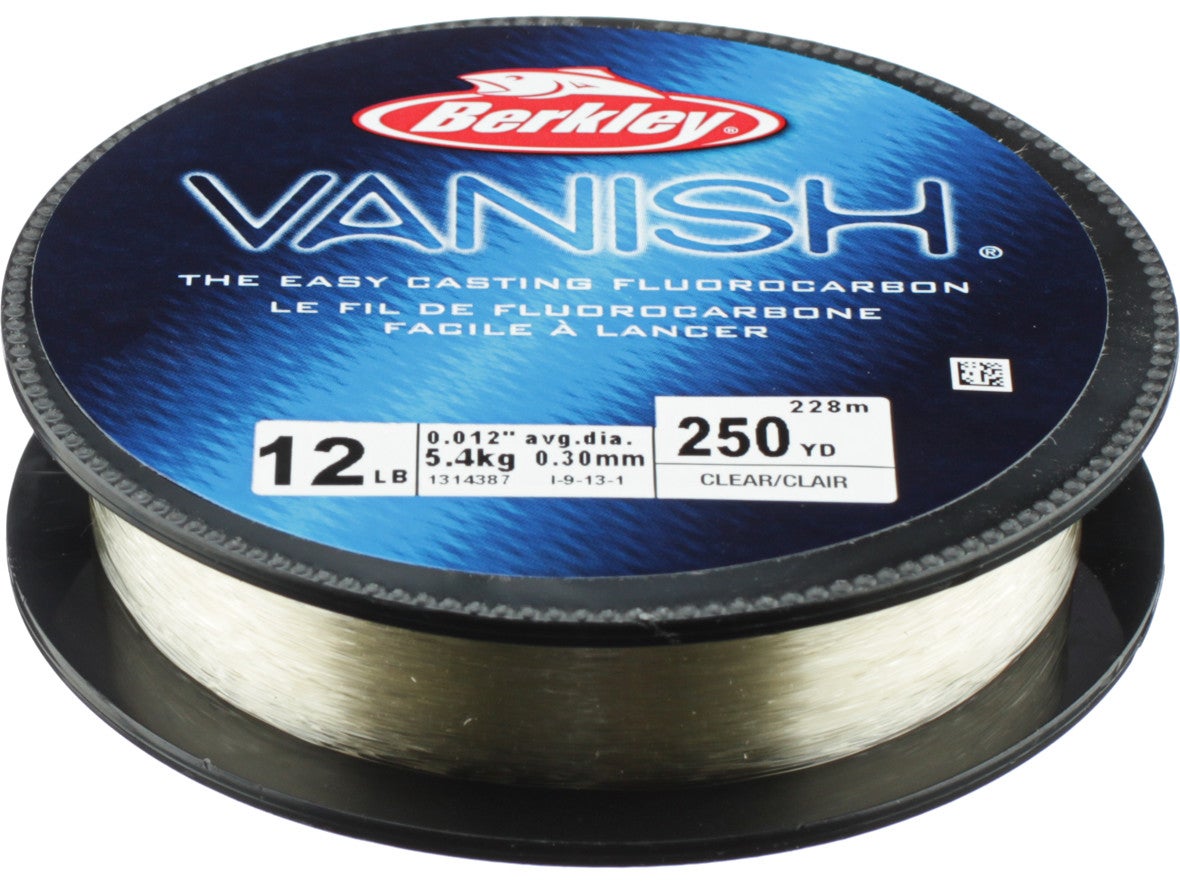 Since the birth of fluorocarbon line, Berkley has been supplying anglers with the most technologically advanced lines available, and now they're doing it again with the Berkley Vanish Fluorocarbon. When faced with a tough bite or clear water conditions, the Berkley Vanish Fluorocarbon disappears under water to give anglers a virtually invisible line choice. Now, the Berkley Vanish Fluorocarbon line is also softer and more flexible for less tangles and easier casting – even on spinning gear. Next time you're spooling up with fluorocarbon make sure it's Berkley Vanish Fluorocarbon.
| | | | | | | | |
| --- | --- | --- | --- | --- | --- | --- | --- |
| Line Diameter | 6lb | 8lb | 10lb | 12lb | 14lb | 17lb | 20lb |
| Inches | .009 | .010 | .011 | .012 | .013 | .015 | .016 |
| Millimeters | .22 | .25 | .28 | .30 | .33 | .38 | .41 |
Place Your Order
More From Berkley Fishing Line
Customer Reviews
Comments: O'h my lord is this line awful . My 10lb. line, couldn't lift up a 5lb dumbbell without snapping. Though I was going crazy, so I tied my Trilene 10lb low vis line on, and it lifted my 10lb dumbbell, still didn't break. I put the Vanish 10lb. line on my digital fish scale, and it snapped at 4lbs., and the 10lb. Trilene green low vis snapped at 12.5 lbs.. Something things going on here, or I got a bad batch of line?
From: Unknown 2/9/17
Comments: I like to use it for leaders ice fishing. Good for bass, pike, trout, everything really.
From: Unknown 1/8/17
Comments: I have never had a problem with the 14lb, but the knot strength of the 10lb is pathetic. I've used the 14lb for years and have never had any problems.
From: Chris: Ohio 11/29/16
Comments: This is the most brittle garbage I have ever fished. And yes I know how to tie a knot, especially with fluorocarbon. It seems to break easier than line testing half it's strength, and the knot strength is non existent. Go with Abraz X fluoro, Gamma Edge Fluoro, Sunline, or P Line fluoro.
From: Tyler: Grand Junction, CO, USA 11/7/16
Comments: IDK why so many people hate this line. I buy a 250yd spool of 8lb test & put half on my drop-shot rod in the spring, and replace it in late summer/early fall & have no problems. Put the spool on a pencil & have your wife hold it with line coming OFF THE BOTTOM of the spool onto your spinning reel. Fill er up and let it sit overnight and you might have some run off first couple cast but after that NO problems. I have had drop shot setups last for a couple days and cant remember the last time i had knot failure or breakage. My buddies all buy expensive brands, that's ok, i'm not out to impress anyone. 14lb goes on my baitcasters & i'll take on anything with fins.
From: Jamie: USA 9/3/16

Comments: I am very disappointed with this series. I spooled it up on my spinning reel & let it sit overnight. I went out this morning & on the first three casts, I had three knots. Very disappointed with this line.
From: Jack: NH 7/3/16

Comments: Great line. Super knot strenth & thin diameter. Never had a problem with this product.
4/25/16

Comments: I've been fishing with Vanish for four years now & I say for my baitcasters they are ideal. For spinning reels they can cause a few problems as long as they are not over filled. Not like most. Very strong, less memory & knot strength superb. I also use Vanish Transition & I am well pleased.
From: Mark: Indianapolis, IN 10/22/15
Comments: I've had no issues with this line. No offense but anyone complaining about getting hung up or knot strength are excuse anglers. I use 12# when I'm Texas rigging & have brought in monster fish. Recently pulled in an 11lbs bass through heavy cover. I even pulled him in with a ton of weeds covering his face. My knot held up, line held up, I'm a happy camper.
From: Jessie: Moore, OK 8/13/15

Comments: I have been using vanish for several months & I've never lost a fish or a lure or had a knot come undone with this line. It has very low memory & I don't need to retie constantly because of the low memory & high knot strength. Knot strength is probably the strong part of this line which saves a lot of money in lures & tackle & a lot of fun with fish.
From: Tommy: Daytona Beach, FL 8/6/15

Comments: IDK what everyones problem is with this line. I fill up my drop shot, crankbait, and jig/worm rods in spring & have ZERO issues. Its the best bargain in floro out there. If you fish the junk & it gets tore up you can afford to replace it mid way through season. My jig/worm rod is on year 2 with same line & no probs.
From: Jamie: New Paris, IN 7/31/15

Comments: I don't understand why all these people are complaining about Berkley Vanish if you have problems with this line I suggest you find some glass clear water and stare into it because that's where you will find the problem. I fish all Northern California lakes Berryessa, Clear lake, the delta, oroville, and a lot of other california lakes with clear deep water and thick weed beds. I have pulled 4 and 5 pounders through such thick grass beds that I expect the line or the knot to fail and every time vanish does the job unlike some of the other more expensive floro that I've used. Anytime you fish with floro you should wet the knot and tighten it before you cast your bait but that's fishing 101. When used properly this line is money, period.
From: Jo Pro: CA 6/25/15

Comments: I fished this line hard, with confidence, for most of the last 2 years. then I had to fish a BFL on Norman in February in 20* weather. this line becomes so brittle below freezing that it simply does not hold up. I thought Vanish was good line.
From: Michael: York, SC 5/11/15

Comments: Im a guide and fish heavily for bass, walleye and pike. When tying knots with fluoro they got to be tied well and must slobber up when cinching down or you will burn your line and lose fish. I use the 14# for cranking, buzz baits and spinnerbaits 17# and 20# for flipping and pitching. And the people that trust me to haul in pigs trust vanish to get the job done. And it does with out anymore problems then any other line out there.

From: Andrew: IL 1/29/15

Comments: This line is absolute garbage. Knot strength is horrible, and it tangles itself around everything more than any other line. Seriously I've lost more lures and weights using this junk than any other fluorocarbon.
From: Slade: CA 1/10/15

Comments: It would be a good line if the knot strength was better. If you are going to use it retie more often then you usually would.
From: Brad: AR 12/22/14

Comments: Not sure why there are so many bad reviews on this line. I use 12 lb for deep cranking and 14 for squarebills and have had absolutely zero issues. I can cast crankbaits a fricken mile with this line and it has great abrasion resistance.
From: Zach: Abingdon, MD 12/8/14

Comments: I give it a thumbs down. Bought a 10lb spool for topshot on my power pro. I drop shot Newport Harbor in orange county ca. for bass and halibut. It holds up to the calicos and sandies, but the spotted bay bass and halibut that slam it with with their mouthful of teeth cut thru it like butter almost every time. Thought maybe I just got an old spool, but after reading others comments guess not.
From: Greg: Fountain Valley, CA 8/27/14

Comments: Have been fishing this line as a leader on my Power Pro 10lb for the last three years. Fish 6, 8, 10Lb leaders depending on the application. Connection is with the RP Knot with 7 wraps instead of 5. Have caught large mouth bass to 6lbs. I drop shot and split shot with a San Diego Jam knot and Palomar knot for my connection to my hooks and lures. Several of the bigger fish I had to pull through the grass lines. Just took my time. Again no issues...RECOMMENDED !
From: Kim: La Mesa, CA 6/2/14

Comments: I have fished this line open water and in the junk with no problems. NEVER lost a fish! The knot however is important! If you catch a 4-5lbs bass, doesn't matter what line you use, check your line and retie if you need to. A good habit to get into! The one think I like about Fluoro, is how nice it casts! Little to no memory at all! And who doesn't like that? I fish 14lbs test on my baitcaster reels! FISH ON!
From: Kerry: Memphis, MO 3/25/14
Comments: Love this Line! I pulled a 4.8lb bass up over a submerged rock wall with 10lb line with ease. My line was slightly frayed after landing the fish but I couldn't believe it didn't snap!! I use a Palomar knot with fluoro and I never break off on hook sets. Anybody who says this line sucks needs to learn how to properly tie a knot with fluoro
From: JBird: RI 2/28/14
Comments: You guys that say this line is junk are 100% wrong. I have fought some of the biggest fish of my life on this line and it had never ever failed me. I fought a huge bowfin for 20+ minutes that had taken my lure pretty deep in his mouth. I put and unbelievable amount of pressure on him with that 12# line and when I finally landed him there wasn't a nick in my line even after it went through those razor sharp teeth for 20+ minutes. On a side note I also fought a ridiculously big spiny softshell turtle for over a half hour that was also hooked deep in the mouth and it went through those chompers and came out spotless. This line is good stuff and what a great price!
From: Jeremy: IN
Comments: Gosh this line is so bad. I want to save money just as everyone else. DO NOT MAKE THE MISTAKE I DID. Do yourself a favor and buy seaguar red label

From: Nick: hville,TN

Comments: Garbage. Do not buy, it's called vanish for a reason, when you cast it, that's the last time you'll see your line!

From: Fast Freddy: Middle GA