Bettencourt Baits Real Double Jointed Trout - $44.99

The Bettencourt Real Fish Double Jointed Trout has been known to catch some huge bass with its extremely life-like, bass attracting qualities. Each bait is built one-at-a-time by hand with only the finest components. Instead of a painted finish, the finish of the lure is actually a photograph of a real Trout that has been modified to fit the bait. Over this photo decal, several layers of heavy epoxy are painted on to protect the lure's finish and ensure maximum durability. In addition, a double jointed system provides a fluid, realistic swimming motion and the bait's fins (made of hair/wool) deliver life-like undulations in the water as the bait swims. Dead stick it or slowly wake it across the surface, the Bettencourt Trout Swimbait with its protruding bill even works great when fished just under the surface like a cruising trout.
Nathan Bettencourt, owner and operator of Bettencourt Baits, has extensive experience in lure building and fly tying and he uses those skills to create lures with triggering characteristics not found in other baits. Designed to run true right out of the box, the Bettencourt Real Fish Double Jointed Trout sets itself apart from other similar swimbaits with its "photo finish" detailing and durable, high quality construction.
| | | | |
| --- | --- | --- | --- |
| Bettencourt | Length | Weight | Class |
| Real Trout | 7-1/4" | 1-3/4oz | Floating |
Color:
Floating
View Large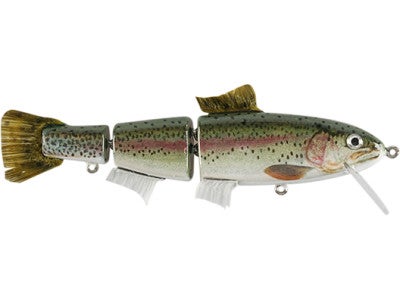 More Bettencourt Swimbaits
Comments: This has a good look in the water and the design is great and the bait is strong but the tail ripped easily and i tried super glue but it wouldnt stick. Id buy another one tho. Great bait
From: Unknown: Laguna Hills, CA 3/5/14
***Note: If you have questions about this product or need assistance with an order please email your questions to info@tacklewarehouse.com