Big Bite Baits Jeff Kriet - Flying Squirrel 7pk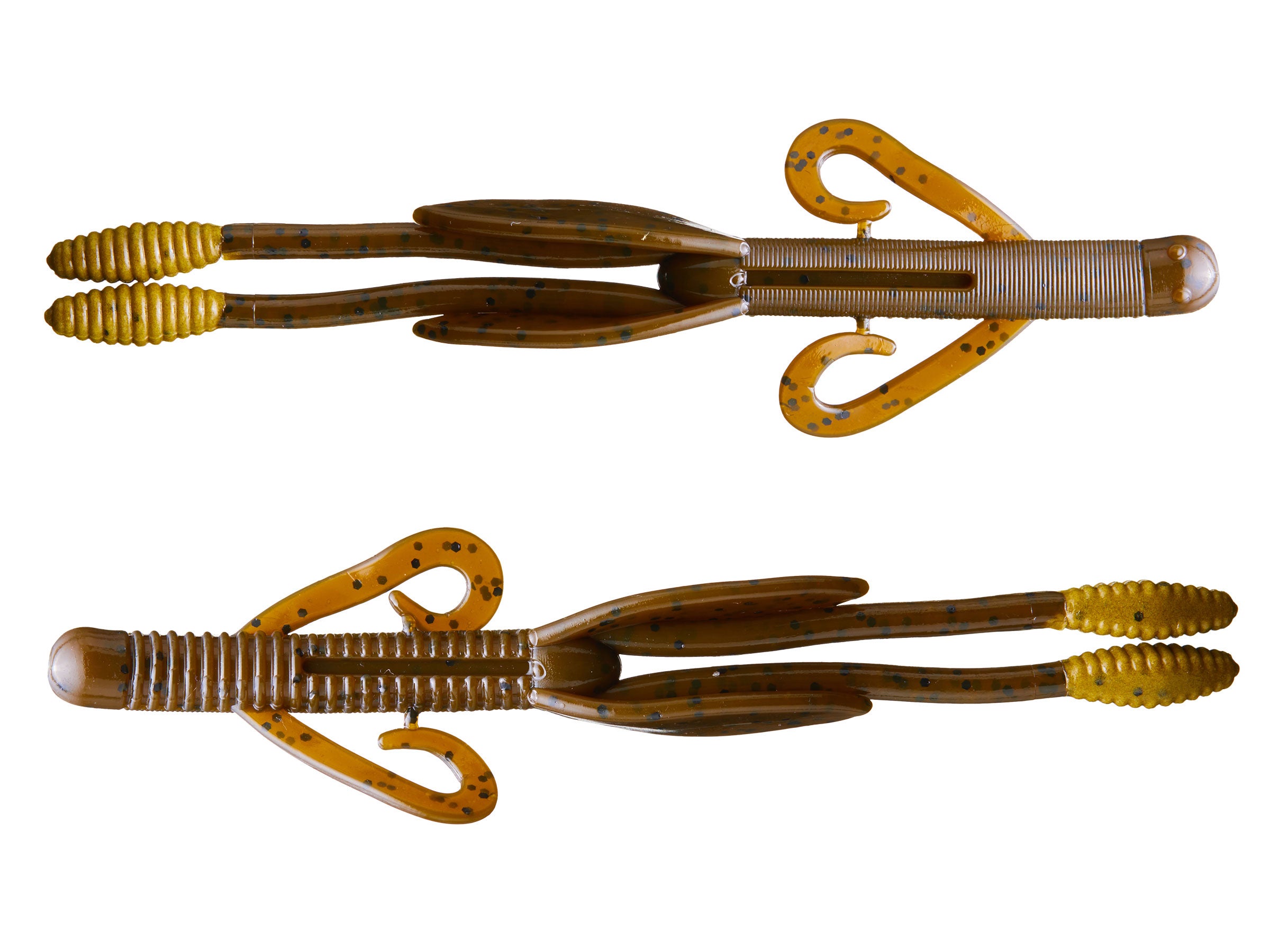 A hybrid between a finesse and creature bait, the Big Bite Baits Flying Squirrel adds another dimension to the Jeff Kriet line-up of signature baits. Featuring two Kriet Tails extending from its rear, as well as, various creature-style appendages, its thin body helps generate the Flying Squirrel's tremendous action, and is also equipped with a convenient hook slot. Even when the bait is at rest, the floating end sections of the Kreit Tails allow them to stand up in the water and come to life with the slightest twitch of the rod. A great choice on shaky head in deep water, the Flying Squirrel is also deadly on a Texas-rig or jig head, or even dragged on a Carolina-rig. Available in a variety of proven color combinations, the Big Bite Baits Flying Squirrel is a versatile bait that excels in both finesse and power situations.
10 Colors
More From Big Bite Baits Creatures
Customer Reviews
Comments: True. They are not the most durable of bait. But they aren't terribly expensive like many competitors. I have used these in finesse situations and had real good success. I have also used these in the tilapia color as either a spinnerbait or swim jig trailer & they really round out particularly the swim jig profile & bring it to life and it looks like a swimming bluegill. I suppose you could use other colors to mimic other bait fish but I have caught good numbers of bass with these and I don't mind at all if I spend $4 & catch 20 quality fish a day.
From: Gilldoc: Bloomington, IN 9/4/16

Comments: very under-rated bait. not terribly durable (invest in some mend-it) but they get the job done. river smallies or local pond lmb's and the occasional big bluegill. but a great bass bait for sure
From: Matt: AZ 4/15/15

Comments: Pretty good on a drop shot and as a jig trailer. Overall pleased. Dear Big Bite Baits, please make this bait the same size as a full size brush hog. They are not big or beefy enough.

From: Tim: TX

Comments: Re-evaluation. still a good bait, rigged weightless or texas i love it, lots of action and great scent too. NOT DURABLE AT ALL!!!!! probably not worth buying unless you can afford to throw away baits like this. average 1-3 fish on em, less if you get alot of misses.

From: Scotty: Virginia, USA

Comments: Throw it weightless and let it sink and jerk it to the srface it will catch a ton of fish. love the floating tails

From: Jaybird: VA

Comments: Love this bait. i use them to shakey head, c-rig, and t-rigged with a tungsten bullet weight. i've caught plenty of fish with this bait. the tail floats up nicely, and they are very soft. what drives me crazy is that bluegill bite the friggin' ends of the tails off! this happens to me constantly.

From: Dan: West Virginia

Comments: I used these on a local lake in august after my usual baits got no action, on a iaconelli grass jig, first cast, one bass, and almost each cast after i was getting hits, only the bait was getting shorter,,, until i was left with a 3 inch stub,,, so i'm ordering more

From: Tom: Phila, PA

Comments: Great shaky head bait, caught my first bass of 2011 with it, in febuary! Killer killer bait

From: Jake: Maple Shade, NJ

Comments: Great bait!!!! this thing has great action, especially because of the floating tips. great scent too!!! i carolina rig this and it performs great! buy some!!!!

From: Scott: VA

Comments: i have yet to fish one of these but tested the action of it in the pool,these things are going to be VERY promising this year on the water.they have some great and unique action,love the little floater legs at the ends,will be sure to grab the attention or piss off some bass into some great strikes this season.go grab urself some.

From: Steve: Chicago, IL
Comments: Fished it for the first time today on a pond and they seem to be a good lure. Great for shakey head fishing which is what I was using it for. I lost one today that broke my 12 pound test fluorocarbon line.

From: Kris: Leesburg, GA