Big Bite Baits Jeff Kriet - Squirrel Tail Worm 10pk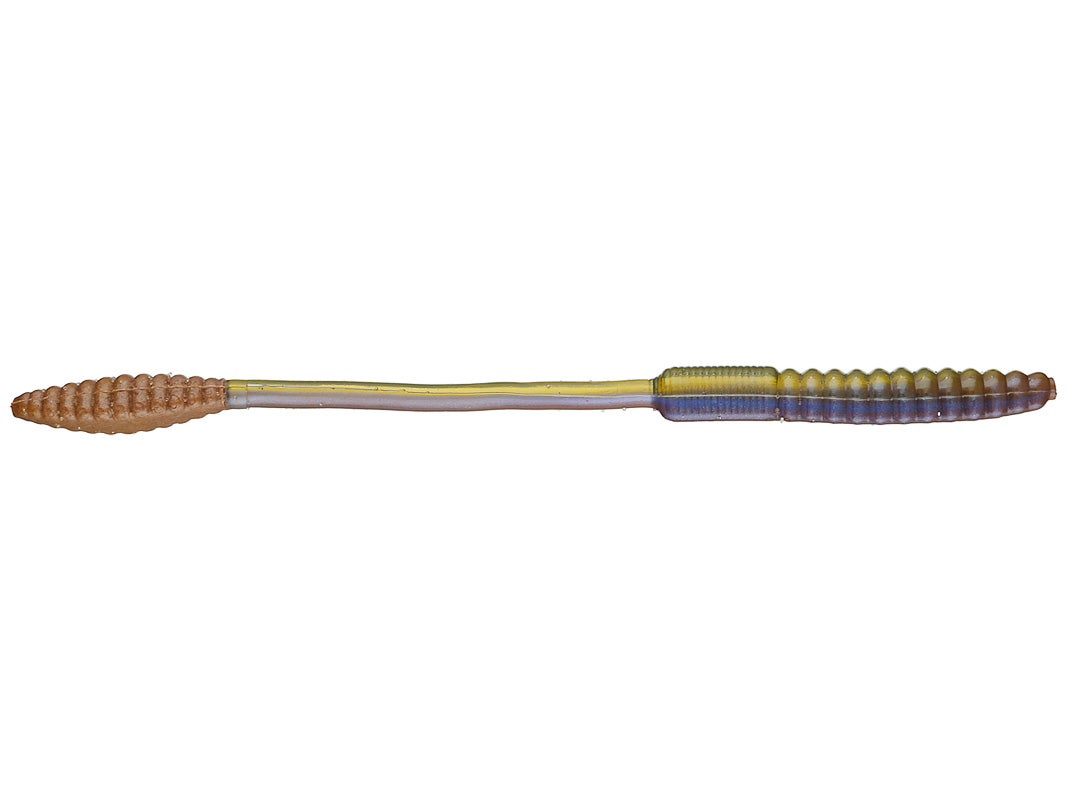 SS Shad is a Tackle Warehouse Exclusive Color
Designed by Elite Series Pro Jeff Kriet, the Big Bite Bait Squirrel Tail Worm first debuted on the television show "Day On The Lake". The Squirrel Tail Worm features a fat head for easy rigging and a buoyant rattlesnake tail, offering tantalizing tail action.
"I wanted a worm that had a tail that stands up. The tail is made to float, just the end of the worm. When I shake it and pull it, whenever I hit a rock, twig or trash, that is when I'll throw slack in my line and try to shake it without moving it. The floating tail has a subtle, tantalizing quiver that fish can't resist. They will bite this bait when they won't bite anything else. I think this will be the best shaky head ever made."
-Jeff Kriet BASS Elite Series Pro
Jeff Kriet's Falcon Squirrel Tail Worm Rod
| | |
| --- | --- |
| Length | Quantity |
| 4.5" | 10 |
| 6" | 10 |

Click on the logo to read their review.

16 Colors
More From Big Bite Baits Worms
Customer Reviews
Comments: Best shakey head worms ever! Super durable and the tail floats better than any other bait I have used. Pair with the Big Bite Fin Twist shakey heads and you are in business.
From: Brady: IA 9/10/15

Comments: Best shakey head worms ever! Super durable & the tail floats better than any other bait I have used. Pair with the Big Bite Fin Twist shakey heads & you are in business.
From: Brady: IA 9/10/15

Comments: I used these worms a while go. On a Texas rig or shakey head. They are deadly around cover or for spawning bass. Buy a bag now
From: Jacob: Indianapolis, IN 5/13/15

Comments: The 4.5" in green pumpkin is an awesome bait fished on a drop shot rig. Fished the glacial lakes in NE south Dakota and caught over 100 smallies on this bait. Highly recommend them, but recommend re-hooking the bait after 2-3 fish.
From: Jim: Omaha, NE 1/11/15

Comments: Used the 6 inch tilapia for the first time today and am very happy with it. On a t-rig it goes through grass and structure very easy without getting snagged,Also love the hook slot.Fished all types of stuff and the only thing they would bite was this worm. I was using a 3/16th oz through it out wait till it hits bottom and drag it very slow with the rod tip and just reel in the slack line and HOLD ON!!!! Caught 4 bass today doing this after everything else did not work....
From: Fred: Sacramento, CA 5/14/14

Comments: Great worm. I went out fishing with it the other day and I caught 2 bass in 15 minutes. I was using the easy money color.

From: Hunter
Comments: Great little worm. i rarely use it, but when i do it produces. The ss shad worked on lopez lake for finicky smallmounthes

From: John: Louisville

Comments: not as good as the zoom trickworm but still one of my go to finess worms caught 3 bass in less than 15 mins with easy money color and weightless on a 2/0 offset worm hook

From: Jimmie: Midland, NC

Comments: Great little worm for Shakey heads In the winter on warm days for smallmouthes.. took 5 Bass today out of an Ozark stream 12-18,2012 out of 40 F degree water 1/16 oz head Vmc Ruby jig 4.5 size Slow Is the Key .. wouldn't you think that be a great bait to do that

From: Marvin: Houston, MO

Comments: Looks like a great idea, in reality I am not impressed. I have caught some fish on these but they aren't in the same league as Roboworms which for finesse catch me fish 3 to 1 vs anything else I have tried. Even zoom finesse worms have out produced these day after day. I won't be purchasing any more.

From: Blake: Skiatook, OK

Comments: They are excellent for Bluegill and Goggle Eye Perch. Gave several packages to my Grandson. For now I will stick with Zoom finesse Worms or Trick Worms

From: Curtis: Bossier City, LA

Comments: Great little worm, catches them great on a shakey head only problem is that the bluegill like them even better than the bass do, so if you buy some buy several because they love to bite the floating tails off of them. Overall good baits to get a quick limit in a tournament.

From: Jake: Greer, SC

Comments: Tremendous worm at a great price point. Fish just really hammer these versatile worms.

From: Michael: DE

Comments: The best worm i have ever used. i use it both on a shakey head and dropshot, but it is especially deadly on a dropshot.

From: Mark: Carbondale, IL

Comments: This is my go to worm when the bite is tough. The Green Pumpkin/Chartreuse Tail is my favorite color. It always seems to produce a bite.

From: Thomas: Birmingham, AL

Comments: by far the best shakey head worm ever just wish they had a plain watermelon color

From: Doug: Blacksburg, SC

Comments: Used them with the squirrel jig head and they held up as good as any other worm. Generally got 2-3 fish per worm. They work well on these high water temp Alabama spots.

From: Tony: Centre, AL
Comments: Great worm. Last long enough when the bass are hittin but once the pickerel start, they rip the tails off pretty easy. but thats to be expected. overall great worm.

From: Mike: Wurtsboro, NY
Comments: I don't know how long Joe expects a worm to last, but I have a couple still in my boat with several fish and several hours each in the water. Great shakey head bait!

From: Brian: Ellabell, GA
Comments: Worms does not last long after being rigged. Body breaks up too fast. But worms works great. Fished it for the first time on 07/09/10 and caught three large fish. Will buy more.
From: Joe: Murrieta, CA