Big Bite Baits Kriet Tail Worm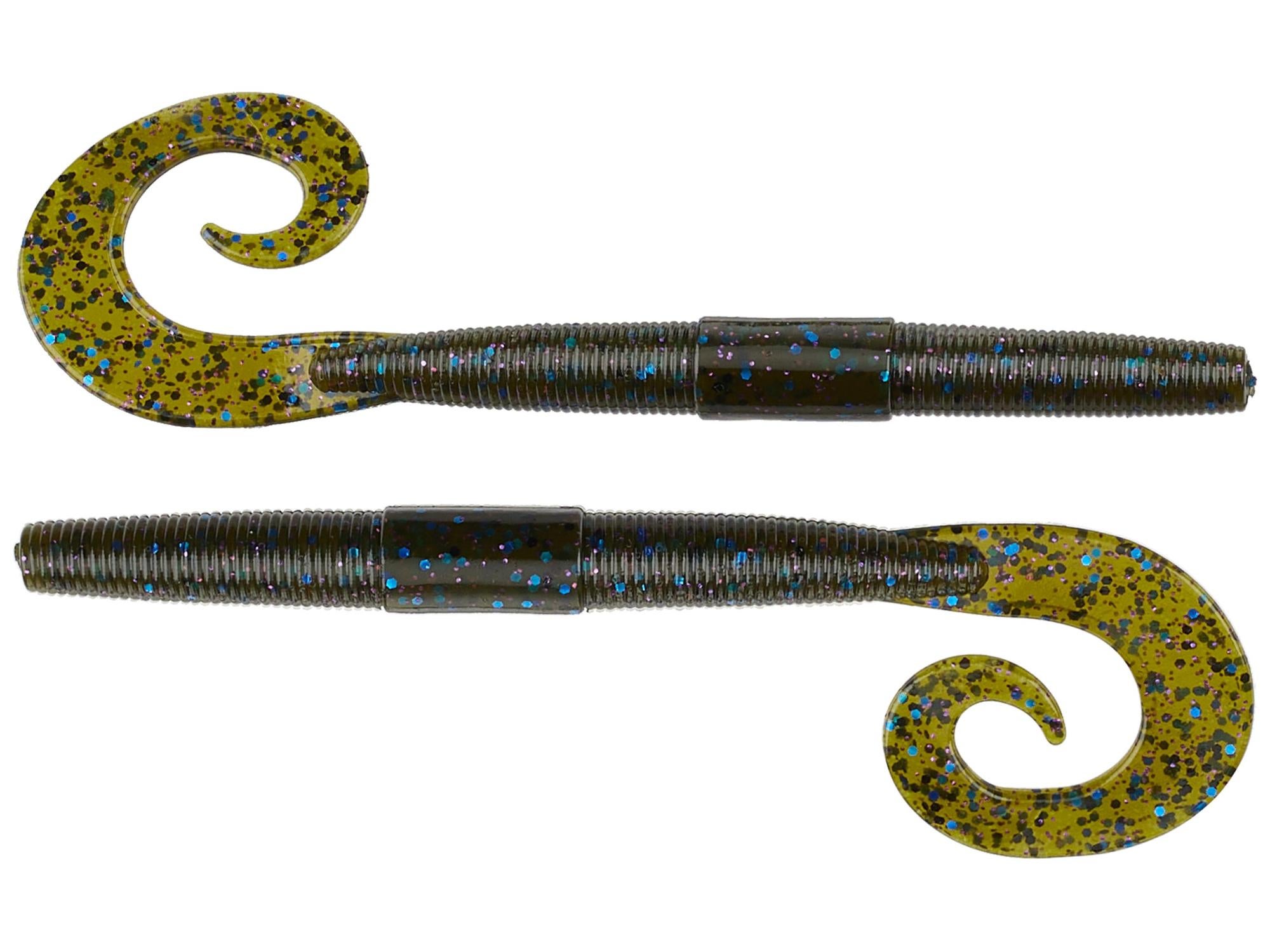 Big Bite Baits has partnered with BASS pro Jeff Kriet to develop the Kriet Tail Worm. With a profile the big bass love and an enticing action, the Kriet Tail Worms are tournament proven to produce fish even when the bite is tough. The Kriet Tail Worm features a narrow taper from the worm's large egg sack mid-section to the head and large ribbon tail. The body design allows the Kriet Tail Worm undulate and dance on the fall and the beefy ribbon tail uses its width to push a ton of water and provide plenty of vibration. Perfect for fishing deep structure and ledges, the Kreit Tail Worms are also fortified with a proprietary BigBite Scent and plenty of salt to keep the bass holding on.
The 10" Kreitail Worm is great for targeting big bass, while the 6" is a great all-around size that will still attract hits from the big hawgs.
"This is the best worm that I have ever used".
-Jeff Kriet
| | |
| --- | --- |
| Length | Quantity |
| 6" | 10 |
| 10" | 8 |
10 Colors
More From Big Bite Baits Worms
Customer Reviews
Comments: AWESOME worms! Went out today on the lake and used the 10 inch black worm. Slayed em! Within the first 30 minutes my buddy and I reeled in a 3.5lb, a 4.4lb and a 5.1lb! Great action and durability. Love Zoom too, but I feel that Big Bites baits last more fish. Now if Tackle Warehouse can keep em in stock!
From: Chandler: GA 7/10/14

Comments: 10" straight gets bit!! I knew this big weary bass was in ambushing bluegill/ chilling in a huge drainage pipe. I tried about everything to get her out. Nothing was working. Put the 10" green pmk on a 1/4 bass patrol deflector jig and crawled it up the rock next to the pipe. It was great, she darted out and I watched her smoke it w/ no hesitation!
From: Ryan: Evansville, IN 6/5/14

Comments: The 10 inch version is my new goto big worm. I used 10 inch Power Worms for years, but not anymore. These have a bulk that drive big bass crazy!

From: Chris: Austin, TX

Comments: i got the 6inch watermelon red flake and i let my friend wyatt use one and he got 2 bass only because we went at this place with not that many bass

From: Kerando: Westbrook, ME

Comments: My go too bait. I use the six in and ten inch worms and they are great baits and the bite juice just works. I use this worm a lot in the summer on a tro kar hook and a 3/8 oz. weight. I have been using BBB for like six years and have not found one i don't like in their line of plastics.

From: Grant: Auburn, AL

Comments: if you want big bass, then you want BIG BITE KREIT TAIL WORMS plain & simple, their is no other man made plastic worm on this earth thats better!!

From: Jack: WI

Comments: Great worm, great body and amazing tail action. Durable too! Just won a night tourney with it, 6 inch green pumpkin gave me 12lbs and a 5 lb 9 oz kicker. Get ya some, great price on all the stuff big bite makes.

From: Issac: Aiken, SC

Comments: Going night fishing? Pick up a couple packs of the 10" in Black. Keep it simple and just use that. It will work. The 6" in Junebug/red is one of my mainstays, but TW doesnt carry it.

From: Meatwad: Spillin the beanskis

Comments: this bait is awesome! one of the best big fish catchers iv ever used. i love how the body of the worm is a senko and the huge ribbon tail really atracts fish. killed em at lake fork under bridges in deep water with these. i always keep a bag or red shad and watermelon red flk

From: Joseph: Bryan, TX
Comments: The smaller one is money! Put it on a shakey head and swim it.

Comments: Great action at any speed. Swims through grass, wood, over pads & muck with no problems. I keep the 10" tilapia in my bag at all times!

From: Jesse: Visalia, CA
Comments:This worm is awesome!! I ordered the 10" in red shad and it is definitely a big fish bait. It comes through the grass great and the fish seem to eat it really good. I even caught some smaller 12 inch fish on this bait and they had no problem eating it. Big Bite Baits has a winner with this one!
From:Jeremy: Punxsutawney, PA