Big Bite Baits Limited Edition Swimming Craw 5pk -
$1.48
When soft plastic manufactures mold different colors, it may take a few runs to bleed out the previous color. Instead of doing away with or throwing out the "impure" baits, Big Bite Bait is now bringing them to market. Incredibly lifelike and versatile, the Big Bite Bait Swimming Craw is also extremely affordable, so you don't have to worry as much about lost or chewed up baits. When flipped or pitched, the claws of the Swimming Craw undulate and flutter on the fall, adding attraction and slowing its descent. The Swimming Craw also features a uniquely designed solid, tail end, which offers a little more "meat" for rigging your favorite hook or jig. Also equipped with a hollow head, the Swimming Craw's head cavity can accommodate a large rattle or can be used as a reservoir for scent. Available in several colors, the Big Bite Bait Swimming Craw's flailing claws produce plenty of water displacement and will certainly gain any bass' attention.
Comments: In my opinion way too big, you need a 1/2 ounce or bigger jig to use it, action in my opinion is minimal. Note that the whole craw is hollow too.

From: Lane: IN

Comments: I Tried GreenPumpkin And It Was Unbelievable!I Literally Caught 20 Bass In 1 Hour!Amazing!

From: Mogo
Comments: just got these in from back order and I'm impressed. Just like the paca craw but I bit smaller and the butt end is more durable. Making it perfect for rigging. For craws I give it a 3/5 stars. For bang for your buck, 10/5 stars!!! Great buy, I recommend plum candy for spawn... ALMOST TIME! Good luck everyone!

From: Connor: IL

Comments: first time i tried it caught 6 bass in like 30 minutes,awesome bait ,will buy more for sure.PS:try the black blue flake

From: Caleb: Memphis,TN

Comments: at first I didn't think to much of this lure when my friend was using it. now im loving it, bass takes these suckers left and right on a skirted jig.

From: Sai
Comments: These baits are excellent for Texas rigs pitched or punched, on roller jigs around rocks, or as skirted jig trailers. At times it will lose a claw on the first fish, but tend to stay in tact for a few catches at least. It is hollow from the skinny midsection to the nose. This is definitely one of my favorite craw baits, especially at $1.49!

From: Dave: Mankato, MN

Comments: my go to trailer,somewhat heavy flipping,fast moving t-rig and stroking craw. these thing are awesome all the colors you'll ever need and only 1.49 you cant go wrong

From: Shawn: Ontario, Canada

Comments: Here is a great trick, hand tie your own skirts and take the rattle that comes in the skirt band add a tiny dab of super glue and shove it in the nose (thats right the nose is hollow like a tube) of this thing so that it sticks in the bottom that way the fish can shake it out. Oh and another thing break a small piece of Alka-Seltzer and also shove it in there and you've just loaded Lonnie's secret gun. Man when the stuff starts to dissolve, the bubbles hissing out and rattling too. Ker-Pow, Ker-Pow, Ker-Pow. Bass after bass. Please keep it secret, make them have to read this to learn it.

From: L.J.: Sacramento, CA

Comments: Used the watermelon color paired with a Strike King Bitsy Jig. 3 keeper bass in my first outing and first time using a jig n craw combo. Highly recommended and the price is awesome!

From: Allan: Mission Viejo, CA

Comments: Very easy to compare to the paca craw, and quite similar in performance. For 1.49, what could go wrong? 5 stars :)

Comments: They make a good swim jig trailer when you need alot of water displacement. The durability could use some work. Bet they would be a pretty good football jig trailer as well.

From: Joe: La Crosse, WI

Comments: Basically a Paca Craw, But hey, it works
Comments: i was using the black blue flk...unbelievable...durable and caught 16 back in 3 hours all over 3 pounds....to bad wasn't a tournament

From: Big John: Stafford, VA

***Note: If you have questions about this product or need assistance with an order please email your questions to info@tacklewarehouse.com
View Large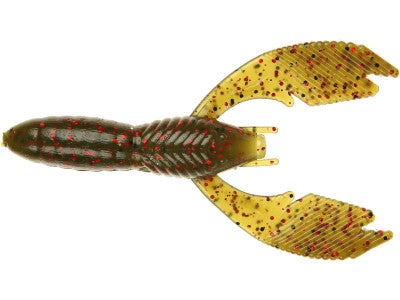 7 Available Colors
More
Big Bite Bait Bargains