Big Bite Baits Russ Lane - Coontail Worm 7pk - $1.99 to $3.99
Designed by Bassmaster Elite Series veteran pro, Russ Lane, the Big Bite Bait Coontail Worm is the second addition to Russ' signature series of baits. Extremely versatile, there were several key features he wanted to incorporate. For one, he wanted a worm with a center core that waves thru the bait, as opposed to a traditional core that runs in a straight line. This combined with a large, bulbous tail, provides the Coontail with a unique, undulating fall that bass can't resist. The protruding ribs also wave and breathe with even the slightest current or movement, while creating a bigger profile without added bulk, which means the hook point has less plastic to penetrate - for better hooksets. Available in a range of proven colors, the Big Bite Baits Coontail Worm excels when Texas rigged, Carolina rigged or fished on shaky head jig.
| | |
| --- | --- |
| Length | Quantity |
| 4.75" | 7 |
Comments: First time out with this bait, on Nov.2 in trout happy Colorado, in a heavily fished public access area, I caught two 17" largemouth and one 20.25" largemouth, with the hematoma color on a 3/32 ounce Giggy Head and 8lb. Armour Coated Trilene XL. This is a great power finesse bait. The bait is very durable, as I caught all 3 bass on the same bait. It has a great undulating action rigged on a shaky head. Highly recommended!

From: Mike: Ft. Collins, CO

Comments: wacky rigged on a 1/16 ounce owner wacky head is definitely a great finesse choice junebug red color is great

From: Will: Tuscaloosa, AL

Comments: back from the first test with these and here is whats up. Cool little worm, for sure. I fished em Texas rigged all day, 2/0 rebarb hook, 3/16oz tungsten. Scent is super nice, the wavy line makes it kinda slink along the bottom. The worm holds up nice. Not nice? The price. You get seven baits for five bones? This aint no Senko, peeps. A little under a boneski a piece for a finesse worm is pure jive. But give em a shot, they DO hold up well.

From: Meatwad

Comments: These baits kick ass....i fished them on a texas rig...but u can also fish them shakey or wacky...

From: Big John G: Stafford, VA

***Note: If you have questions about this product or need assistance with an order please email your questions to info@tacklewarehouse.com
View Large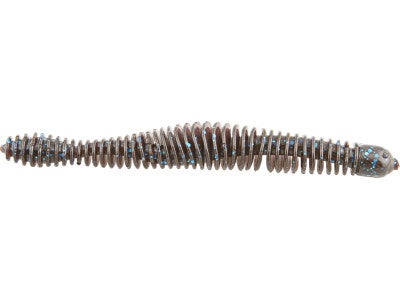 11 Available Colors