Big Bite Baits Trick Stick 25pk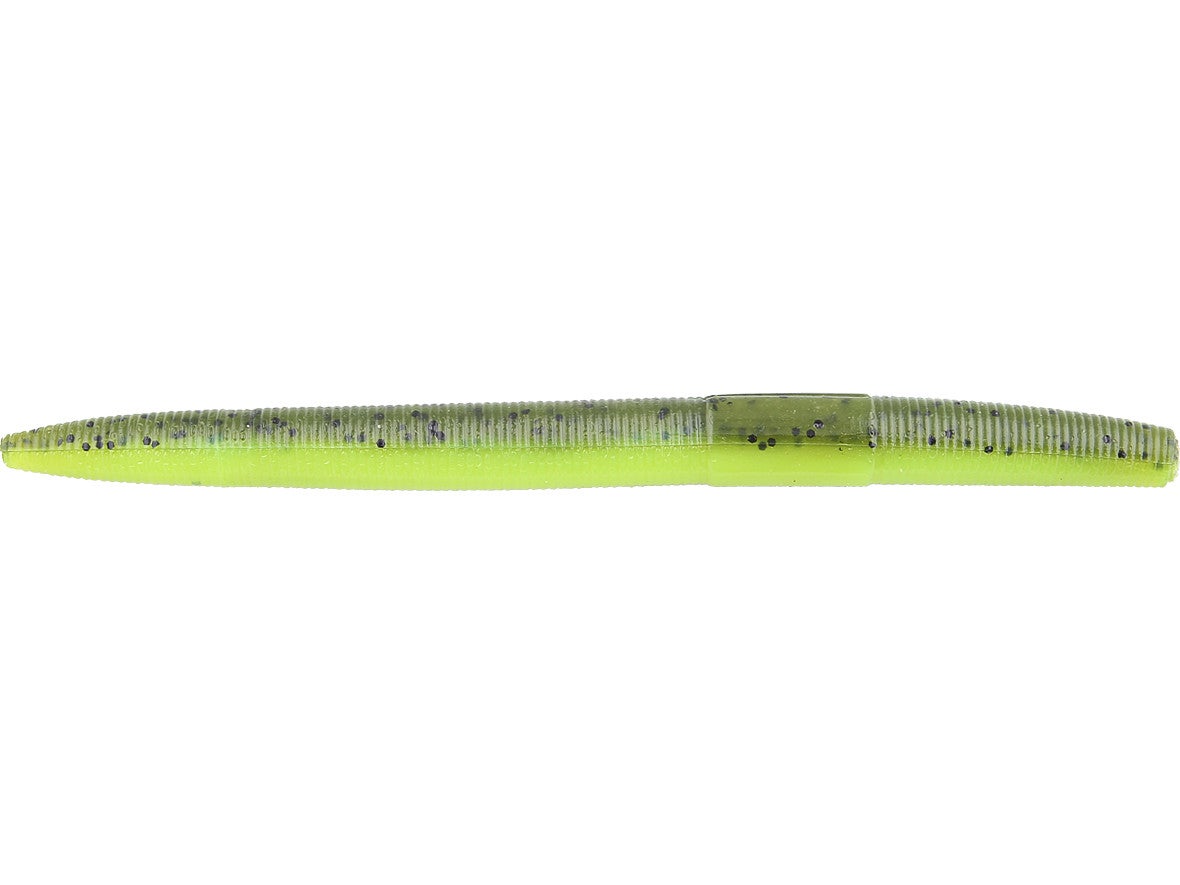 Make your dollar go farther, the Big Bite Baits Trick Sticks are now available in 25 packs. Stick baits are one of the most versatile, effective, and widely used baits in bass fishing. Sometimes referred to as do-nothing baits, just Texas-rig or wacky rig them and let the bait go to work. Their natural action on the fall will attract the fish year around. Available in a variety of colors, the Big Bite Baits Trick Sticks are soft yet durable to last longer and catch more fish.
11 Colors
More From Big Bite Baits Worms
Customer Reviews
Comments: Absolutely the best stick bait out there. Holds up to several bites. Will be the only stick baits I purchase from now on. Made in America and at super low price you can't beat it
From: Unknown 2/6/17
Comments: Love these. A bluegill tugs on a yamamoto & its shot. but these five bass a worm, no problem & if they rip weightless, i put them in a ziploc bag and throw them wacky rigged. Must buy!
From: Will: Jordan, MN 5/29/16

Comments: By far the best stick baits ive used , almost garuntees you fish. They are also just about the cheapest ones you can get, at 6 bucks for 25 you cant beat it, watermelon red color is my favorite, it will find the fish for you.
From: Manny: Lakeland, FL 11/12/15
Comments: I'm not sure they are the best Stick Worm, but they a solid bait at a great price. The comments about they lasting 3-5 fish are true. Sometimes they'll split at the shank on hook sets, but this common with all worm-type baits. I stay with natural colors: Green Pumpkin and Junebug. These 2 colors are all you need.
From: Kevin: Morgan City, LA 11/17/14

Comments: These are the best stick baits you can buy. They work as well as GY senkos and are a lot cheaper and they last a lot longer. I buy the 25 pack and they last a long time because you can catch several fish on each one. Wacky or texas rigged both work great. Great value on a great worm.
From: Andy: AR 8/1/14

Comments: when i go fishing this is my go to bait they work extremely well. don't think twice about buying them they catch more bass than anything i have ever used. I rig these up texas style and they are flawless. in my opinion these are as good if not better than the overpriced gary yamamoto.
From: Kyle: Clovis, CA 7/12/14

Comments: The trick Stick is the best stick bait on the market, great value, durability, scent is superior, tilapia color slays pre-spawn bass when weightless rigged
From: Ben: New Hampshire 5/15/14

Comments: these stick baits have become my personal favorite bait/lure for bass fishing. The big bite baits trick stick has beat out the gary yamamoto senko in my opinion. I think that the bite juice that theses are scented in is the key to success. That being said the senkos only last a couple fish before the scent wears off. Overall, this stick bait is the number one lure for large and small mouth bass fishing.

From: Kevin: Boston, Mass, USA

Comments: The best soft stick bait on the market. While it is very durable it doesn't sacrifice that tail-wagging action that the bass can't stand. These things last 5+ fish. No joke.

From: Nick: Lake St. Clair: MI

Comments: These things are awesome. At first I didn't think they would work very good because they don't have a whole lot of action, but I was wrong. I got my first fish on these when it was just sitting in the weeds. I thought there was weeds on it so I pulled and there was a fish on! My second fish was the very next cast! Two seconds after it hit the water there was a fish on! Try a pack soon, you won't regret it! Plus these are cheap and durable.

From: Isiah: Fremont, MI USA

Comments: let me just say.. Yamoto is over rated these things cost 2 follars less than a pack of yamoto and yamoto is a 10 pack... Shure yamoto has more colors and whatever.. But the durabity of yamoto is poor so ic the cost... The big bite baits are awesome great action nice salt content decent colors although all i use is green pumpkin.. There very durable.. These things are awsome buy em.

From: Peter: MN

Comments: Just ordered and received a 25 count bag of the green/pumpkin trick sticks, was pleasantly surprised by the softness and durability of these worms. The hook slot on the top of the worm makes it even more weedless when fishing it texas rigged. Caught a 18 1/2" largemouth the first day I used them. Can't beat the price!!

From: Dan: Shullsburg,Wi.USA