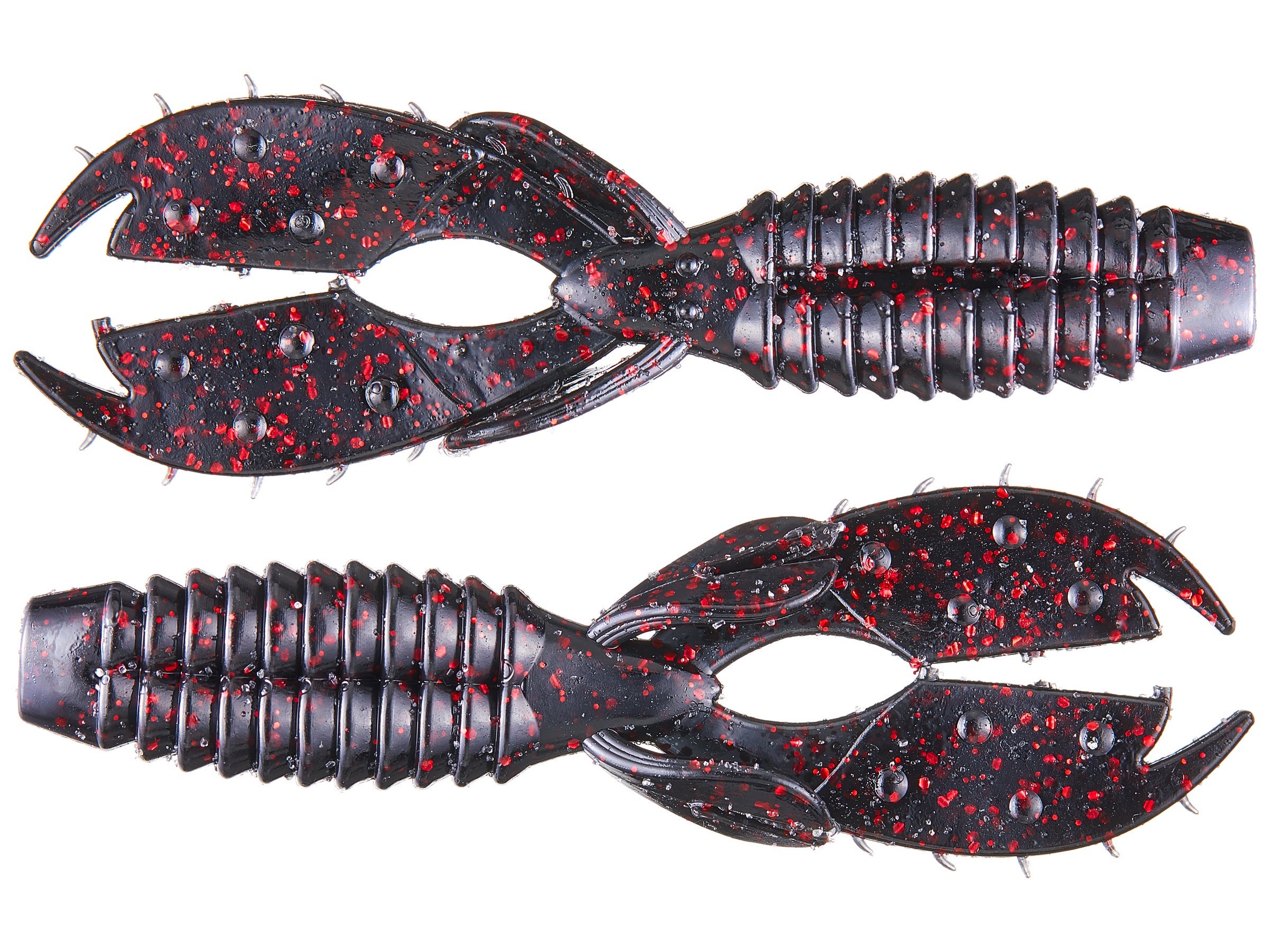 One of the pro's favorites - the Big Bite Baits Yomama is a professional-grade flipping bait that has been proven to attract some big bites. Its compact profile allows it to penetrate easily through cover and mats, and once it's below - its claws and appendages come to life. Available in a variety of colors to match your fishing conditions, the Big Bite Baits Yo Mama also features a groove running down the center of the bait's body for easier rigging and solid hooksets.
| | |
| --- | --- |
| Length | Quantity |
| 3" | 10 |
| 4" | 8 |
21 Colors
More From Big Bite Baits Creatures
Customer Reviews
Comments: I like this bait for pitching around docks and wood, when it gets torn up, I put it on the back of a jig. But that's the thing, careful when you rig it, this thing is almost too soft for me. If the hook point slides across while texas rigging it, it will surely slice it. Other than that its a decent bait
From: Chris: ME 12/15/14

Comments: LOVE this bait . I like to texas rig for flipping on an Owner4 twistlock hook and hang it on the back of a jig for skipping docks or fishng submerged structure . Love Green Pumpkin Blue Swirl .
From: Dylan: Rainbow City, AL 4/27/14
Comments: This thing is awesome! caught a 6 pound on lay lake last week for a tournament. When i went to weigh in this fish the guy asked me me " what did you catch this one on?". I said i caught it on yo mama! that got the crowd laughing!

From: Big Bass Catcher: Birmingham, AL

Comments: killer creature bait, kids. I do major work with straight up green pumpkin. I haven't even tried a diff color yet!

From: meat wadinski: funky town

Comments: I use this as a jig trailer for fishin grass mats and lillies. Try and find a jig that is similar in color. Works Great

From: Terry: VA

Comments: o MAN BEST BAIT EVER... But yea it can catch the big boys. I have tried the Yo daddy's nope not the same the Yomama is the better bait for me. I won a tournament throwing these baits around rocks in a low lake. Rig with a true tungs 1/32 weight and a Owner 3 hook. Using 20lb seagur. The Bass just keep hitting these guys. The only down side is the bait is only good for a couple fish, it tears up after that and needs to be replace. I now buy these guys by the 100's at bigbite.com

From: Jonathan: Enid, OK

Comments: used it around pads and hydrila edges....non stop fish...watermelon red flake

From: Big John: VA, USA

Comments: Awsome bait (PERIOD) i've caught numerous 7-8+ bass on it in multiple situations i've caught giants on it using it as a jig trailer and on a T-Rig. The only reason im posting this is because yesterday I had an incredable day catching fish from beds and underneath tires on this bait. Also not including the 9lb beast that was hooked on the black neon Yo Mama! Awsome, Awsome, Awsome!

From: Clay: Lake Texoma, TX

Comments: Super cold water (45-50degree) bait here in Louisiana- clear or muddy water-- just change color Black neon overall the best color I've used here. 3/8 head or jig rigged weedless. Big bass love it!

From: Larry: Alexandria, LA
Comments: Awesome bait to flip and pitch with. I've used the Grn Pumpkin Chartreuse in medium stained water and caught some nice largemouth. Good flapping action with the legs and claws.

From: Jesse: Arizona, USA