Bikini Bait Company 10" Swimbait - $44.99 to $49.99
The Bikini Bait Company 10" Swimbait delivers a super-smooth, lifelike swimming action that will have anglers everywhere itching to get one in the water. The triple-jointed construction of the Bikini Bait Company 10" Swimbait is incredibly durable and capable of handling abuse from all different species of fish, including bass, muskie, and pike. Additionally, the Bikini Bait Company 10" Swimbait also comes with two soft rubber tails – one is attached to the bait and a second replacement tail is included in the package. To replace the tail simply stretch the plastic until it becomes thin, slide it on or off of the bait, and then adjust it until it is in the desired position. Built with realistic 3D eyes, the Bikini Bait Company 10" Swimbait is a great choice for any angler looking to set a new personal best.

Bikini Bait Company is a family-run business located in Washington State that has built a strong following by providing high-quality, hand-made lures. From start-to-finish, the Bikini Bait Company manufactures every bait themselves to ensure that each one meets their high standards. Whether you're looking to bag that bass of a lifetime or a monstrous muskie, the lures from Bikini Bait Company can help bring your angling dreams to fruition.
Length: 10"
Rate of Fall: 1ft/sec (slow sinking)
Comments: Within a couple hours of fishing I had a fish almost 6 slam this puppy. Good bait. One of few lipless swimmers that actually stay down and is made to be fished at a faster pace. Has a action all its own that the fish like. Definitely worth a try.

From: Ceasar: CA

***Note: If you have questions about this product or need assistance with an order please email your questions to info@tacklewarehouse.com
View Large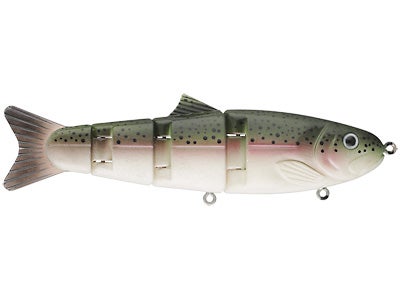 3 Available Colors
More Bikini Bait Company Swimbaits