Bill Lewis Pro Trap - $6.99
The Bill Lewis Pro Trap is back by popular demand and is better than ever. The Pro Trap bait will hold the stick on that kicker fish when your money and pride are on the line. Upon the hookset, the Pro Trap body will slide up the line away from the Set-Lok hook and prevent even the hardest fighting fish from using the lure weight as leverage to shake the hook loose. The new reflex red Set-Lok hook on the slide line ensures an express delivery for your Kicker to the scales.
Comments: The spinner blade is not the only difference between this and a regular Trap. This is a "line-through" Trap. When the fish is hooked, the bait will slide up the line so the fish cannot use it as leverage to throw the hook. Works very well, just wish they carried more colors.
From: Dan: Valrico, FL
Comments: Well you don't need to buy THIS lure to get this effect. I have four traps that I rigged like this but I used larger willow blades, and man did it catch fish. I love the idea, and I loved the results. As a matter of fact, I am going to do this on some other crank and rip baits as well...value added. Great idea, but with only 2 colors to choose from and such a small blade, customize any lure you want with what ever blade size shape and color you want.

From: Pete: Cleveland, Ohio

***Note: If you have questions about this product or need assistance with an order please email your questions to info@tacklewarehouse.com
View Large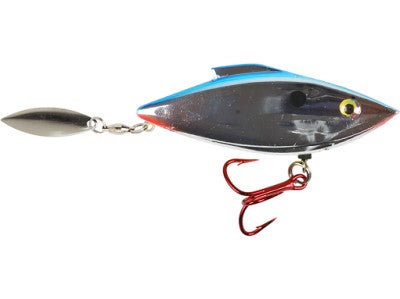 1 Available Colors
More Bill Lewis Lipless Crankbaits