Bill Lewis Rat-L-Trap - $4.99 to $7.79
Lipless crankbaits are well known and justly famous for their ability to cover a lot of water quickly and to produce fish. Rattletrap is one the best known lipless crankbaits. Loud, flashy attention getters, Rattletraps can be fished in a variety of situations from shallow to deep and everything in between.
Normally fished in a cast-and-crank shallow water situation, they are also effective when allowed to sink to the bottom and burned over deep structure back to the boat. With this method, just position the boat on the uphill side of a point or underwater hump and throw out as far as you can. Let the bait sink to the bottom and start the retrieve up the slope, banging into rocks and other obstructions along the way. The Rattletrap is best known for ripping through shallow grass beds and surprising bad tempered bass waiting in ambush. These baits will get pounded by hungry fish however you choose to fish them. We carry a variety of fish-catching colors for any situation you are likely to encounter.
| | |
| --- | --- |
| Rat-L-Trap | Length |
| 1/4oz | 2-1/2" |
| 1/2oz | 2-7/8" |
| 3/4oz | 2-7/16" |
| 1oz | 3-7/8" |
Comments: Amazing bait! My favorite color is the Chrome Blue Back. Great for bass, walleye, pike and even crappie with the smaller sizes. Perfect for fall and early spring.

From: Gabe: Ohio

Comments: I got taken to school by my buddy this spring on our favorite pond with this bait. I was fishing a different brand in as identical of a color as you could get. I hadn't caught anything until he let me throw his bait, immediately got a 5lber on. Sorry meatwad. It kicks many of the modernized baits butts.

From: David: Raymore, MO

Comments: CAUTION: If you love this bait, I am about to hurt your feelings. Probably. So if you are sensitive, stop reading. Now, for all you real men...if you are a lipless crank fan, you have a box full of em. I do. Hell, I have a box for 1/4oz and a box for 1/2oz and +. These used to be my go to, along with the Cordells. Now a days, there are TONS of better traps out there. In no way, shape or for does this bait compare to the more modern baits. Sure, if it's a chunk and wind kinda bite, you will catch some on this one, but for the more advanced ways of fishing, this one doesn;t cut it no mo'.

From: meatwad: givin these to people I dont like

Comments: This is my #1 crankbait bass love it chrome blue back is the best color, I caught the biggest bass of my life with it,it weight 5 pounds and if a 11 year old can do it anyone can!

From: Gavin: North Canton, OH

Comments: Awesome cold water bait, works well both spring and fall. I throw the chrome/blue back most of the time, and mine is completely chipped and bite marked. Still works like a charm! My friend even caught a 30ish inch musky on one this spring!

From: Ryan
Comments: love mine caught a 9 lb on it other day cheap love em

Comments: Good redfish bait, caught many puppy reds of texas, also great summer bait for largemouth and all species your going for this season, its good old bait that works and is classic bait. Keep making better colors for classics and same shape with sound. Good days of fishing is ahead for us all.

From: Alex
Comments: The best redfish bait EVER and it is very good for bass.It is great in the summer because it dives very deep

From: Matt: Port Barre, LA

Comments: great bait i went to a local lake on the 3rd of december and caught nine good bass!!! i used to fish this alot and caught some huge fish but on that day this bait really shined it was the only lure that caught any fish!!!!!!!!! the water was ice cold and it still got good bass to bite!!! forever a costomer of these.

Comments: I can't even count the numbers of fish I have caught on the good old Rat-L-Trap! From largemouth to smallmouth to sandbass to walleye, they've killed this bait... I don't even look at other rattlebaits - Bill Lewis is MY brand! I only use two colors - a shad pattern and firetiger. Tie it on & wear the paint off!

From: Tony: Charlotte, NC

Comments: It is those seemingly simple baits that are the consistent producers of big fish. I hooked (and landed) some of the biggest fish in my life (including bass, trout, perch, and even a Stealhead on the Red Chrome color) on Rat-L-Traps. I use an erratic retrieve, often varying the motions with my rod to get the most out of the rattles. Yo-Yo-ing the bait through my lake will produce when fish are both lethargic or active. I tend to focus more on presentation than lure colors in fishing, but I use more natural colored baits (I really like the "bleeding" series). It is important to get a good hookset immediately though, because Rat-L-Traps are notorious for getting spitted back at you.

From: Joe: International
Comments: Best lipless crank around! I fish these baits year round. I have used alot of other brands and none out fish the original! Great fish finding lure I have caugt some hogs of this bait. The red traps are my favorite color. Cant beat them try one and youl love them!

Comments: Oldie but a goodie. Still tough for me to beat this in cold water as well as when you have some water over top of emergent weed beds.

From: Brian: Quincy, MA
***Note: If you have questions about this product or need assistance with an order please email your questions to info@tacklewarehouse.com
View Large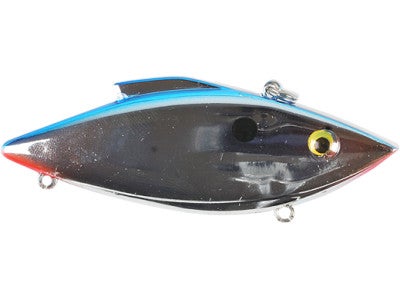 43 Available Colors
More Bill Lewis Lipless Crankbaits