Bill Lewis Set Lock Treble Hooks 12pk - $4.99
Exclusive to Bill Lures, Set Lok hooks, have been custom designed by the experts at Bill Lewis Lures. With 30 years of experience, these guys have fished every hook known to man on a "Trap". Set-Loks feature lazer sharp points for a sure stick, and follow up with a beefy wide-gap bend to ensure a strong hold all the way in. We offer the Set Lok hooks in 3 different sizes that will meet the needs of nearly every hard bait.
Comments: These hooks are great. I have been using them for a couple of years now and I really love them. I don't see any reason why anyone should pay for the name of the other brand hooks when you can get these at a more reasonable price. I haven't had any trouble with holding fish or the hook set. Get you some you'll love them,, and by the way, The ones I have are very sharp.
From: William: Hohenwald, TN 3/27/14
Comments: Maybe a bad batch, but the hooks I got failed the fingernail test miserably. I haven't run across such dull points in years. And to add insult to injury, the hooks come with a warning thast they're extremely sharp! Also, the hooks are short-shanked without any mention of this; short-shanked hooks have their place, but I'd like the info to be available BEFORE I buy.

From: Fishingelbow: Quebec, Canada
Comments: Been using these hooks for a couple of years now. They are fantastic! The #5 works great on my regular size wiggle warts.

From: David: AR

Comments: I have these hooks on every lure I own that takes treble hooks. In my opinion there is nothing better.. definetly nothing better for this price. very strong and very sharp. I won't purchase any other treble hook. I'd spend 20 bucks for a single hook if i though it would help me but I honestly have not found a treble hook better than these.

From: Rob: PA

***Note: If you have questions about this product or need assistance with an order please email your questions to info@tacklewarehouse.com
View Large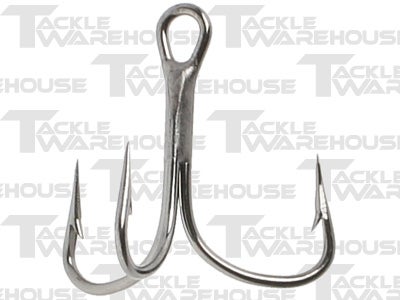 Place Your Order
More Bill Lewis Terminal Tackle