BioEdge Semi Solid Wands 1/2oz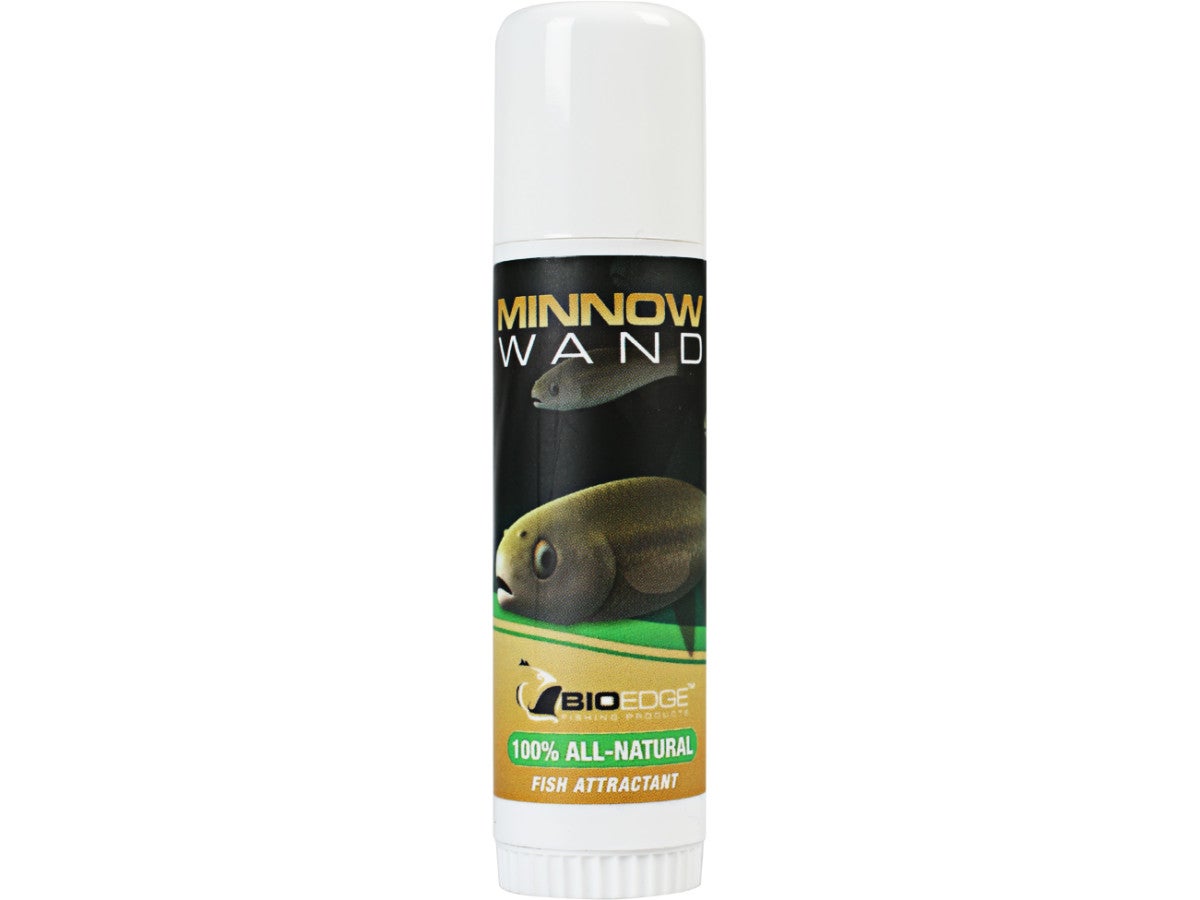 Very similar to a glue stick in function, the BioEdge Wand can quickly and easily coat your metal or hard plastic lures, sinkers, leaders and other terminal tackle with 100% natural, long lasting, fish attracting scent. No more spills or messes, the BioEdge Wands are made with highly concentrated solutions of oils, pheromone, enzymes, amino acids, and natural feeding stimulants - plus a solidifying agent. Made from extracts from a range of natural baits with no artificial ingredients, the BioEdge Wands help to attract fish, stimulate them to strike and also mask unwanted scents like gas and sunscreen.
5 Colors
More From BioEdge Attractant
Customer Reviews
Comments: This is a similar "Vaseline" like substance that stays on the bait for a long time and catches fish. I used the crawfish and it caught me plenty of fish. My only critique is that on a hot day this will melt & leak out. Also, it works like a gluestick that you twist up and down to apply and too much heat will cause it to melt and the twisting application will not work as well after that. It seems to come off the track or threading in the tube. Other than that, it works very well and catches fish. So, during the summer keep it in your ice chest to help it keep its shape. Your wife will not appreciate smelling this stuff melted in your pocket either.

From: Gregory: Longview, TX 6/30/15

Comments: I've tried the frog and craw scent, both of them smell like cheese...
From: Frogman: Italy 11/27/14

Comments: Works very well. Have landed many more fish using this product. Comes in a bunch of other scents like night crawler and bluegill. Haven't noticed it was more messy than any other attractant
From: William: NY 6/16/14

Comments: I love this stuff!! I fish crankbaits in ultra clear water and when I stuck the shad scent on my Crankbait I cuaght a lot more fish. The only problem is that it gets messy in hot weather but that is expected from anything like this..

From: Blake: Littleton colorado

Comments: I bought this stuff on a whim, I don't normally use scents, but this stuff works really well! I believe it has helped me to land a few more fish this year....One suggestion though, if you live in a hot humid climate like I do, the best thing to do is store it in your freezer a night or 2 before you head out to go fishing, otherwise it does get a bit messy....

From: Shark: Where Blue Angels Fly

Comments: used both the shad and crayfish scents this past year and feel it helped get more bites, used the crayfish scent on worms, craws, beavers, jigs and the shad scent on swim jigs and cranks, the only negative thing is that when left on the deck of your boat in 85 degree weather it gets a little messy, so put it away somewhere close so you don't leave a mess and you have it at your fingertips every 15-20 casts

From: Jeff: NJ
Comments: Very compact, not messy at all so there is no leaking all over your box and really seems to work. If nothing else it lasts a long time on the lure and covers up whatever stink your hands put on it. I use it with swim jigs and swimbaits with good results. I dig it.

From: Big J: Houston, TX