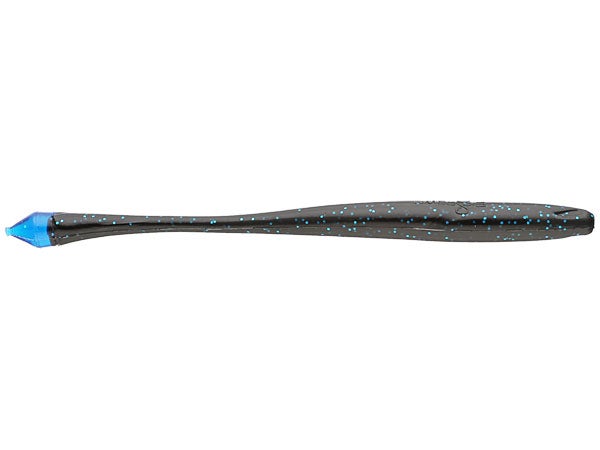 The BioSpawn PlasmaTail is perfect for drop shotting, split shotting or fishing on a shaky head. Its unique Plasmatail is designed to entice finicky fish, and its body tapers down from the mid section to help accentuate the Plasmatail's action. Scented with BioSpawn's proven BioScent as well for added fish attraction, it is available in a variety of colors perfect for both stained and clear water. Genetically engineered to help you catch more fish, the BioSpawn PlasmaTail is one bait that will become a must-have in your arsenal.
| | |
| --- | --- |
| Length | Quantity |
| 4.5" | 10 |
| 6.5" | 8 |
16 Colors
More From BioSpawn Soft Plastics
Customer Reviews
Comments: These baits flat out work, rig these on a drop-shot rig & you'll catch fish all day long
From: James: TX 8/31/16

Comments: Great bait, works for my shakey head needs and the 4.5 works great for dropshotting. Tough baits that hold up well.
From: Jeffray: USA 7/18/16

Comments: 4.5 on a drop shot is smallie candy & 6.5 on a shaky is just as good for the green guys & gals. Great action & surprisingly durable for a finesse type bait.
From: Penny: NJ 7/18/16

Comments: These are the real deal! I Texas rig a 6.5 plasma tail with the tip dipped in J.J. Magic & the Large mouth were hitting it all day! They just couldn't pass this meal up. Just hop it along the bottom & let it fall & the action of the tail will drive the bass crazy. Most realistic soft bait worm i have used & will keep using. Thanks BioSpawn!
From: Anthony: USA 6/14/16

Comments: This bait absolutely kills them on a shaky head. I use the 6.5 & instead of shaking the rod tip, I barely hop it. Even moving it just an inch or two at time gives off some crazy action. The whole worm does a wave like action while the tail stays up. When the fish are pressured/finicky or they're just use to the typical presentations this is my goto.
From: Jessie: Moore, OK 4/4/16

Comments: The 4.5 inch is a DEADLY bait! I used it on a drop shot rig and the LMB tore it up! When no other bait worked I went right back to it.
From: Lesa: Mobile, AL 2/21/16

Comments: These things are loaded with action for a straight tail & I found out after playing around with rigging it that if you flip it over and rig it with the bottom side up the tail will curl over & gives a totally different look but either way it draws them in. I've had more success with these when the greenies are a little more aggressive since it takes a little bit of movement to get it going rather than using the current but they really dance with the slightest twitch. I'd really like to see a few more colors, maybe a couple of handpours or maybe a flat bottom version would really glide around but overall you can really do some damage on these with whatever finesse technique you use them with
From: Slater: Dallas, TX 1/1/16

Comments: This bait should be in every ones tacklebox. Cannot begin to tell you how ell it works. Great action...pulls the fish from heavy cover. You will not be disappointed!!
From: Chris: Ronkonkoma, NY 6/16/15

Comments: Really like the plasma tails. They look great on a vmc shakey head & vmc stand up shakey head & have outstanding action. Smallies are liking them so far. Highly recommended to anyone who loves finesse fishing.
From: Jordan: Landcaster, OH 3/31/15

Comments: This little worm has an unbelievable action to it and really catches fish! I have been drop shotting and jig worming with this little gem with great success.
From: Jason: Tonka Bay, MN 8/26/14

Comments: The Plasma Tail has been a go to since I found out about the brand through the Mystery Tackle Box. Since then I have also purchased the Exostick and the Vilecraw's. I strongly suggest adding these products to your arsenal. Whether you Texas rig, Wacky rig, or Carolina rig, it works. I prefer the wacky rig with a rattling jig head. The worm hardly has a chance to sink all the way before the hits come. Bio-Spawn has it figured out!
From: Bryan: Sikeston, MO 8/7/14

Comments: This is an amazing little finesse worm. I was originally worried that it was two small, that I wouldn't be able to catch big bass with it. Something about the action entices the bass to strike, even when they're not biting or they've shut down, this worm can bring them out with a good finesse technique. I have used it with great success on texas rig, and slip shot. Can't wait to see how it does on a drop shot.
From: Jonathon: Colony, TX 8/6/14

Comments: This is a great finesse worm! I got this out of July's Mystery Tackle Box. I drop shotted the Green Purple Gold Plasmatail for my personal best LMB! It has a really good action. I nosed hooked it on my drop shot hook threw it in, did one more cast and got a bite. The bioscent does not smell like a scent at all. if i were to guess, it is simply an odor eliminator. there was still a faint smell of plastic, but a different smell. The only thing i would knock it for is it's durability. It does not stretch like other companies worms. It tears pretty quickly but to be fair i did nose hook it. Just make sure to cut the section off every half to a dozen casts or so. I would say its pros outways that one con. 4/5 and would definitely buy again.
From: Preeda: Salisbury, MD 7/24/14

Comments: Had a lot of success on the green pumpkin while fishing for smallmouth in upper Michigan. Dropshotting gave a nice mix of smaller smallies and rock bass, switching to a small shakey head hook ended up being the deal for the bigger smallmouth.
From: Joe: Chicago, IL 7/24/14

Comments: The Plasma Tail is an absolutely amazing bass catcher. It is a bait that can catch multiple fish on a single bait. Bio-Spawn has hit the nail on the head with their durability and action and look. These Plasma Tails as with the other baits that Bio-Spawn makes are the total package!
From: Joshua: Keithville, LA 7/24/14