BioSpawn VileCraw 7pk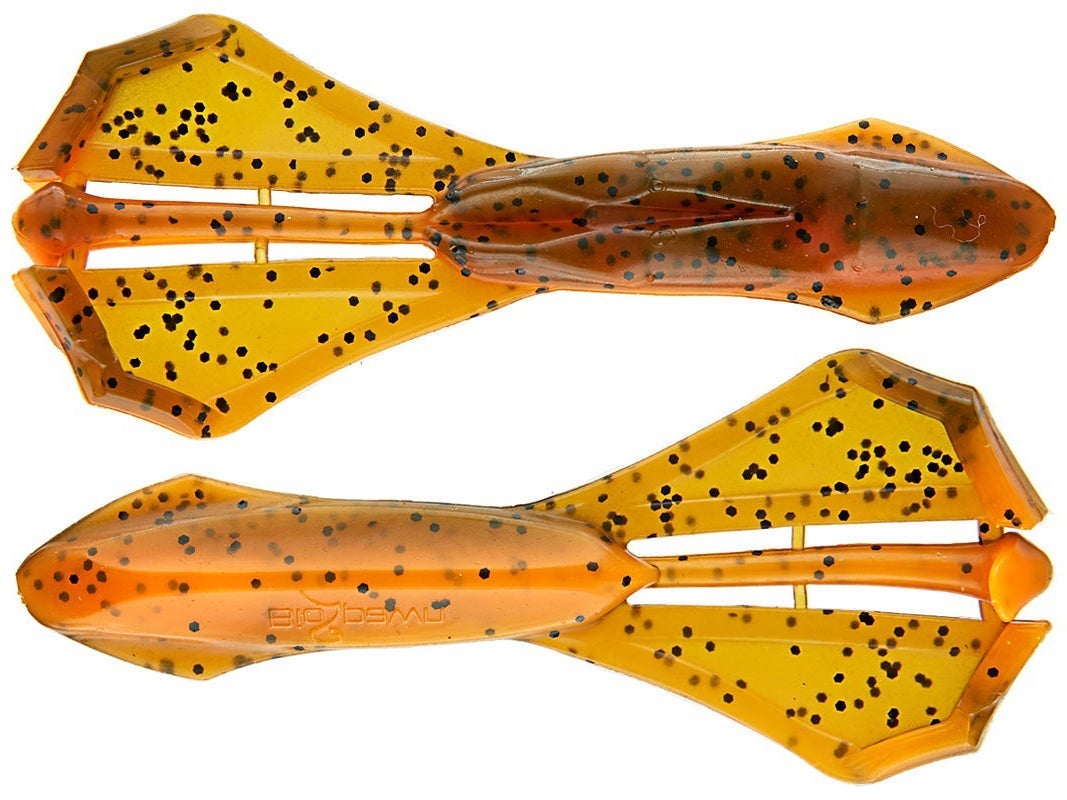 Delivering superior versatility, the BioSpawn VileCraw features a specially engineered body that is made to do it all. From jigs-to-buzzbaits-to-Texas-rigs and everything in-between, the BioSpawn VileCaw features a patented claw design and paddle-tail antennae that goes wild with the slightest movement. Molded with a hook pocket along the top, the BioSpawn VileCraw also has enough action and weedlessness to give your favorite pitching and flipping baits a run for their money. Infused with BioSpawn's mouthwatering scent, the BioSpawn VileCraw flat-out does it all.
17 Colors
More From BioSpawn Soft Plastics
Customer Reviews
Comments: I'm pretty new to bass fishing & I live in MA. I didn't even know that craws & the like lurked up here until recently. My first time trying this bait I caught four fish, one being pretty big. Three of the four were one after the other from one brush pile with this bait. Thanks for the excitement.
From: Paul: USA 7/24/16

Comments: BioSpawn has hit the nail on the head with this bait! Great action and awesome colors! Works well Texas rigged, as a jig trailer and weightless over the the top of vegetation
From: Tom: USA 7/20/16

Comments: This craw is the best and most versital craw I've ever used. I use it behind all my football head jigs on the the ledges of Kentucky lake & I'll also peg a 3/8 oz weight & flip it Texas rigged. It will put fish in the boat & checks in your hand ! Try it you won't be disappointed.
From: Jeff: Paducah, KY 7/19/16

Comments: Favorite lure to use a trailer on jig. They have amazing action & draw viscous strikes. Great color choices for every condition also.
From: Vullo: NJ 7/18/16

Comments: The Vilecraw is hands down the best jig trailer I have ever used! It has tons of action & is very durable. I also have a lot of success fishing this thing texas rigged or as a trailer on my buzz baits & vibrating jigs. Give the vilecraw a try & you won't be disappointed!
From: Mo: USA 7/18/16

Comments: Bought a pack of these last week (candy grass, great color) & have caught several 3lbers & caught my personal best 5lb 6oz largemouth three days ago on this bait. Extremely versatile, flip it, trail it, swim it, hell you can even use it as a top water, but the bottom line is that this bait flat out catches fish.
From: Shawn: USA 7/16/16

Comments: THIS BAIT IS AMAZING! I recently just ordered 4 packs (Alabama Craw, Black Red Fleck, Junebug, Redbug) & the first time I fished them I caught my PB, 7lbs on the Black Red Fleck hooked texas rig style. A couple hours later I had the Alabama Craw texas rigged at a different location & had one break my line (10 lb test). These baits work like a charm & I cant wait to fish them more. Easily one of my favorite soft plastic baits now.
From: Don: Aiken, SC 7/9/16

Comments: This bait is so versatile. Perfect t-rig bait, jig trailer, etc. Has a really nice action & you have the option to remove the middle antenna. My go to t-rig craw & jig trailer. Bama bug is by far my favorite & most effective color! Highly recommend, you wont want to go back to any other craw.
From: Matt: NJ 6/5/16

Comments: My new go to trailer for sure, been using it this spring on Kentucky lake & all i can say is it works! Tough bait also, not one of those one bite & done. You can catch several on each one (unless one of those 5 ft gars decide to eat it) seriously try it on the back of a jig or texas rig either one.
From: Jeffray: USA 5/9/16

Comments: Helped me gain confidence in fishing a jig on the bottom i stead of swimming. First cast got a bite, i didnt get it but a few minutes later i got a nice 3 pound chunk. I will also use this bait for flippin & pitchin once it gets a little warmer.
From: Matt: Plainfield, IL 4/29/16

Comments: Heard of these through Gene Jensen AKA: Flukemaster and really liked the look of them. They're unlike any other craw on the market. Bought a 3 packs and threw some JJ's Magic Chartruese on them and rigged Texas rig & was completely out of them within 3 or 4 hours of fishing. I've completely switched my craws to strictly vile craw. LOVE THEM!
From: Chad: Burkesville, KY 3/1/16

Comments: This bait flat out catches fish! Texas rigged it with a 1/2oz tungsten weight & bobber stop then took it to the water. Was dragging across the bottom & bam, landed a 4lber with it. 5/5 & its very durable.
From: Ryan: TX 1/28/16

Comments: Reminds me off a Havoc PitBoss but the PitBoss is more of a bait for swimming as this bait is more geared to displace water.
From: Ryan: Fort Worth, TX 8/9/15

Comments: The vile Craw is one of the most versatile baits on the market right now! This is due to its design. This bait is very durable (Last about 5-6 fish)! You can throw on a Texas rig (weighted or no weight), jig trailer, buss bait trailer, Carolina rig & many more! I have been testing this bait for about two months now and it still amazes me with how versatile it is! I have no doubt in my mind that it will not amaze you too!
From: Ty: USA 8/3/15

Comments: awesome craw, bait recently got me a 2nd place finish. Pitching it into brush even pulled a few schooling fish swimming it by them! Fairly durable as well
From: Brendan: Gardner, IL 7/28/15

Comments: This bait is an awesome all around bait works great as a jig trailer you can pitch it flip it cast it if you want a bait that does it all this is the one it has all the action you need it's phenomenal.
From: Justin: Herrin, IL 6/18/15
Comments: This bait is a great spawning bait. i have not had the chance to try it in summer but this really has worked so far for me, Put it on anything and it hits. Definetly recommend these
From: James: NJ 5/26/15

Comments: The Vile Craw is my go to jig trailer when I need to pitch, flip or Carolina rig in pre/post spawn conditions. The water displacement this trailer provides is unbelievable & I can't wait to try it when the bass go to brush at night!
From: Steve: Lake Ozarks, MO 5/15/15

Comments: finally got my vile craws wet today white and Okeechobee. From top water to jerk to trailers they tore them up. They were fighting over it when It was rigger for top water.
From: Nathaniel: USA 4/12/15

Comments: Caught my 2nd bedding bass with this bait today. Texas rigged with light weight in Falcon Craw looks like a Crawdad eating their eggs. Let it sit on the bed for a few minutes and when the bass comes by twitch it and make it angry. Works well with a red EWG hook. I've caught 2 bass over 3 pounds and they love it. If you have a bass that wants a Crawdad, this is the best bait.
From: Daniel: Delta, CA 4/6/15

Comments: I love this bait!! Pitch it, flip it, use it by it's self or behind a jig. it just works!!
From: Tom: Rice Lake, WI 1/24/15

Comments: I have definitely found another go-to bait to use. I have used these on a few different lakes now and it has done me justice. The action it displays is very nice, and the bait itself lasts awhile, even after a few catches. I have had a lot of luck so far with the Okeechobee.
From: Matthew: Ft. Hood, TX 9/26/14

Comments: I was impressed with this bait right from the start. Nice soft feel, but extremely durable when flipping into structure. It can be fished so many ways. rated 10 out of 10 from me!
From: Bryan: Albert Lea, MN 9/23/14

Comments: Great bait to flip, pitch and punch with. Has awesome action when falling and swimming. I Just started using it as a topwater buzzing frog and love it!
From: Jason: Tonka Bay, MN 8/26/14

Comments: Works great for flipping and pitching. As Chris said it displaces alot of water. The rage craw has some serious competition!
From: Adam: Long Island 8/26/14

Comments: These are awesome. Use them as a swimbait, jig it on the bottom or use it as a frog on topwater. Largemouth go crazy on these things. You will not be disapointed useing these bad boys. Go get yourself some.
From: Mark: Saratoga Springs, NY 8/18/14

Comments: This is a great bait, excellent on the back of a big jig. It displaces a ton of water, makes for some vicious strikes!
From: Chris: MO 8/17/14